Sandeepa Dhar: The Term 'Item Number' Sounds Very Derogatory- EXCLUSIVE VIDEO
Sandeepa Dhar is entertaining her fans with her new show, Chhatis Aur Maina. The actress has recreated some old dance numbers in the show too. Listen up as she speaks about the show and more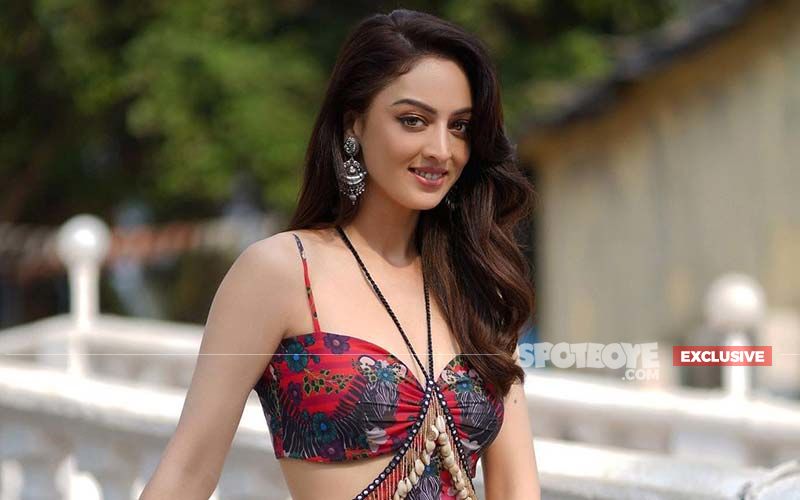 Actress Sandeepa Dhar's is playing an aspiring Bhojpuri actress in her latest web series Chhatis Aur Maina along with Vikarm Singh Chauhan. The actress also has some special dance numbers in the series where she has recreated popular Bollywood numbers like Munni Badnam Hui and Jaa Re Jaa O Harjai which has garbbed a lot of attention by the audience.
We spoke to the actress at length about her character in the series, her take on item numbers and more. Read on;
Tell us about Maina...
Maina is an extremely strong, independent career oriented girl who has goals in her life and she is chasing them. And she is the leader of her dance group. She is a very responsible individual who is street smart and bit of a flirt. She is a good dancer and her goal in life is to become a top Bhojpuri actress. And then she meets this neighbourhood boy called Chhatis, who is son of an aspiring politician.
You have recreated Munni Badnam and Jaa Re Jaa O Harjai. Did you feel any pressure?
I completey loved performing on Munni Badnam and Jaa Re Jaa O Harjai for the series. Though it was very hectic as I didn't have time to reharse. We were shooting during the pandemic, so, we didn't have as much time to shoot it. Usually, you take about two and a half day to shoot a song. But here I had to finish it in a 12 hour shift. So, that was really very difficult. I had no time to rest and was continously dancing for 12 hours. But I still enjoyed it as I love dancing. The coreographer of the songs did a fab job with the way he presented me. Also, my styling team and the DOP, everybody worked wonderfully to make it look like an A-grade product.
There was pressure because you are dancing on songs like Munni Badnaam Hui which is iconic. And you know the moment somebody is going to watch the song obviously is going to compare it to Malaika's. So, there was a little pressure to deliever it correctly because you would not like to be criticised for the work which you have done. I also got the opportunity to do Belly dancing for the first time for the other song. Again we recreated the old classic song. I feel choosing the songs for the series was also a challenge because dancing gave me an opportunity to explore different styles. I did Bhojpuri, Kathak and then this Belly dancing. But I think we have pooled in everything right and I am glad that people are enjoying the songs.
We hear you learnt some dance forms as well to look authentic?
Yes, because for dance forms like Belly dancing, one needs to know the technicality. I know Bharatnatyam but here I had to perform Kathak which is very different again, so, I learnt that a little bit. Same with the Bhojpuri songs, it has a different energy.
A lot of actresses have shown objection on the term 'item number'. What is your take on it?
Yes, can we please stop calling it an item number. It's sounds very derogatory. As we are calling a woman an item. I think we can just call these numbers as special songs. I just don't like these words.
You feel having such sensual dance numbers is important?
I think it depends on the situations. If it's a situation where we have gone to some place and that person is performing, then why not? But if there is a song which is very abid and not related to the situation, then its not right. If in the screenplay if someone is going for a function and someone is performing then its fine no. As long as it's not being sexualised. If these dance forms are for serving the purpose beyond the screenplay that is where the problem lies.
I have done a special song in Kaagaz. Which is Satish Kaushik film with Pankaj Tripathi. And I made sure that the reason for the song being there is valid. I was also very particular about the fact that its not titillating in any manner and it doesn't sexualise the woman. And for me that is very important as long as these things are being taken care of, I don't think having such songs in films is a problem.
What is the best part of this series?
It talks about some very serious messages. But it's communicated in a very light hearted manner. It talks about women empowerment and their education. It talks about homo sexuality but handled in a very sensitive manner. I think all of these messages including balancing personal and professional life are very beautifully communicated through the series.




Image Source: Instagram/iamsandeepadhar