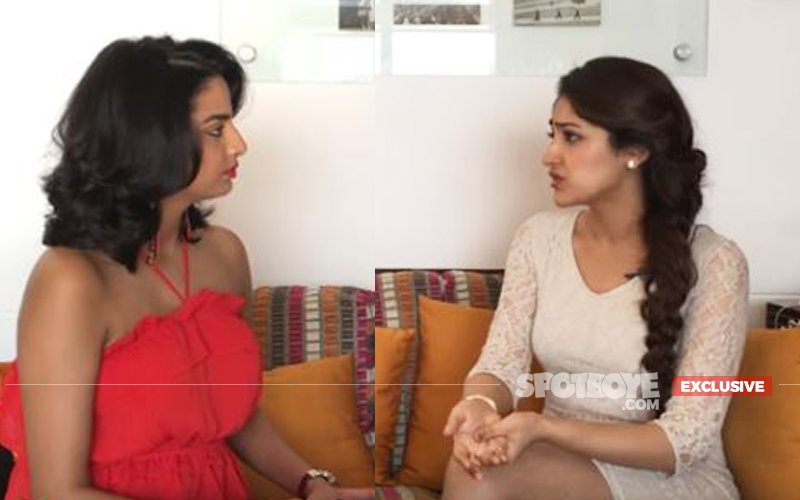 Your browser does not support the video tag.
She recently made her Bollywood debut with Ajay Devgn's Shivaay. Sayyeshaa Saigal can't be happier to get such a grand debut, leave alone the fate of the film at the BO, to work with a talented actor like Ajay Devgn is a proud moment itself. SpotboyE.com had a chat with this newbie. Read on as she tells us all about her childhood, knack for acting, passion for dance, bond with family, working in Shivaay and more.


Now that Shivaay is up and running in the theatres, tell us how did Shivay happen to you?
It all started two years back when Ajay sir saw some of my pictures; he liked them and wanted to meet me. When we met he said that he was directing a movie called Shivaay, and wanted to take my look test for the same. We did a screen test for my role in the film. Incidentally, I was about to turn 17 around the same time when we were testing for Shivaay. I signed the film on my 17thbirthday. It was a great birthday gift!



mage Source: viralbollywood

How was it working with a senior actor like Ajay Devgn?
As an actor he is just effortless, but even as a director he knows exactly what he wants. He is technically very sound. In spite of primarily being an actor, he very well knows how to handle and operate a camera. Even after being such a magnanimous star, he is humble, and makes you feel comfortable with his presence.

What do you have to say about Ae Dil Hai Mushkil and Shivaay's clash at the BO?
I don't know much about box office numbers, but considering now its Diwali and there is a long weekend, people have enough time to go and watch both the films. So if one movie is good they will watch and like it, if both are good, both will be watched and liked by the audience. Also, both the movies come from different genres- Shivaay is an action drama whereas Ae Dil Hai Mushkil is all about romance.

If ever offered a love making scene, would you be comfortable doing it?
I didn't think about it, as the situation didn't arise in case of Shivaay. I think I should maintain a level of respectability and will cross the bridge when I get to it. It also depends on the director because every director has a different vision. So I'll take the decision accordingly, as the situation arises.



Image Source: wikifeet

Now that the film has released what's the feeling overall?
It feels good. I have always wanted to become a part of the movies business. When I was 2-years old, I knew that I wanted to get into movies. I think it came to me because of my love for dance- it's like my passion! It's a dream come true because I just love being in front of the camera.


Thumbnail Image Source: SpotboyE Team