SpotboyE.com caught up with Secret Superstar's lead actress, 17-year-old Zaira Wasim in Aamir Khan's office at Carter Road. The spunky and spirited girl spoke about her growing up years in Kashmir, how she got picked by Aamir Khan Productions, Dangal, Secret Superstar and much more, in this exclusive interview. Watch the full interview in the video below:

What were you doing when you got the call for Secret Superstar?
Let's start from Dangal.
I was everything you can think of... nervous, excited, intimidated. I remember I had come back home from school and I saw my mother giving me a very weird look. And I was like - Inko kya ho gaya aaj?! She asked me, "You know who called?" She informed that Casting Director Mukesh Chabbra had called for a film with Aamir Khan. I just lost it. I said WOW! I was in disbelief, of course. I went for the audition and it lasted for a week, or maybe more than that--- and then they called me after a month. That's when they told me that they had taken me on-board for Dangal.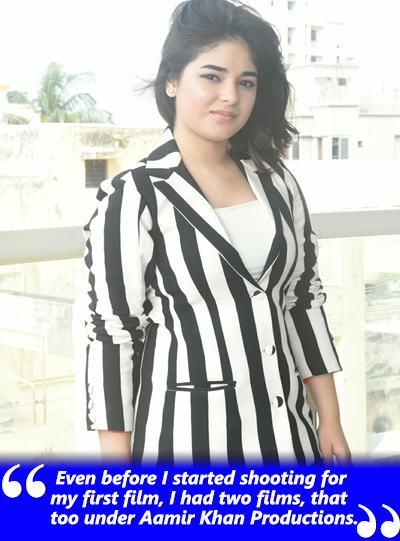 Ye auditions ka bhoot aapko kahan se sawaar hua, you decided to become an actress right there?
No. I never wanted to become an actress probably because I never thought that I would get an opportunity. I never imagined for a second that this is what I want to do. But destiny got me here.

You worked with Aamir in Dangal, did he tell you there and then that he wants to cast you for Secret Superstar?
In the middle of the preps for Dangal, but before we started shooting for it, I got a call for Secret Superstar. So even before I started shooting for my first film, I had two films, that too under Aamir Khan Productions.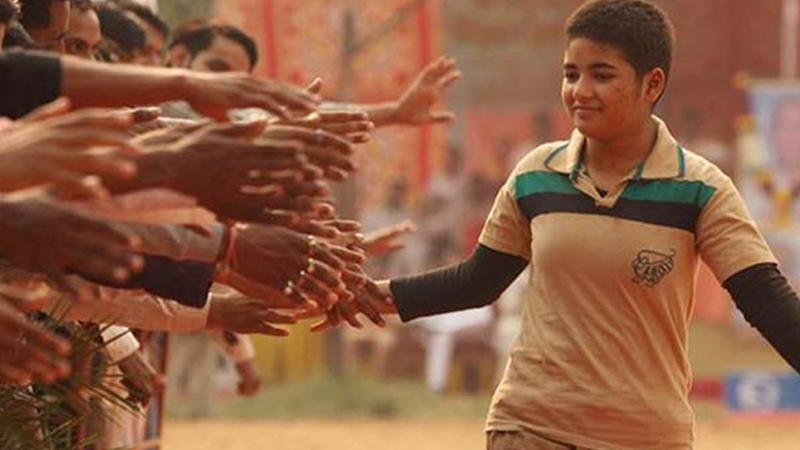 Zaira Wasim In Dangal

How different was your second film with Aamir? You had a certain equation with him, was it easy? The role was tougher, I would say...
(Cuts in) The equation was similar. During the shoot of Dangal, it had already reached a point when we were more like family members. Aamir Sir treated not just me but all the Dangal girls like family. That's because we got to spend so much time with Sir. We used to have lunch together, rehearse together, do wrestling training together, our relationship had already grown really strong.

In Secret Superstar, as an actor it was a huge jump for me, because I had never seen Sir like this. Ever. I had never met Aamir Khan - the person. On Dangal he was always Mahavir Phogat. Off the sets, he's a very calm person, he's a gentleman.

Now I see a person who is completely the opposite, also because of the size (laughs). He was so fat in Dangal (claps) and now in Secret Superstar I saw a weird man, who's hitting on every other woman, has a weird hairstyle, and wears figure-hugging clothes. I wouldn't stop laughing every time I would see him. The way he speaks in the film is so funny.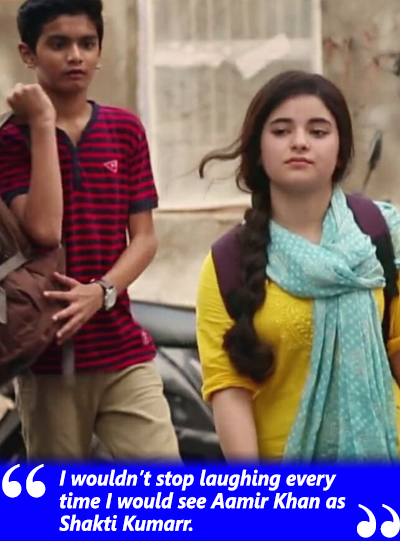 When he was not shooting with you, did he ever come on the sets? He and Kiran are co-producers on Secret Superstar. Or was that just Kiran's department?
Kiran Ma'am was on sets but Aamir Sir was not.

So how is it now that the movie has done so well? You are getting so many compliments. How are you controlling yourself, you know it's a heady feeling...
I'm so overwhelmed by the response. We all knew that Secret Superstar would be loved. It's a beautiful film, you know. We've made a sensible film but we never thought that it will receive so much love and appreciation. People are relating to the film, in every aspect.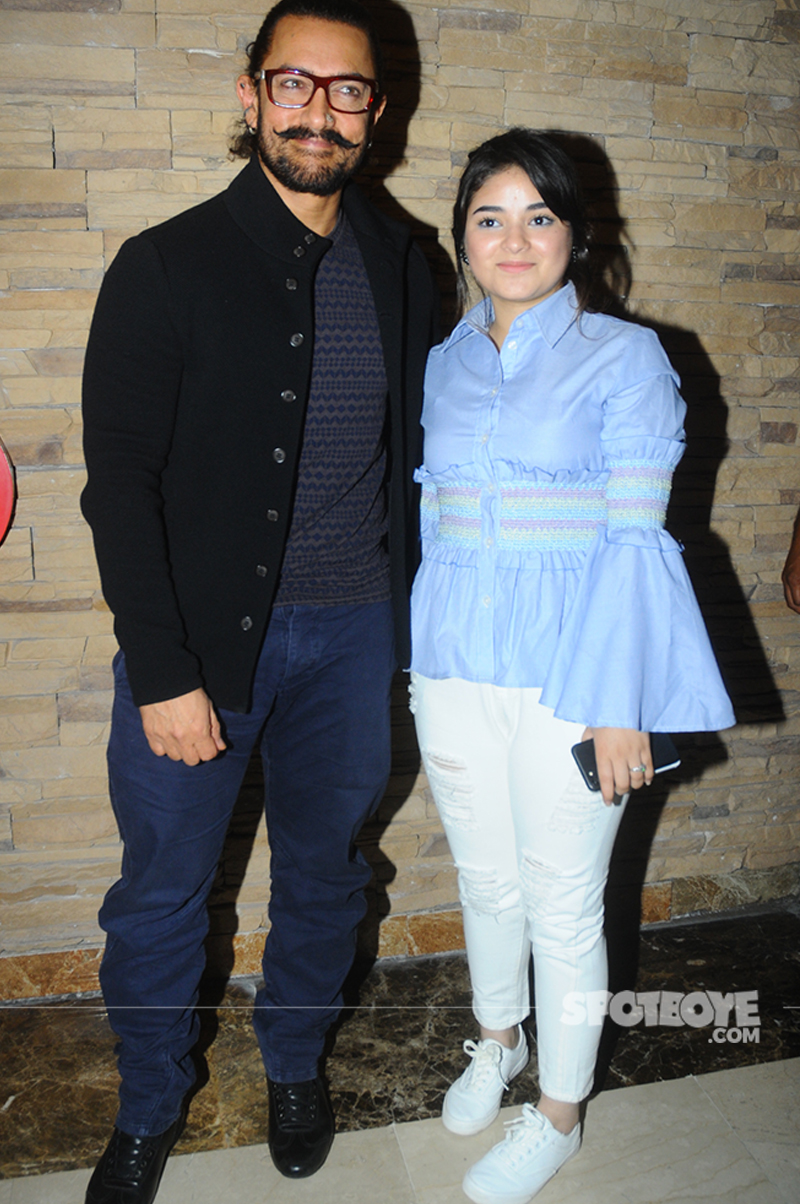 Aamir Khan And Zaira Wasim At Secret Superstar Promotions

When you get so many compliments, it's possible that you get carried away. Do your friends complaint that you have changed?
No, they don't.

It's human nature to feel so, even though you may have not changed.
(Reluctantly) I don't want to brag about myself but I think I'm quite grounded (laughs). I'm very lucky that people think I'm even worth complimenting. I'm overwhelmed; I don't know what else to say.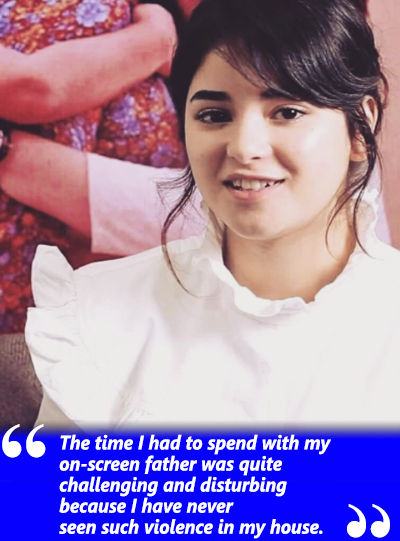 Tell us how your day is like, where are you studying, what are you doing? Everybody wants to know a lot about you...
(Sighs) I go to The Heritage School in Jammu, I'm in 11th standard. I'm studying psychology. Apart from that, I have been oscillating between Mumbai and Sri Nagar because I had been shooting Secret Superstar. I'm really upset about the fact that it's come to an end. The film is not ours anymore. I wonder if I would be able to see the cast and crew ever again.

That's fine, I'm going to relive it with you for some more time. Tell me about the one scene which was very difficult for you and you probably had to do a lot of retakes for it...
(Laughs) It was a very funny scene for me, for which I had to do a lot of retakes. When Insiya goes to Shakti Kumar and says, "Aapka gaana bakwaas hai," and Shakti Kumar says "WHAT!?" ... and that "WHAT!?" was so funny, I could not hold back my laughter. Every time he would say that word, I would crack up. I did a lot of retakes for that scene, eventually we had to ensure that I don't look at him.


One scene that stood out was your confrontation with your mother, where you tell her: Aap darpok hain...
(Cuts in) Oh, that was another difficult one.

Also, there is a scene where you're telling your mom – Chalega Abba laptop dekh lenge to...
The time I had to spend with my on-screen father was quite challenging and disturbing because I have never seen such violence in my house. There was this scene where the father was holding her face (enacts it), I was so disturbed.

I thought he was going to slap you in that scene...
I was so disturbed in the scene because it happens (this kind of violence) in the world. It's a sad reality of our society. It was challenging because I had never experienced it and I had to draw an expression from my personal life and I did not have it, so I had to build it. That was mentally very straining.

Kahin koi friends ka reference...
Nahin. I have not seen it, which is also why Secret Superstar is going to remain with me. It's the harsh reality of our society.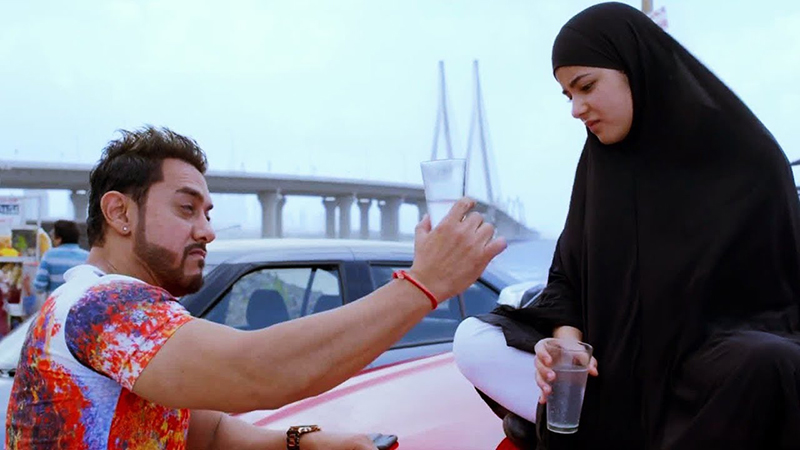 Aamir Khan And Zaira Wasim In Secret Superstar

This scene also stands out in my mind, apart from many others – Aamir Khan talking to that lawyer twice in the car. Such terrific voice modulation from that man...
I was in stitches when I saw that scene. I think, it was the best scene of Shakti Kumar (Aamir's character) in the film. I have enjoyed it so much – while shooting and while watching.

It's so much fun working with Aamir Sir. The energy he brings into the room is unreal sometimes.

So did he do those two things one after the other, or did he take a gap? Because there is so much change in the voice modulation, the expression, the dialogues...
I'm not the right person to say this but Aamir Sir is so good at it. The transition he undergoes, he can switch into a whole new person in hardly any time.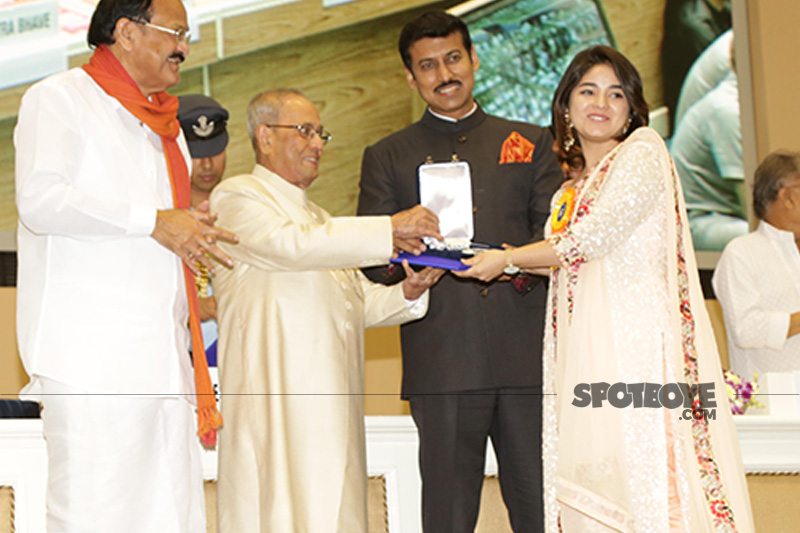 Zaira Wasim Recieves A National Award

He doesn't need a gap? He doesn't need a break?
He doesn't need a gap. He doesn't need a break.

We see you become this YouTube sensation in Secret Superstar. Tell me, how is it at home, are you always on the internet, on social media?Not really, I became active on social media only recently. I love spending time with my cats. I also spend a lot of time with my family. Social media is just something that I do when I'm really bored, it's not something that I cling on to.

Are there any do's and don'ts imposed by parents?
Fortunately, I have freedom. My parents trust me enough. They feel like I know my limits. They've taught me what the limits are. I have the freedom/trust to do whatever I want to because I know the balance.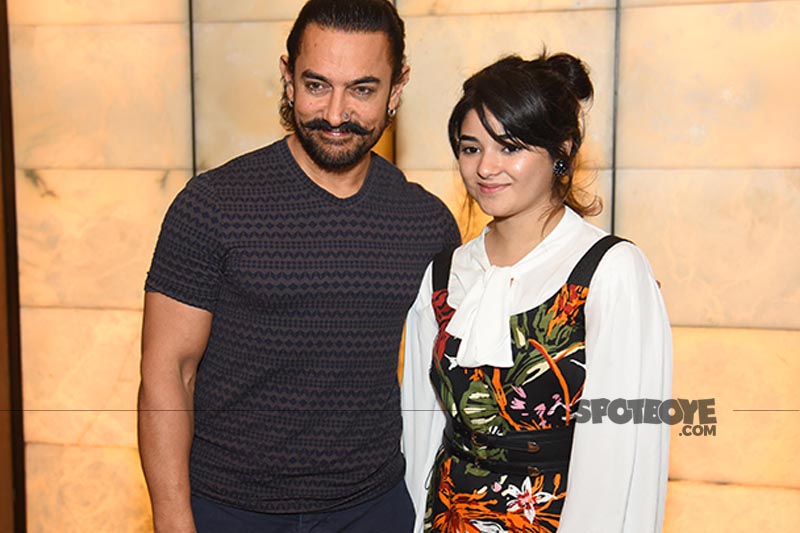 Aamir Khan And Zaira Wasim Pose For Cameras

They don't call you to ask – aap kahan ho/kitne baje ghar aa rahe ho?
Main ghar pe hi hoti hoon, main kahi bahar jaati nahi. Even if I go, I take my mother along.

You've worked with Aamir, now what's next? You want to work with Shah Rukh, Salman? I'm sure they're on your wish list...
I don't know. But all I know is that I would want to work with Advait (Chandan, Director, Secret Superstar) again. And Nitesh Sir (Tiwari, Director, Dangal). I have had so much fun working with them. I'm going to miss Advait. I don't think I would be able to see him now.

I'm sure they are encouraging people, you can call them and meet them again...
It won't be the same. Distance might just take away the things that we've shared. Not the memories, but the time that you get to spend with each other, physically, in person, you know when you're right there.

How's it going to be now, when your next role comes along? Are you going to consult Aamir and Nitesh?
If I feel the need, that is, if I'm really confused, I'll speak to Aamir Sir first.


Image Source: Manav Manglani, APHimages, youtube/topnews, facebook/zairawasimofficial, instagram/zairawasimofficial & youtube/zeestudios
They say the best things in life are free! India's favourite music channels 9XM, 9X Jalwa, 9X Jhakaas, 9X Tashan, 9XO are available Free-To-Air. Make a request for these channels from your Cable, DTH or HITS operator.