Shershaah Writer Sandeep Shrivastav On Captain Vikram Batra's Death Scene: 'The Loudest Thing In Any Death Is The Silence And That Silence We Maintained'-EXCLUSIVE
Sandeep Shrivastav, writer of the Sidharth Malhotra and Kiara Advani-starrer Shershaah, revisits his process of writing the film, talks about maintaining subtlety with realism, director Vishnu Vardhan's vision and more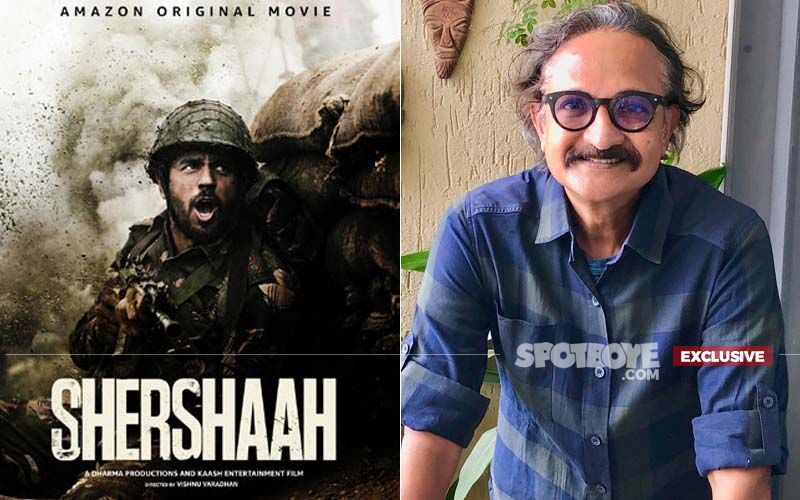 Sidharth Malhotra and Kiara Advani-starrer Shershaah has been receiving rave reviews from all over. Even after two weeks of release, the film is still being discussed everywhere and Sidharth's portrayal of Captain Vikram Batra., who sacrificed his life in the 1999 Kargil War, has been termed as his career-best performance.
In an exclusive conversation with SpotboyE.com, the film's writer Sandeep Shrivastav, revisits his process of writing the film, talks about maintaining subtlety with realism, director Vishnu Vardhan's vision and more. Read excerpts from the interview:
Sandeep, how has it been getting all this love for the film?
We are inundated with these congratulatory messages and they don't seem to be stopping at all. It's raining praise everywhere and that is a wonderful feeling. Sometimes, it does get a little bit intimidating as we set out to make a good film with utmost honesty and sincerity. We knew we had something good going on here but when it came out and the appreciation it got, it was overwhelming. Someone also posted online, "Who says men can't cry? Just see Shershaah."

How was the journey of bringing to paper the great life that Captain Vikram Batra had?
We just wanted a very honest portrayal. I would have loved to meet Captain Vikram Batra but unfortunately, I couldn't. The only way one could know more about him was to meet people who knew him and had spent time with him. We needed to see Vikram Batra through their eyes. The material available to read online wasn't enough for me. It was very important for me to talk to that one childhood friend, whom you saw as Sunny. I wanted to know what Vikram meant to him. By the experience of sitting with him in the evening in Palampur and taking walks with him, I realised how beautiful a bond of friendship they shared and it needed to be explored and the essence had to reflect, in whatever time we had on screen.

It was an enriching experience for me getting to know Vikram, the type of human being he was, from his school and college friends. To know his other vulnerable and sensitive side, who was otherwise a macho hero, I learnt it by talking to Dimple. To know more about the army officer, Vikram Batra, I interacted with people who served with him. The challenge was that everyone was sharing their perception of him and whenever they spoke about him, it felt like a personal loss to all of them.
It mustn't have been easy seeing them getting emotional recalling their time with Vikram…
In fact, when I started, some of them won't even open up. It was very difficult to track Major Sanjeev Jammwal. We were sending messages to him but he was avoiding us. Finally, when we managed to get a hold of him, he told me that he was avoiding me as it wasn't an easy chapter for him to re-open. It was something he had left behind and he didn't want that box to open as it was too emotionally draining for him. I understood where he was coming from.

In our Bollywood movies, especially dealing with wars and patriotism, there is a heavy dependence on heavy-duty dialogues about the country and patriotism. In Shershaah, there wasn't much of that. Were you at any point nudged by people to resort to that more since it's a tried-and-tested formula?
There were rounds of discussion and some people thought that since people are used to that template that the audience refers to, we should try that. But we realised that it's over and done with. Moreover, when I interacted with the soldiers, I realised they speak like you and me. They are not always mouthing heavy-duty patriotic dialogues, so we didn't have a scope for that. Unfortunately, that is an image of soldiers that the media and movies have created. There are a lot of people who have lost their lives for the nation, but don't talk like that. So, we thought it is something rare and I didn't get why people have been overlooking that. Two army people can have logical discussions, there is no need for heavy-duty dialogues and we stuck to that and that is something fresh that the audience found in the film.

Even with the dialogue, "Yaa to tiranga fehra ke aaunga ya fir usme lipat ke aaunga," we wanted to capture Vikram's thought process and land on it and not bring it just like that. We lead up to it and those dialogues are also being appreciated. Organically, it just works.
Vikram lead a short yet amazing life. What was the most fascinating incident of his life that you came across?
All bits, as I really enjoyed him as a human being. The man he was before the uniform was a very endearing personality for me. I really enjoyed writing him in the Chandigarh university and I really wanted that character of his to come out. He always wanted to join the army but he never thought of sacrificing his life. However, when the call of duty came, he didn't back off, knowing what was in store for him.

Do you feel Vishnu did justice to your writing?
I was also there on the shoot and we were constantly discussing everything. I think what Vishnu has done is really enhance what was there on paper, visually. He has done a remarkable job.

One more thing special about Shershaah is that you paid a lot of attention to the process and practicality of the war…
That was a very conscious decision we made. Usually in war films, the makers move from showing one milestone to another. But the journey from one event in a war to another isn't that simple. What happens between them, how are things planned and what is being discussed, why avoid that? That can be very engaging and fresh for the audience. So, we were also interacting with the army people about what happens in such situations and their inputs made it through our lines.

Were you happy with the portrayal that Sidharth and Kiara gave to Vikram and Dimple respectively?
Absolutely. I am really happy with both of them and they gave me more than what I had expected of them. They are such fine actors who do their homework. It's a delight to watch them perform and sometimes you get goosebumps the way they internalise the scenes. Both of them had met Dimple and knew what kind of a personality she was and after watching the film, I can't imagine anyone else playing Dimple better than Kiara.

You also gave Bollywood one of the most heartfelt, painful yet real death scenes with the film…
The credit for that goes to Vishnu for the way he shot it. The loudest thing in any death is the silence and that silence we maintained. That girl coming in and breaking down was something I had no words to express for, it was all just feeling.

Image Source: Instagram/
sidmalhotra
,
Communication Heights PR