Shyam Benegal: All's not well in CBFC
Here's the latest update from the world of Bollywood. We bet you wouldn't want to miss this. Read on for details... Finally opens up in an exclusive chat with SpotboyE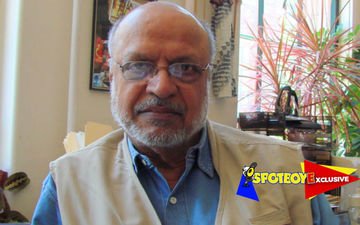 The maverick filmmaker, who has been appointed as the head of a Committee to look into the current workings of the CBFC, talks about Censorship, intolerance and why nobody has the right to interfere in anyone else's 'creative vision'. Excerpts:
The noise about rising intolerance in India hasn't subsided. As someone who's always made socially-conscious films, where do you think our nation stands at this point – politically, socially and economically?
India has always been intolerant. One side we say we are an inclusive nation, on the other hand we take great pride in exploiting people who are from the weaker sections of the society. It's every individual responsibility to guard us from intolerance. A country as diverse as ours, which had the caste system for the longest time, cannot change overnight. While there are laws that protect our minority, there are enough people who haven't got the message of inclusiveness. It will take time.
You mean to say we are all morally culpable in one way or the other...
Absolutely. We are a country of hypocrites and if we need to fix that, we need to start with identifying our own hypocrisies.
Moving on. Do you think Censorship should be done away with or is there a social responsibility that makes it a necessity?
There is a certain amount of responsibility, yes. But the parameters have been set by the Constitution of our country. As long as you don't step beyond the parameters, you are fine.
Image Source: Mastizaadefilm & hdmovie24
In recent cases, we've seen glaring goof-ups. There is a film that talks about women empowerment but the word 'saala' is beeped out of it, while songs like Hor nach and films like Mastizaade and Kyaa Kool Hain Hum 3 are passed. So there is an inconsistency?
You're going into details, you're going into larger questions... I will sound like a fool if you're asking me to answer these questions.
Image Source: imgur
It's essentially a question of censorship and how it's gotten worse in recent months...

We've all been critical of the way the Board has been handling this. If things were working out well, would there have been a need to form a committee and look into the affairs and work out a report? I am a part of the committee and we're closely looking into the old model of censorship and within a few months, we'll submit a report.
So we recognise the fact that the current system has failed our filmmakers?
The government itself recognises it. If they hadn't, why would there be a need to form a committee?
Image Source: thebigindianpicture
But committees have been formed in the past too without any results whatsoever. Are you optimistic that your committee will bring about a change?

How can I answer what is going to happen or not going to happen? It is my job to send in my report and I hope that the government in power will do something about it. If they want a report, they will get a report. If they want honest viewpoints, they will get honest viewpoints. It's up to them. I cannot ensure (results). I am not the final authority on this, am I?
As long as we push the idea of grading films instead of censoring them...
Rating systems are always better than cutting films. If you rate a film and suggest the age group of people who can see it, at least it's an act of maturity. You can't keep chopping and changing someone else's work. If you have done a piece of work, I cannot change it. How can I interfere in your creative vision? What I can do is say that this is not suitable for someone who is 12 years of age or that it is not suitable for someone who is impressionable. I can restrict the viewership of a certain film for various reasons – either because it has extreme violence which is horrifying, or if it's something that people will imitate. But you can't go ahead and cut it.
Image Source: ilna
You've mentioned how the functioning of the current Censor Board has come under criticism. Do you also endorse the thought that the guidelines laid down by Mr. Nihalani have largely been the views of the current government?

Why are you leading me on? You want me to say something about Pahlaj Nihalani, I don't wish to say. Why do I need to criticise him? He is doing a particular job. And the government has already put another committee that will see what is going on there.
I'm just trying to understand whether the Board functions in full independence…
As far as my thinking on the subject is concerned, I am fully independent. Same with the committee members that I have who are equally uninfluenced by anybody. I can tell you that without any hesitation.
Image Source: exoticindia & tribune
Finally, as someone who's seen the peak of Hindi cinema in the 70s...to the following decades, do you feel we've grown as a filmmaking nation or we've sacrificed nuanced storytelling for the sake of money?
See, films are business. Making a film costs a lot of money; it costs a lot of money t exhibit and distribute these films. The makers want to recover that cost and make a profit. So it's a business. Nobody gets into a business to lose money.
But on the other hand, films are also a medium of creative expression. So there is an artistic side to filmmaking just as much as there is a commercial side to it. Now the question how to get that perfect blend so that you make a film which gives the audience a film they want to see and at the same time, they should be able to get some artistic satisfaction.

Whether this theory ever works or not is anybody's guess. There are films that are so hell bent on making money that they will try and exploit the audience based on what the audience gets trapped into. Violence is one trap, sex is another trap. Now that doesn't mean that you don't refer to sex or violence at all because both of them are there in society. So there has to be a meeting point of your artistic and your commercial sensibilities. That is what everybody is trying.

Any plans of directing another film?
At the moment, I am finishing a film that is not necessarily a cinema film. I am doing a 90-minute film on the history of Punjab. It will have a single-screen release in Punjab.
Thumbnail Image Source: shabdam

They say the best things in life are free! India's favourite music channels 9XM, 9X Jalwa, 9X Jhakaas, 9X Tashan, 9XO are available Free-To-Air. Make a request for these channels from your Cable, DTH or HITS operator.