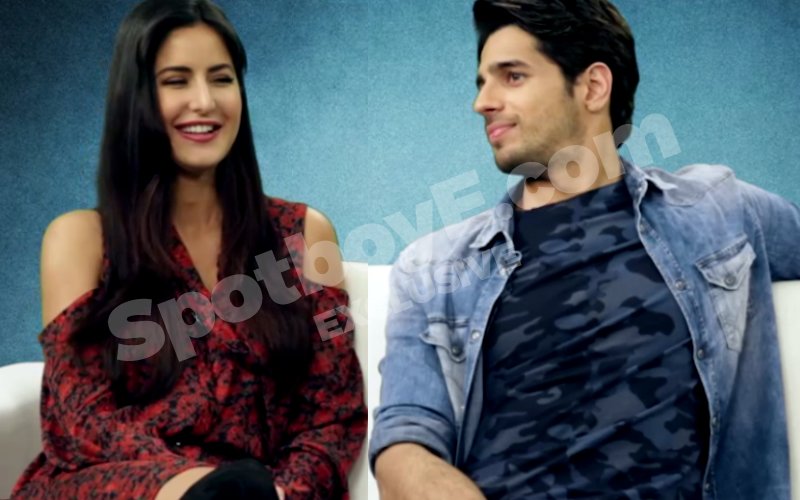 Your browser does not support the video tag.
Katrina Kaif has a lot of expectations from Nitya Mehra's Baar Baar Dekho, especially as her last outing Fitoor had tanked at the box-office. On the other hand, Sidharth Malhotra, her co-star in the film, is keen to repeat the success he had tasted with Kapoor & Sons. SpotboyE.com caught up with the two actors yesterday, at Mehboob Studios for an exclusive chat. Excerpts from the conversation that transpired:

Tell us about Baar Baar Dekho...
Katrina: It's my second film with Excel (Entertainment) after Zindagi Na Milegi Dobara (2011). When they approached me for Baar Baar Dekho, I was excited, as I really like the kind of films they make. Karan (Johar) called me up (he is the co-producer) and the narration happened at his house. Sidharth had already been cast, and I went with the preconceived notion that it's a period film, as I had heard a lot about it. Throughout the narration, I kept thinking we'll go back in time, and before I knew it, the narration ended. I was really moved by the message the film conveys -- as a woman, it evoked many emotions in me.

Sidharth, you were on board before her…
Sidharth: I met Nitya when I was shooting for Brothers (2015). She came with the script and I had no clue what the story was about. The narrative was so interesting that in the first hour, you don't know where the film is taking you. I was intrigued by Jai's (his character) journey -- he sees the future of his love story and only he is aware that he is from the past. It also show how today's youth take relationships for granted. Our priority is work and sometimes, we ignore the people we love.

So it's a slice of life…
Sidharth: It's a fictitious story done in a real way. The concept is the main hero. It conveys a message, but through an interesting narrative.
Tell us about Jai, the character you play...

Sidharth: I play a professor, who is very pragmatic, antisocial and obsessive about his work. He has a childhood girlfriend, Diya. They grew up together and love each other, but when it's time for marriage, he develops commitment phobia. He is worried his marriage will hamper his career.
How was it working together for the first time? Did you know each other from before?
Sidharth: We didn't know each other, we had only met socially. Workshops helped us know each other. She (Katrina) has a good story about how she got lost in my eyes during the workshop. And that was it. She got very distracted after that.
Katrina: And hence is the love story of Baar Baar Dekho.
Sidharth: On the first day, we had to sit across each other and just stare into each other's eyes for the longest time.

So, that's how KJo set up the love story...
Katrina: That's how Nitya set up the love story. But yeah, I think the workshop really helped us. When in front of the camera, you are using a lot of yourself -- you have to be really open, trusting and comfortable or really uninhibited. Or a mix of all of these things. So, workshops allowed us to get used to each other, which for this film was more important than anything.
In this film, we are playing two people who have been in love with each other since childhood. Nitya (director) harped on that point so much that it had to look believable. It had to look real because otherwise, you are not going to stay invested in these characters when you start going into the future.



What do you think of Nitya as a director? She has worked as an AD on the Life Of Pi and Reluctant Fundamentalist (both 2012).
Sidharth: She is fabulous and extremely talented. For a first-time director, she has picked a script which is very difficult in narrative and emotions. We are creating something which is make-believe; you don't know what the future is like, but yet we go forward in this story. We go forward, even as there is a character who is unaware of what has happened in the meanwhile. So, Nitya has done a fabulous job, she's a go-getter. She knows how to lead a set and has a great future in Hindi films.
So, Katrina, are you going to say that Kala Chashma is your favourite song in the film?
There is this song in the film called Dariya. I think that will stay with me the longest. Right now of course Kala Chashma is the most fun song. I also like Sau Aasmaan as a romantic track.
Sidharth, yours?
The most popular track right now is Kaala Chashma. It's difficult to pick because it's a fabulous music album. It's one of my best albums because it's got a variety of music, all from different composers and it's come together really well. Be it a party anthem like Kaala Chashma, the heartbreak song Khair Mangdi, Kho Gaye Hum Kahaan, Dariya, Nach De, Sau Aasmaan -- we cover all the moods possible. No matter what mood you are in, you can just shift to the next track.

Which was the most difficult scene for both of you?
Katrina: There were two very difficult scenes. I can't tell you what happens in them, but I can say that it involved a lot of anger and tears.
Sidharth: Yeah, I think we should leave that discussion for when the film is out. But one of the most difficult moments was in Khair Mangdi, when I had to give her a longing look. We we were in Glasgow in -2 degree Celsius at night, next to a river and I was getting wet in the rain. It was difficult to keep my lips and chin from shivering and yet give her a longing look. I was longing ki please mujhe yahaan se nikalo... It was an emotional scene and a close-up, so you can't look like you are feeling cold. It was the longest two hours of my outdoor.
Sidharth, you have a reason to feel high? You are coming after a big hit, Kapoor & Sons...
Sidharth: I think you are as good as your last Friday. You can't live off a particular Friday for the longest time. So, the same anxiety, the same excitement comes in. The story is also unique, it's a conflict that people have not seen before. So, I am anxious and eager to see how people will react.

Will the film live up to its name Baar Baar Dekho? Nervous about box-office collections?
Katrina: Yes, of course. Always. You want to make a film for people to see. I think the truest test of what you have made is how people respond to it. So of course, there is going to be a night of nail-biting, but my nails are already short so I have nothing left to bite (laughs).
Sidharth: I just cut my nails today.
Katrina: So, he will have to have a Thursday night with hands folded rather than nail-biting.
Image Source: Manav Manglani