Soha Ali Khan: I Am Excited About Kareena's Baby, But Am I Supposed To Be Knitting A Sweater?
Ahead of the release of her upcoming film 31st October, which has the 1984 riots as its backdrop, Soha Ali Khan talks about how her known ones were affected by the tragedy, husband Kunal Kemmu, sister-in-law Kareena Kapoor Khan's pregnancy, and of course, 31st October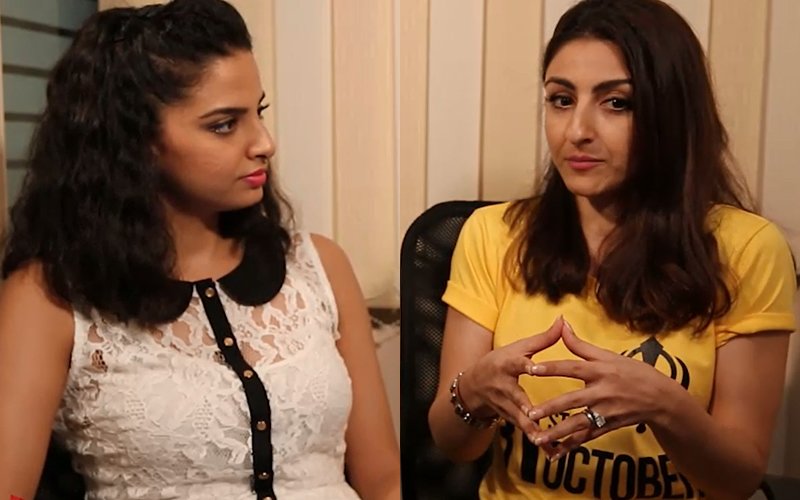 Soha Ali Khan is known to be selective about the films she takes up. The actress, who was last seen in Ghayal Once Again, is back with 31st October (released today), a love story which has the 1984 riots as the backdrop and stars Vir Das opposite her. We sat down for a tête-à-têtewith Soha. Excerpts.
Tell us about 31st October.
It's a realistic, gritty film and I would describe it as an action-suspense drama. It's a family's struggle to survive the night of October 31, 1984. So, the backdrop of the film is what the Sikh community experiences on that night, and the two days following the assassination of Indira Gandhi. But, it's not a history lesson. A lot of people don't come to the cinemas because whenever they see period films they think it's going to be a documentary. This film is not a documentary; it's a very tight, fast-paced thriller in the space of films like Argo and Bombay which have riots as its backdrop. 31st October is essentially a love story.



Image Source: imagessk

You were about 4-years old when Indira Gandhi's assassination took place. Do you have memories of that time?
I was too young to remember or have any personal memories, but I have been told about what Sikhs went through at that time. We moved from Bombay to Delhi in October 1984 and we had someone who worked in our household in Bombay who had a near-death experience; he is a Sardar and cut his hair after the riots and is still traumatised by what happened.

Further, we come from a small village in Haryana called Pataudi and there were 13 Sikh families there and on the night of October 31 and November 1st 1984, all male members of the Sikh families were taken out of their homes and killed. The Gurudwara was also burnt to the ground. People have horrific stories related to that day.

I know family friends who left the country in the aftermath of the riots, never to return to India. But there are also stories of support, people who tell me how their neighbours helped them, hid them in their homes, in their cupboards, under their beds, putting their own lives in danger.



Image Source: images Thumb

Censor Board has given 31st October 9 cuts. What are your views on it?
I only asked the director if any of them were my cuts (laughs). Apparently the cuts are minimal. I don't see why some of the swear words had to be taken out at all. We treat our audiences as children. I do not believe in censorship as an artiste. I believe that CBFC is a certification body and not a censor one. They should be putting an appropriate age on the films as opposed to making cuts. And they should have the faith in the audience to decide for themselves.

Is it necessary to get the disturbing episode on celluloid?
A lot of people feel that what's the need to open old wounds, but I feel that for a lot of people there has been no closure, no justice after what happened in 1984. So it's not about opening old wounds, those wounds were not healed anyway. Having said that 1984 riots are just the backdrop of the film, the purpose of the film is to provide good cinematic experience, it's to tell you the story of 5 people in a family and whether they make it through the night or not and for it to be an action, suspense film.



Image Source: jagruk

Recently, you were trolled for visiting the Golden Temple. What would you say to that?
I already said a few things. I didn't really want to say anything much because you can't respond to everyone. I have put myself on social media voluntarily. I believe in the freedom of speech and that freedom is a universal right. I might not like what you say but I will defend your right to say it as long as it's peaceful and you are not assaulting me. I am thick-skinned so I am not emotionally affected, but I am academically surprised that people are so passionate about me and my going to a Ganpati Pandal or a Gurudwara. You don't know me; you certainly don't own me so I am surprised that I would stir those emotions in you.

Has life changed after marriage for you?
No, not at all! I keep trying to think about what's changed. Some time ago, I took a flight and looked at my boarding pass and it said 'Mrs' instead of 'Ms', so that's a change. But Kunal and I have known each other for 9 years now. We knew each other for 7 and a half years before we got married, we lived together for 2 years before marriage. So there were no surprises, we knew both the 'goods' and the 'bads' and still chose to get married. May be at some level there is a sense of stability, social acceptance, but it hasn't made any tangible difference to our lives.

How is Kunal (Kemmu) as a husband?
He is the only husband I have had (laughs), so I can't compare him to anyone else, but what we wanted was exactly the same. I felt that once a couple becomes husband and wife, a certain amount of romance goes away, you start taking each other for granted and you let each other go. So we decided that we wouldn't do all of that and we must treat each other as boyfriend and girlfriend even though we are husband and wife, not take each for granted, go on dates, woo each other, stay healthy and be attractive to each other – all of that is important.

What is that one thing that you wouldn't want to change about Kunal?
(Pauses) I have a long list of things that I want to change (laughs out loud), but I love the fact that no matter how serious the situation is, he can always make me laugh. He is very entertaining and has a great sense of humour.



Image Source: hdwalle

One thing that you would want to change about Kunal?
I wish he could eat and talk at the same time. It's a lot to ask, I know but when just the two of us go out for dinner, there is no conversation. He gives all his attention to the food and he doesn't know how to make conversations between mouthfuls. And then I feel like one of those loser couples who have nothing to say to each other, which is not true.

Are you planning a family anytime soon?
Its called family planning, it's not called family and media planning. So I will plan my family with my family.

A kid is on its way with Kareena Kapoor being pregnant, what do you want to say about that?
I don't know what people expect me to say. People keep asking me that how are you preparing? Is there something that I am supposed to be doing

How do you feel becoming an aunt?
I am excited but they keep asking that ghar mein kaise preparations ho rahe hain? Taiyaarian kaisi hain? Am I supposed to be doing something as a bua? Knitting a sweater? Because I don't know!!

People keep asking Kareena if it's a boy or a girl. Does the question annoy you too? Do you think that the society needs to change?
This is a question I wouldn't even ask a friend of mine. We know in India sex selection and gender identification is against the law and certainly there is a line that one does not cross. I know that the media has the right to ask a lot of questions, but it's a bit intrusive to ask someone what the gender of their child is or whether they want a boy or a girl. It's not really a public discussion.