Sonakshi Sinha: I Don't Want To Be A Playback Singer
The actress reveals all this and much more in an exclusive interview with SpotboyE. Read on...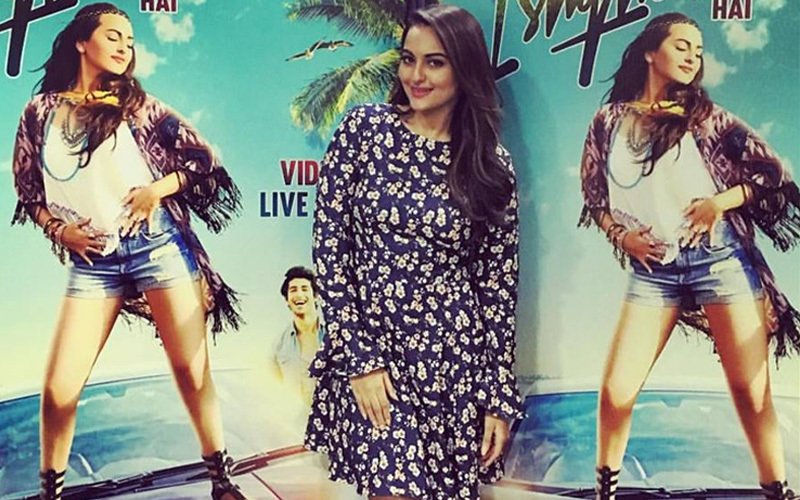 How come you decided to pause acting for a while and make a single?

There's been no pause, I am doing both together.
How did it come about?
I have been wanting to sing since childhood. I also wanted to be a rockstar, have concerts and entertain people like every kid.
But you have already entertained people...
I have done acting and dancing, but I am used to it now and wanted to do something new. My dream to be a singer took a backseat when I got into acting. In fact, during the shoot of Lootera (2013), I asked Vikramaditya (Motwane, director) and Vikas (Bahl, producer) to let me sing a song in the film, but nobody took me seriously. Finally, I decided that enough is enough --- and started pursuing my dream.
How big a role has Honey Singh played in this? He first made you a part of his video (Desi Kalakaar) and you decided to come out with a single...
While shooting Desi Kalakaar with Honey last year, I told him I'll also sing one day. I said, 'Your genre of music is so cool and funky, I'll also do it."
What made you choose Ishqholic?
I didn't get it readymade. I've worked on the rap portion of it. In fact, Manmeet, Harmeet, me and our lyricist Kumaar were jamming in the recording studio.
Was doing this single more fun or do you find acting more exciting?
Difficult to choose. I really enjoy facing the camera. I love the process of filmmaking -- going on the sets, getting ready, hair, make-up, costume, getting into the character, being a different person with every film… Coming to the single, recording in a studio is amazing too.
Acting, singing, stage shows… it must be tough…
Being a Gemini, I am an expert at multitasking. I can juggle 20 things at a time. When you enjoy doing something, it ceases to be work. You do it, because you want to -- not because you have to.
If you get an offer to act and sing in a movie, will you take it up?
I am very clear about the fact that I don't want to be a playback singer. My voice suits a particular genre and you'll see me singing only those songs. I won't start singing classical songs suddenly. I am not a trained singer, I pursue it as a hobby.
Coming to your songs in movies, which singer's voice suits you best?
Shreya Ghoshal and Sunidhi Chauhan. But there's one person who has not yet sung for me and I would love her to -- Sona Mohapatra. She has a beautiful voice.
What would you like to tell the other actresses? They must be feeling insecure that you have started singing as well…
Nobody has the time to think so much, everyone is busy and happy with their work.
Which is your next release?
You'll next see me in Akira, which will release in the New Year. I am not sure which month right now, because they are still locking on the date. Then there's Force 2, which I have been shooting for.
Every actor -- be it Akshay Kumar, Shahid Kapoor or John Abraham -- say you are their favourite co-star. What makes you so popular?
I feed them food that my mother cooks; that's the formula. My mother cooks the best food in the world and they all love me.
Three things you can't do without...
My family, friends and unfortunately, my phone.
Why unfortunately?
It's taken over our lives. Honestly, I don't like people being on the phone all the time.
A lot of actresses have spoken out against gender discrimination in the industry. Your take?
A woman-centric film won't collect as much as a Rowdy Rathore or Dabanng would. So, it's only fair that your remuneration matches your box-office value. Also, it's not like actresses are paid pittance. But yes, gender inequality does exist. Hmmm… I won't say it bothers me.
Image Source: facebook/sonakshisinhaofficial