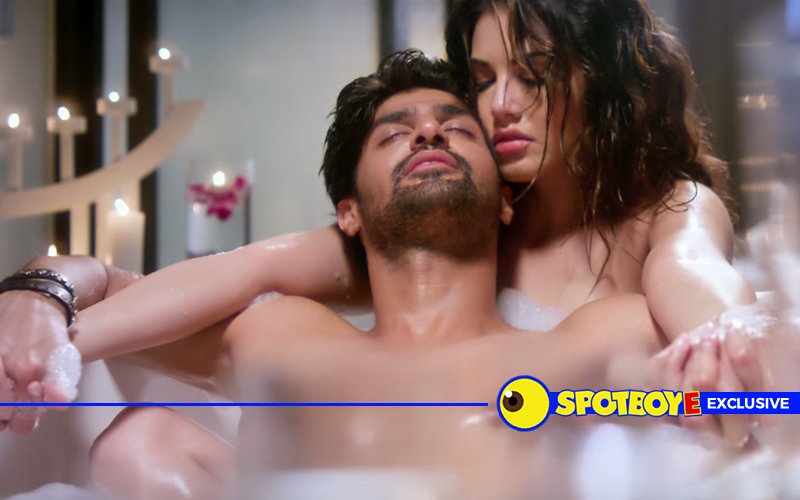 Your browser does not support the video tag.
By her own admission, a lot has changed for Sunny Leone in the last few months after she held her own in her (in)famous TV interview earlier this year. As her latest flick One Night Stand hits the screens tomorrow, SpotboyE catches up with Sunny for a heart-to-heart as she talks about her film, behaving like a "crazy fan" in front of SRK and more. Excerpts:


How did you feel when a film came to you with its title as One Night Stand?
The director Jasmine D'Souza's husband Tony D'Souza came to me with the script. I have worked with him before, so I trusted him on the subject and did not go by the title. I knew he wasn't going to make it look shady. And when Jasmine narrated the story to me, I thought it was really interesting.



Image Source: youtube/T-Series

Was it tough shooting for intimate scenes with your co-star Tanuj Virwani?
I think there is a common misconception that it is one big party to shoot such scenes. Shooting for hot scenes is a very systematic shot-by-shot process. And Tanuj is a respectable young man. We talked through everything we were going to do. And the scenes were shot by a woman director, Jasmine and I think that makes a huge difference on how scenes were shot in terms of aesthetics.



Image Source: youtube/T-Series

So what's your take on one-night stands?
If you are single and your physical emotions take over your mind and as long as you are safe, it is okay. It is mutual consent between a man and a woman. What they want to do behind the closed doors is none of my business. But I do think that when people, who are married or are in a committed relationship, have a one-night stand, there are a lot more people affected than just the two in question.



Image Source: youtube/T-Series

People had a certain idea about you, which changed post your recent (in)famous TV interview. How did all that happen?
Don't remind me that again! I was fidgeting the whole time and waiting to get out of the interview. After the camera stopped rolling, I told the journalist, "Sir, you will be going back to your family after this." But he thought the questions he asked me were absolutely okay. So what can I do? I was very upset about it but I saw my fans supporting me. People started to respect me as a human being because before that, they didn't think I was a human. A lot of things changed after that.



Image Source: india

I think your life precisely changed when a lot of celebs from Bollywood stood up for you. Let's not forget that Alia Bhatt, Anushka Sharma or for that matter anybody else, were not exactly your friends. How did that feel?
It felt amazing. The questions that I was asked were all questions I have been asked before. I think it was just the manner in which they were asked. In that respect, I feel that people who watched the interview were feeling what I felt, sitting there. I was so grateful to everybody for their support.

Post that interview, even Aamir Khan came forward and said that he wants to work with you…
I know (laughs). I was shocked. I was happy with one message from him, but then there were two.



Image Source: Manav Manglani & amusedmedia

So can we expect a movie with Aamir?
I have met him, but nothing has happened on the movie front yet. At this moment, I am enjoying the fact that I got to meet someone I have always wanted to meet.

And then you shot with Shah Rukh Khan in Raees...
I still remember when Shah Rukh Khan called my husband. I was sitting in my car and Daniel (Weber, husband) was talking to somebody on the phone. After getting off the phone, he said, "You won't believe who called and he wants to do a song with you in his movie". After much cajoling, he said Shah Rukh Khan. And my instant reaction was, "Are you sure they called the right number? Maybe they wanted to speak to somebody else." I was in shock and disbelief for a couple of days.



Image Source: fairobserver & wedio

Were you nervous when you faced SRK?
I was very nervous throughout the first day. I remember I stepped out of the studio and he was sitting outside, talking to the director. That was the first time I saw him on the set. After meeting him, when I went into my vanity van, I realised that my hairstylist had styled my hair in such a way that it looked like a pineapple on top of my head. And I was like, 'Oh my God! Sunny, you met Shah Rukh Khan looking like this!' (laughs)

And how was it shooting a special song with him?
I had to control my emotions after seeing our first shot together. I told myself, 'Sunny, pull it together. You are a professional, no getting emotional' (laughs). And I went up to him and said, "Sir, this was our first shot together. Thank you so much."



Image Source: youtube/T-Series

Did your nervousness decrease with time?
I was fine after the first day. I started to behave like a normal human being (laughs) and not some crazy fan.

However, exceptions always exist. Some people are still sitting on the other side of the fence – Pooja Missra, for example. She filed a defamation case against you...
I have no idea what she wants, but I am very intrigued that it goes on to make news.


Thumbnail Image Source: youtube/T-Series