Sushant: Dhoni Was Very Comfortable Opening About His Love Life To Us
SpotboyE.com catches up with the cast a day before the film hits the silver screen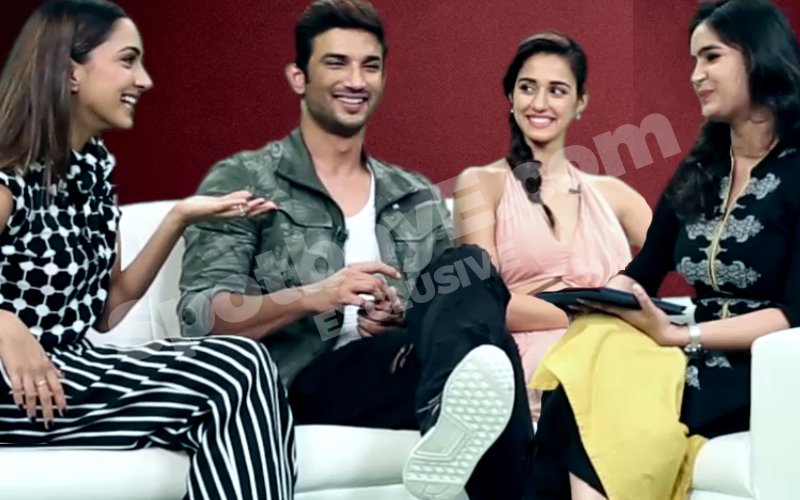 A day before Neeraj Pandey's directorial venture M.S. Dhoni: The Untold Story hits the theatre we caught up with the cast of the film for a freewheeling chat.
Carrying a huge responsibility on his shoulder of playing the most loved cricketer of India-MS Dhoni's character onscreen, Sushant looked confident as he spoke. Read our full interview with Sushant Singh Rajput, Kiara Advani, and Disha Patani to know about their journey through this film and more.

Sushant, you're playing the role of someone who is worshipped in India. MS Dhoni is a huge name. Are you nervous since it is a big responsibility?
Sushant:
I am a bit nervous now because the release is right here. But it is more of an excitement than nervousness. For the longest time, I have been Dhoni's fan and the most important thing is that I always wanted to understand how he thinks. That was a big question in my mind past 10-12 years. And now to get the first hand experience of understanding that is something which is exciting beyond words..
Sushant, for almost two years you just focused on him. So, what kind of research went behind this role?
Sushant:
One of the most important things for an actor is to convince himself that he is actually the character he is playing on-screen.
Now if you're extremely talented you can do that in a month but it took me 1.5 years as I had to inculcate few skills which required me to give a certain amount of time. So 360 degrees – I was looking at him, listening to him or behaving like him and that's how I spent my last two years.
How did Dhoni help you in this process? Did he come on the sets and tell you what to do?
Sushant:
No, he didn't come on the sets or during the training days but on and off whenever he was free he was more than welcoming. I used to ask him many questions. So much so that after a point, he became the 'not-so cool' captain.
(Disha: He didn't want to see you after that)
Sushant
: Very honestly, genuinely and patiently he answered all my questions.
Disha, how did the movie come together? Was it difficult playing Dhoni's ex-girlfriend?
Disha:
The credit goes to Neeraj sir for giving me a chance to play this role. The character is very special and very close to my heart as I play someone who stirred so many emotions in Dhoni. The whole journey has been very exciting and this part especially was very challenging because a lot of people were watching me. I had to make it look so convincing that people believe that there is a girl called Priyanka who actually loved Dhoni so much that his life changed in some or the other way.
Neeraj sir made everything very easy, he had a clear idea of what he wants and he also gave me the space to experiment with the character. So, whatever he told me and taught me, I followed his instructions and I added some part of mine to make it more real.
Kiara, you made your debut with Fugly and it's been a while since we saw you on the screen. What kept you away from the spotlight?
Kiara:
I think just being patient. It is said that you don't choose your first film, the film chooses you and then when you go ahead with your second film, you start laying the foundation of your career. I was being patient and I think patience really paid off.
Sushant, a film like this can be a risky affair. Did you face dark days when you thought you can't pull it off?
Sushant:
Yes. Felt like this each day while I was preparing for the role. It takes a lifetime to understand yourself and here I had to understand a different person altogether.
Since I am also a big fan of Dhoni, it was very hard for me as an actor to convince myself that I am Dhoni. Every day I was figuring out something, but then you just have to make sure before the first day and the first shot of the shoot that you're fully prepared.
How was your first meeting with MS Dhoni?

First meeting happened long back. In 2006, India was playing a match against Pakistan in Mohali and I was in Delhi. My brother-in law, who is in the police department, helped me click a picture with Dhoni.
Did you ever imagine that time that you would be playing him onscreen?

That time I didn't even think I would be an actor.
Girls, have you all met the Captain Cool?
Disha:
No, I haven't but I have met him (Sushant)
Kiara:
I have met him. I watch cricket. After shooting our first schedule, I met Dhoni. When I saw him, I was shocked! Sushant picked up his traits so well, it was unbelievable! So, his two years of training really paid off!
Which playing grounds did you shoot at?
Sushant:
Many! We have shot at almost all the grounds that he was playing on – for school, for the state team, for the national team. Not just the grounds, we have shot at the house he was staying in Ranchi, back in Khadakpur. Used the same bike– everything is being taken care of.
Dhoni has played many marvellous innings but if you have to single out one, which one would it be?
Sushant:
It is slightly tough to choose but his first match, which I saw was when he was playing against Pakistan and he scored 140 runs. I was looking at him for the first time – he had a swag, confidence and long hair and he was hitting sixes! And then the 2011 World Cup!
Sushant, it's a big risk that you have taken with this movie because Emraan Hashmi's Azhar didn't work well at the box-office. Are you confident about this one? Are you nervous people will make comparison between the two?
Sushant:
It's on them. We have tried our very best to honestly portray a very compelling story of the most popular Indian captain.
Disha, what separates Dhoni from the other cricketers?
Disha:
I remember Sushant telling me that Dhoni is someone who lives in the moment. He's not someone who's planning for the future or thinking about some other day. He thinks about today and how he can make that very day better and this is something that makes him Captain Cool – this needs patience and it makes him special.
Kiara, how was your first meeting with Sakshi (MS Dhoni's wife)?
Kiara:
The meeting happened after we got talking on the phone. I met the entire family and my eyes just got stuck on the baby, I couldn't look anywhere else. But, honestly, I felt like I knew Sakshi from a very long time, she's like any other girl. The quality of being grounded in spite of being a star wife was very endearing. Portraying her was lovable. Their relationship is like any other normal couple.
Sushant, how comfortable Dhoni was opening about his love life?
Sushant:
He was very comfortable. Once he decided that he will give us the right to make a film on him, I don't remember him telling no, or it's personal for anything. He talked about everything at length.
Disha, does it become difficult to focus on work when things are written about you and Tiger?
Disha:
No, it doesn't matter. I am only focused on my work. I am here to work; I am here to become something, to have my own identity. Such things don't bother me. I would rather be associated with my work than such things.
Sushant, was it difficult to act in love when you yourself were going through a rough patch in your personal life?
Sushant:
That's what we are paid for, right? We will convince you of something else that we are not! We are actors after all.
Tell us about the music of the film and which one is your personal favourite?
Kiara:
Entire album is super soulful. I love Jab Tak. The way it is shot, it sums Dhoni and Sakshi's relationship in a perfect way.
Sushant:
I have 3 favourite songs for different reasons. Kaun Tujhe is the first song that was composed. I was teary eyed when I first heard it. Besabriya is a song I can relate to because it tells my story – when I was in Delhi, I was going to one place to the other because I was just chasing my dream. I was not proving a point to anybody. Jab Tak, because I was shooting in Cape Town! I just wanted to do a film where I could go out – all my films were in Ahmedabad, Kolkata, Delhi or Mumbai – I just wanted to go somewhere! I was finally going abroad for a song, I had a blast!
Disha and Kiara, how was it working with Sushant?
Disha:
He is not a tough guy. He is very sweet. You don't even feel for once that he's a senior actor, he made me feel so relaxed but at the same time he doesn't tell you what to do, he gives you your space. He's very hard working. I had to be prepared all the time.
Kiara:
He is a motivating guy.
Which is your personal favourite Neeraj Pandey film?
Kiara:
My favourite is Baby
Sushant:
M.S. Dhoni: The Untold Story. I am big cynic when it comes to my work.
Disha:
Special 26
Why do you think the world should listen to Dhoni's story?
Sushant:
To have a good time! And then, it talks about cricket which is so popular in India. And it has a message, no matter where you are from, you can dream big and never give up!
Image Source: twitter/itsSSR, top10 &
wallpapersdsc
They say the best things in life are free! India's favourite music channels 9XM, 9X Jalwa, 9X Jhakaas & 9X Tashan are available Free-To-Air. Make a request for these channels from your Cable, DTH or HITS operator.