Sushant Singh Rajput's First Death Anniversary: Bollywood Paparazzi Viral Bhayani Reveals He Was A 'Genuine' Person, 'Conscious Of His Image' And Didn't Like Paps Intruding His Private Space- EXCLUSIVE
Paparazzi forms a big part of Bollywood but Sushant Singh Rajput was not someone to get clicked often. As we observe actor's first death anniversary today, Bollywood's famous paparazzi Viral Bhayani talks to us about him, how he was behind the camera, his equation with the paps and more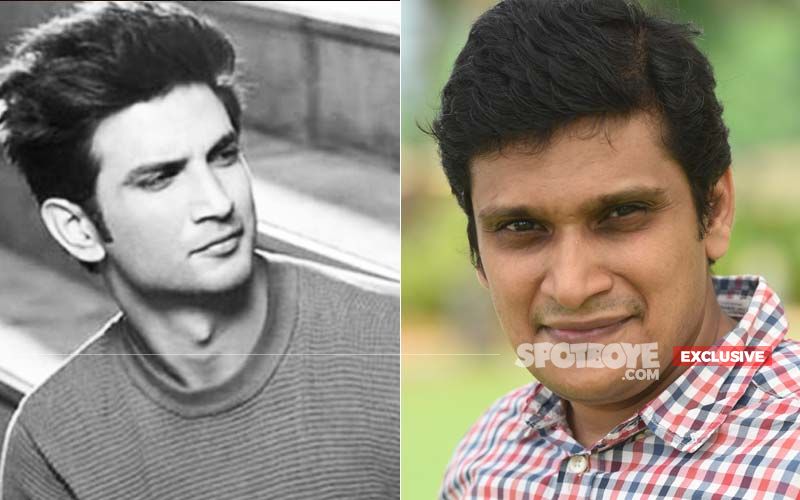 Sushant Singh Rajput died mysteriously on June 14, 2020. His death came as a shock to the world and a lot of theories made rounds as to what happened with the young actor. Media played a big role in the entire investigation of the case, bringing all the information and details to the late actor's fans.
It's been a year today that we lost Sushant, and the loss is irreplaceable. On his first death anniversary, we spoke to a member of the media and Bollywood's one of the famous paparazzi, Viral Bhayani, who had many encounters with the late actor on field and events.
Read on as Viral tells his first person account of how Sushant was behind the camera with the media representatives and how popular he was in the public.
How regularly did you and your team cover Sushant Singh Rajput?
We used to cover Sushant just like any other Bollywood celebrity but as we say it is the audience who makes an artist. If an artist is being regularly covered by us and seen on my page then it is just because the public is showing that kind of interest in him/her. Unfortunately, Sushant used to not get that much eyeballs on the social media as such but considering he was Bollywood's one of the top actors, we used to follow him. We did put a lot of stuff around him but it never showed the kind of engagement we hoped for.
For instance, if today if we are covering Sidharth Shukla, Shehnaz Gill or Rakhi Sawant regularly, it is because of the interest people are showing in them. We don't have personal favourites, we capture the ones who the public likes to see.
You have met him, how was he as a person?
Sushant was a very nice guy. In fact, he was the first celebrity to follow my Instagram page. At that time, I was a nobody but still he followed me. I still remember being so amazed with the feeling that 'Oh wow a star is following me. It is such a big thing'. He followed many papz who covered him on field.
So, it wouldn't be wrong to say that he was quite grounded...
He was a very genuine person and we have covered him for many years. However, I would not deny that there were a few times when he did show a bit of attitude to get clicked- this was after his few films got hit.
Attitude?
Sometimes he used to not cooperate the way we wanted him to. But I have no complaints as there are a lot of celebrities who don't cooperate with us. We keep requesting them to give us pictures but they don't. However, we don't stop covering them because the audience want to know about them.
Also, I always consider that if a celebrity is not readily posing for a picture, there must be a reason to it. I can't judge them on the basis of not cooperating with us. And so was the case with Sushant.
When was the first time you interacted with him personally?
I had gone to his place in Bandra- the one where Arjun Rampal resides now. It was his roommate's birthday party and I was invited. I still remember that he was sitting in a dark corner, all alone listening to light music. And this was around 5-6 years back, he had become a renowned name in Bollywood. So, my friend introduced me to him and he also recognised me. He was friendly and he did come request me to eat and drink comfortably before I leave.
Didn't you click him in his personal space?
Of course I did. I told him, "Sushant I want to click one picture of you" and he agreed. I checked his house and found a guitar displayed there. So, I told him let's click on this backdrop and made him pose and got the picture done.
How did your equation change with him post this interaction?
The next time I met him, I'd say he was a different person. I met him at an event in Bandra, where I was the only photographer inside. If I am not wrong, Sushant and Sara Ali Khan were arguing about something, so he was not in a very good mood. I wanted to take a byte from him but he straightforwardly said no for it and asked me to leave him alone. He also said, "Don't click me with Sara. I don't want anything on us in news." I was really heartbroken with his behaviour that time as I was there to capture the event and he denied giving picture and byte saying it is his personal time.
So, like many other celebrities do, did he also call you for spotting him in the city?
No, he never liked getting 'spotted' in his personal space. I have never received a message from him. His PR used to hardly reach out to us to capture him. But considering he was a popular face, we chased him anyway. Also, he used to reside at such a prominent location that we used to often get to spot him.
Go on...
Before the lockdown, we were very active in the night and mostly a person from my team used to stand out at his residence as lot of actors and actresses kept coming to his house. After his death, a lot of people had messaged me that why were we not there on the 13th night but the only reason was the pandemic and the strict lockdown imposed on us. We are very much alert with what's going in the city especially in the life of Bollywood celebs but the time was such that nothing was happening as we all were in lockdown. I wish it would have been a normal day and we were there to cover the said party. Because we were not present, I can't even confirm that any such party took place at his house that night.
Did he ever create a scene for capturing him?
Not really, but yes once he came to us saying, "Please mujhe capture mat karo jab photo deni hogi, I will come personally to help you all." Once we had gone outside his residence to click him with his new bike and a picture of him came out without his helmet. So, he got really upset as he was very particular about a few things. He was Image conscious, I would say.
In what way?
He used not like people writing gossip about him or we capturing him with somebody he doesn't want to be written about. He used to take things to heart.
What was the last thing you captured about him before his death?
The last thing was a picture he had shared with me through his PR which I declined to post.
Why?
The photo was of him sitting with some kids and it was quite blurry. Frankly, I didn't find that interesting enough to post. I took the decision on quality basis as we look for strong content. I didn't understand the emotions behind which I realise now. His emotions were quite strong for those kids and I also feel bad that I initially declined his request.
Did you post the picture?
Yes, I had posted that picture but after a lot of convincing from his PR. I almost refused 5-6 times. This was just a few days before he died. Maine uski iccha to poori ki par anjaane mein usko bhi kiya shuru mein mana kar ke.
Do you feel people are more interested in him after his death?
I agree to some extent. Post his death, when I shared a few things about him on my social media page, I received backlash about posting so much about him after he is no more. Fans messaged, 'You did not support him enough when was alive and today when he is not there you are supporting him.' Then I slowed down on posting things about him and then the same people started asking, 'why are you not posting about him? You are so bad.' So, I was in a catch 22 situation. In fact, post his death, I also got death threats by a lot of people in my DM that we will throw acid on you.
And why was that?
They felt that my equation is good with many Bollywood stars and people had kind of started hating the entire industry after his death. It was their angst against what happened to him.
Do you feel that people still hate the industry...
I do feel that because I am still receiving backlash after posting a picture of Bollywood celebs. I get messages saying, 'why are you covering them? We don't want to see them.' And when you see such reactions, you also start feeling that you're not doing good enough. A lot of people have definitely lost interest in this area. I can say June 14, 2020 was a black day.
How much has this impacted your business?
I had a booming business which got over in a night. I am now slowly shifting my base to television and thankfully the response is good.
Image source: Instagram/sushantsinghrajput