Tanuj Virwani On Essaying Grey Characters: 'I Have Not Been Able To Figure Out Why These Kinds Of Roles Get Offered To Me'-Exclusive Video
Tanuj Virwani, who was last seen as a don in web series titled The Tattoo Murders, talks about the show's reception, being the quintessential Bad Boy of OTT, Inside Edge 3, IPL, his upcoming lineup and more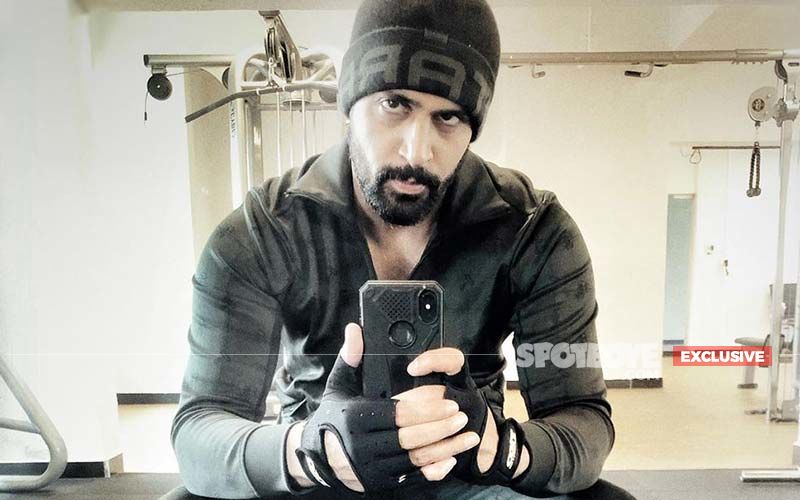 In an exclusive conversation with Spotboye.com, actor Tanuj Virwani, who was last seen as a don in Disney Hotstar+ series The Tattoo Murders, talks about the show's reception, being the quintessential Bad Boy of OTT, Inside Edge 3, IPL, his upcoming lineup and more. Read excerpts from the interview:


How has the reception to The Tattoo Murders been?
It has been really interesting since I consciously decided to get out of my comfort zone with this show and attempt something different. Be it films or OTT, I have usually essayed more yuppy and urban characters so far. Even though I have dabbled in the grey zone before, it was the first time going as an out and out villain and it was interesting going in that darker aspect of the human side. I was nervous initially because whenever you try something new, you never know how your audience will respond to it. But so far, the response has been extremely encouraging. By and large, the response for both the show and my character has been excellent across the board.
You shot in real locations for the show including Kamathipura and Ahmedabad. How was that experience for you?
It was really unique. Be it Kamathipura or the neighbourhood we shot in Ahmedabad, none of it was a set and all the junior artists and secondary characters were real-life people and not actors. That added an extra level of authenticity to the show. At the end of the day, your script is your blueprint but these real locations added a nuance to it. The home that I was shooting most of my scenes in, was actually someone's home and they would rent it to us every day from 7 am to 7 pm for a week. It took me some time to get used to it as I am used to shooting in a sterile environment and it was more of a guerrilla shoot.
Most of your roles on OTT till now have had a grey shade. Why do you think makers see you as the quintessential Bad Boy of OTT?
I have not been able to figure out why these kinds of roles get offered to me. It's ironic as when I started with Purani Jeans, I played this goody, clean-shaven, boy-next-door, someone you would take home to your parents. My career started changing tracks with One Night Stand with Sunny Leone, where I played a cheating spouse torn between love and lust. As for OTT, a lot of people think that Vayu Raghavan is a grey character but I beg to differ as I think he is an accidental hero. He is not really looking to go out of his way to be heroic. When he does something heroic, it comes out of who he is in his core. As for my other characters, in Poison, it being a revenge saga, it had some justifiable grey shade. In Code M, I was Watson to Jennifer Winget's Sherlock, so no grey shades there. With the Tattoo Murders, it has been a deep dive in the dark side.
You have an exciting lineup, which includes Cartel that you wrapped up just before the second wave of Covid-19 got worse. Do you feel fortunate to have been able to complete that shoot?
Cartel has truly been a passion project, not just for me but for the entire cast. It's a really long format show and we shot for it for about 126 days. Even for a show like Inside Edge, we usually shoot for 75 days or so. Hats off to everybody associated with Cartel, especially our director and Ekta Kapoor ma'am for backing our show in the time of a pandemic. We were short of a lot of cartels due to Covid and it was a high-risk show, but it's been handled beautifully. We were fortunate to have been able to complete the shoot successfully without having to compromise with the creative aspect. We were true to the story we set out to tell.
As for my other shows, they are all my babies and I love them. Beside being a part of it, I am also a huge fan of Inside Edge, so I am super excited about the third season. I cannot wait to see how the audience reacts to it, as the aim is to do something different with each season. Next up, we have Tandoor, which is an Ullu and MX collaboration and it is based on the Tandoor Murder Case of 1995 in Delhi. I have massive shades of grey in that character. I have also completed a Hotstar show, Murder Meri Jaan, with Barkha Singh that will release this month. It's a detective drama as well as a romcom. That's a lighter space and I have been so intense lately in real life and on screen, so that project is my respite. If all goes well, we should start Code M season 2 soon and I have also joined the cast of Illegals 2 with Akshay Oberoi, Neha Sharma and Piyush Mishra amongst others. Work looks good, we just have to see how the situation unravels.
Talking about Inside Edge 3, any idea of when it will release?
After the entire controversy that happened over Tandav, which I think was very unfortunate, Amazon has decided to reschedule their line up and it has had a domino effect on all shows. The Family man 2 also got pushed by a few months, so no idea yet about Inside Edge 3. We have successfully managed to complete the shooting though, so the wait shouldn't be much longer.
You play a cricketer in Inside Edge and currently, the IPL is going on; Which team are you supporting in it?
The other day, I was trying to reach my home quickly after shoot before the lockdown and the match started. I was shooting in Madh Island and we wrapped up at 6, so it was truly a race against time. My favourite team has always been Chennai Super Kings as I love MS Dhoni and Suresh Raina. I love that the team back their players even if they have a poor season like last year. Also, I love Aamchi Mumbai. So, these are the teams I support and root for.
As a cricket fan, do you feel the lockdown has been easier to deal with due to IPL?
Absolutely. I think they have sneakily timed the IPL during the lockdown. Thank God for it, our evenings and nights are taken care of because of it.
Your co-star in Tandoor is Rashami Desai and it marks her OTT debut. How was your experience working with her?
She is fantastic and I am excited to see how people warm up to us as a pair. I think she is an absolute cracker as an actor and a wonderful human being. That's the perfect combination. I want to work with actors who I consider more talented than me, as it makes me bring my 'A-game' too. At the end of the day, acting is also about reacting. I can only give what I get. And she doesn't give any bad takes. Her first take is as good as her fourth or the final take.
Apart from acting, you are also a writer and director. Any plans to explore that side on a bigger medium?
I wouldn't say I am a writer or director, but I am an aspiring, wannabe writer and director. I don't know how good or bad I am at it, but I enjoy it and find it therapeutic and a nice outlet for me creatively. The plan to take it on a bigger platform is there, but not in the foreseeable future. I am currently in that space where I am trying to make my mark as an actor first. After a few years, when I am hopefully doing good in my career and have a little more experience on my side, then maybe I can switch gear, have a dual career and maybe do some writing and directing with acting. The hope and intention for now, is to just put out good work so that the audience believes in the choices you make and the characters you tackle. That gives you some amount of street credit that you can capitalise on in future. So, I am investing in myself for now.
You have a big OTT line up. Any films that you have in the pipeline as well?
There are a couple of movies. I can't talk about them but they are both very interesting projects. There is a lot of uncertainty of when they might go on floors but I can assure my fans, it would be a terrific return to the big screen for me.




Image source: Instagram/tanujvirwani