Tanushree Dutta To Nana Patekar: Fathers Don't Ask Daughters To Do Intimate Scenes With Them. You Should Be Ashamed!
Tanushree Dutta goes no-holds barred on her claims of Nana Patekar having sexually harassed her. Don't miss the last part of this EXCLUSIVE SpotboyE.com interview, it's REALLY SPECIAL!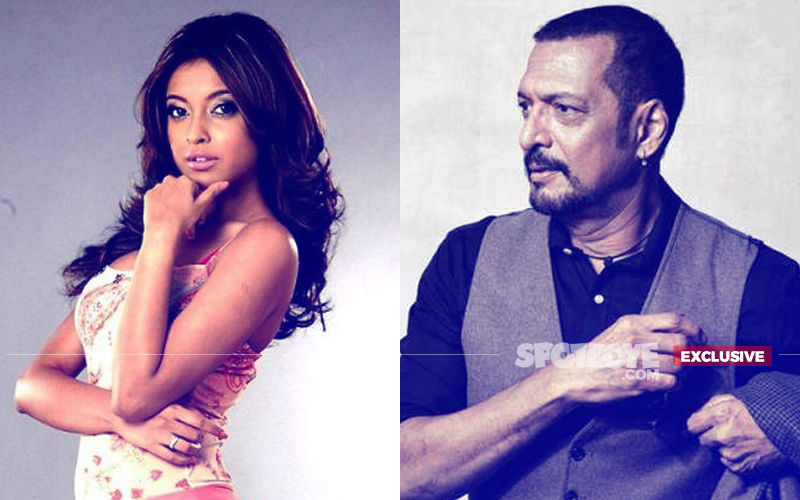 We caught up with Tanushree Dutta, last evening. The actress was ready to take any question asked to her on her and Nana Patekar's sexual harassment controversy which has become the talk of the town. Excerpts from the conversation that followed:

Will it be right to call Tanushree Dutta as the talk of the town?
At this moment, perhaps yes. But I don't want to remain the talk of the town. I want the issue which I am raising to become the talk of the town. I want people to come forward, else as a society we are going to deteriorate.

Have to ask you a lot more, but we will start with the issue you want to raise first. It's sexual harassment, right?
Absolutely.

It happened with you in 2008, you say. You are on a holiday here (Tanushree now stays in New Jersey), catching up with your newly married sister (Ishita Dutta). How did this topic start all over again. The scars have remained, I guess...
The scars were very deep. It was an assault on my mind and spirit.



Assault on your modesty as well?
Yes.

Would you say that your modesty was outraged?
Yes (pauses).

Go on...
So yeah, I underwent a lot of trauma consequently. I went through all possible types of grief. Like first, I was in denial. Then, I tried to forget about it. Then, I was angry.: How dare they did this to me? How can they get away and the industry continue working with them? And then, I also underwent phases of self doubt- What did I do to warrant this? Should I have not done sexy roles? Should I have not worn certain clothes? And if I did, it was not my fault, it didn't imply that I was available. There are so many evil people around us who are obnoxious, they are simply evil. And I was certainly at the wrong place at the wrong time.

Rewind: Wrong place, wrong time...
Wrong place was Horn 'OK' Pleassss. Wrong people were Nana Patekar, Ganesh Acharya and the gang. I should not have taken up that film. It all began when I saw Nana Patekar on the set around 6-7 am when he was not required. And mind you, he was staring at me like a freak. I had been told that it was my solo song. I checked with the director (Rakesh Sarang), who then told me that he is required for just one line. He shot for that one line of his, but continued to be on the set. When I told him 'Hello', he didn't even reciprocate. Slowly he started coming closer.
Next day, he was even more closer. And then, he started behaving bizarre. He asked Ganesh Acharya (choreographer, whom I had recommended for that song) to move out, grabbed me by my arm, and started telling me: Idhar khadi ho ja, Udhar khadi ho jaa. He wanted to teach me how I should dance.

You are telling me that Nana wanted to be a choreographer on the set...
He was just obnoxious.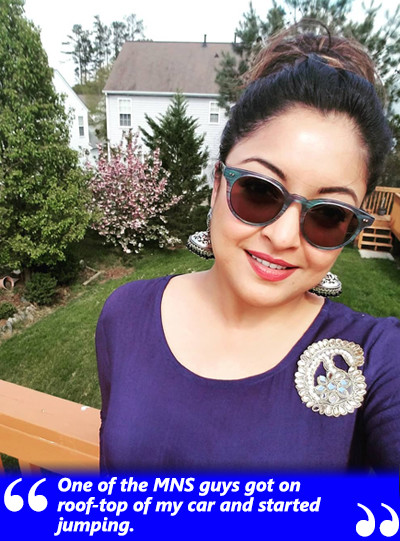 And Ganesh Acharya actually moved out?
Yeah, like an obedient son. And Acharya didn't even realise that he was doing something wrong in obeying Nana. The rest of the assistants were, however, shocked.

So, was that scene shot?
No, those were the rehearsals. But I could see that Nana is not getting it that I am not liking his behaviour.

Would you call it 'his advances'?
Advances, yes, Harassment and domination as well. You know, that old school of thought in men that it's okay, so what if the girl is not complying?

You complained to Rakesh Sarang?
He took no action. He simply said he will look into it.

And then?
I was supposed to get touchy-feely with Nana Patekar. When I resisted, they said that I was 'un-cooperative' and 'woh scene karna hi padega'. That was ridiculous. How can you force me? If you are as respectable as you claim to be, then you must always consider a woman's comfort level- else, back off. Thinking of it, I have acted with male actors who have refused to do kissing scenes saying they are not comfortable, they are married etc.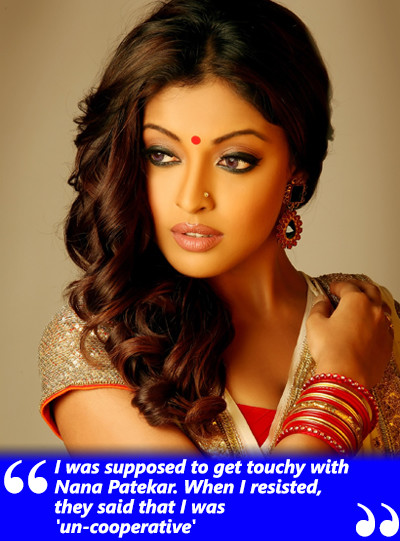 Was Nana around when these instructions were being given to you?
Yes, and I walked out of the set. In no time, they had called the media and the MNS guys. Clearly, they wanted to create hungama and blow it out of proportion. The whole thing got terribly aggravated. I may not have been a bonafide star then, but Nana at that point of time was an ageing and failing actor. The movie was clearly not selling on his name, else why would I be asked to do a special song in the end?
Okay, so further, before I could realise, the production team was banging on the door of my vanity van. But my parents (who were also on the set) and I tried to drive off, the MNS had arrived and they tried breaking the car. One of their guys got on roof-top of the car and started jumping. The gates were closed. Instructions were given to not let my car go out. It was horrifying. Thankfully, the police arrived.

Who was the good samaritan who called the police?
If they had been 5 minutes late, someone in my car would have bled. I think the good samaritan was a senior cop who had seen the report of the incident on his TV set.

Did Nana tell you anything then?
No apology nothing. No conscience.

No, I mean anything that wasn't right...
No, but does he have to? I mean, does he have to say something cheesy? Don't actions speak louder than words?

Soon after that, you went away to New Jersey?
Not immediately, in fact, much later.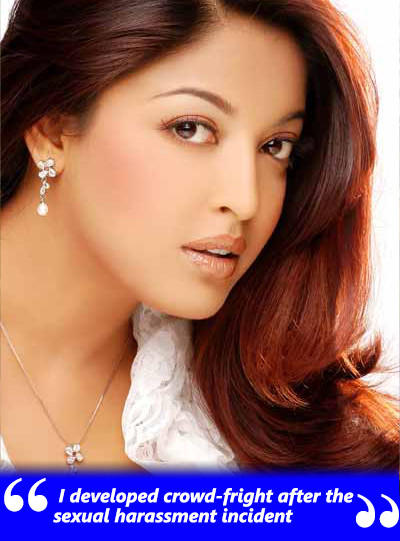 Did the filmmakers stop chasing you for movies, assuming that you are a troublesome actress?
Nope, on the contrary I got several films- nearly 30. Two of them wanted to start with me immediately.
Did you do those 2 films?
No. It was not possible. I was suffering from a lot of mental trauma after the Nana incident. I developed crowd-fright.

Couldn't you make peace with yourself and continue working?
It wasn't about those men, but such an incident skews your personality very badly. And the bad memories refuse to go away.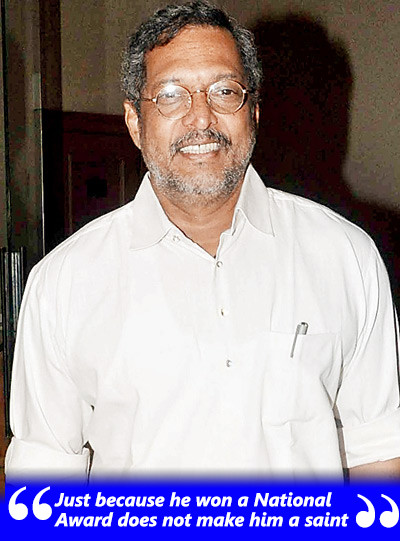 Around that time, we then started hearing that Tanushree was unwell...
Those stories were a part of the campaign to malign my character. Nefarious elements got at work. I decided to walk the spirituality path.
Dad was so traumatised, explaining to those filmmakers that I cannot do their films. I was just not in a state to get back. Ishita was also traumatised.

What happened to those 30-40 films?
My Dad informed them that I was not in a position to do their films.

How old was Ishita then?
She was in her First Year in college.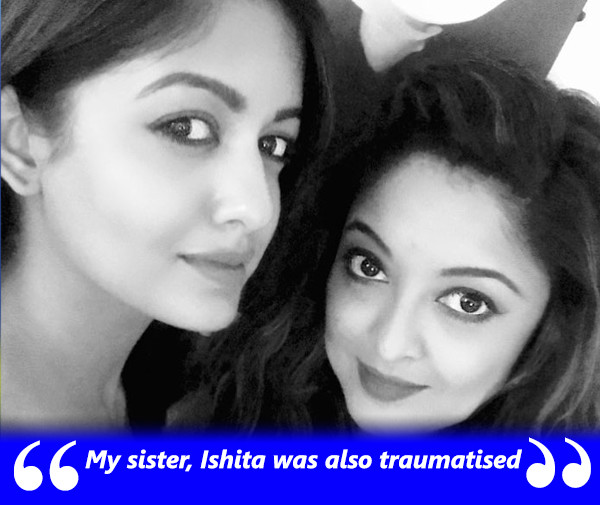 Yes, and after that, she became very guarded about the industry.
I even complained to the Producers' Association. All prominent people were there, but their attitude was heartbreaking. They were looking at me as if I have done something criminal in saying such a thing about a so-called respectable man. My Dad was also horrified.

That reminds me that Nana has spoken to a section of the media something that tantamounts to saying that he is a respectable man- nobody has said things like these about him...
He is not a respectable man. There are actresses who have complained about his behaviour. There was a particular actress who called him obnoxious. There have been hushed whispers.

To whom?
To the media. Just because someone calls himself respectable, does not mean that he is respectable. Please, some men in this industry need to understand that they can't push their way around.

Did you have to face the casting couch? Pertinent to ask, as it goes hand-in-hand with your outburst...
Nope, I was ex-Miss India and people didn't come forward in that way. Do you think my career was so prolific? Yes, there was a media acceptance about me. But those were all movies that anybody could have got instead of me.

So you were out off by Bollywood?
Yes.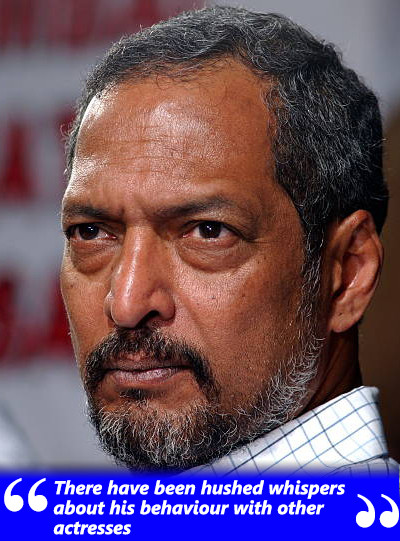 Did that make you go to New Jersey?
In a way, yes. I chose to leave where my work and values are not respected. And add this to the dense reaction by many. I started doing basic work- events etc, to take care of my life. And as I said, I took the spiritual path.

Did you not think of getting married?
I didn't find anybody. If I find someone even now, why not?

Talking about the dense reaction, they might say that even now: She is back from New Jersey. Maybe she is doing it to create a flutter...
Yeah, but what can you do to that? Let people talk whatever they want. I know what I am saying. I am saying something that happened.

What if Nana apologises to you?
He is most welcome to apologise. I don't hold things in my heart forever. An apology is due, not for just me but for everyone else.
But look at the category of human being he is. The lowest of the low. He had the option to back off but he came with a counter. After the intimate scene was suddenly introduced, it was like: Tu Kya Bol Rahi Hai Mujhko Hat Jaane Ko, Ab Tu Mujhse Aur Chumma Chaati Kar. That was the mentality. He called goons to attack me, and then went and told the media audaciously that 'I am like a daughter to him'
Nana might even now say that he didn't ask for the intimate scene, and it was Sarang's choice and decision.
He can say whatever he wants. It will take a saint to admit that he sinned. He was on the set when they were asking me to do the intimate scene. He could have come forward and say, 'Leave it, she is uncomfortable, let's not do it'. Mind you, those guys who were trying to convince me kept looking at him during the talk.

For approval you mean?
Yeah.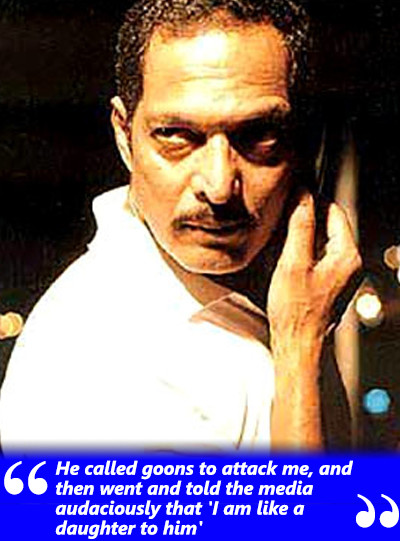 It needed a lot of courage to speak about this when I was 23. I am doing this again now, simply because I want more people to come forward and speak up (to protect their dignity). I want to create a certain awareness. I want the dialogue to continue.

US mein kya chal raha hai?
Big shots are being toppled in similar incidents, they are even going after political figures now. But the mentality of people there is not skewed in favour of men. Even if I am wearing a bikini in the middle of the road and call 911 to complain, nobody is going to ask me what I was wearing and why I was wearing such-and-such outfit when the horrifying incident happened. Even while complaining an accident there, you don't need to identify yourself and answer hundreds of questions. We are very insensitive to the human mechanism here.

Any chances of coming back to India and doing movies again?
I really don't know. I am still doing some soul-searching. Aur waise bhi, I am a green card holder and close to acquiring citizenship in the US. I may not be able to devote more than six months every year. Let's see.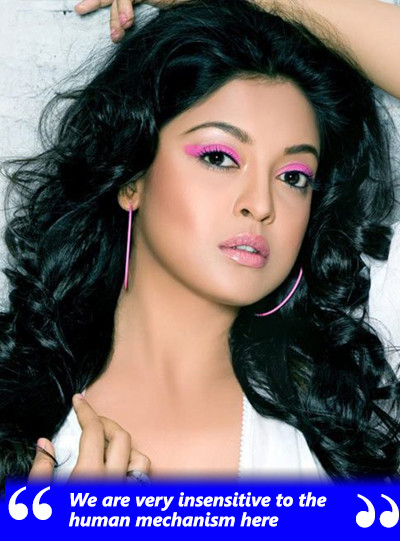 Your ex-boyfriend Aaditya Dutt came forward? Then? And Now?
Nope. Not even then, not even now. We are not in touch. We have different lives now. I also realised in my journey that I thought I had many friends but...

Woh kehete hain- friends in your face seldom help and friends not in your face do...
Yeah, I agree. Add to this, one's own family which invariably stands in support.

The story goes as: Tanushree claims...
Why can't you say Nana claims? Why can't you say Nana Patekar claims that he is a respectable man? Just because he won a National Award does not make him a saint. He could be the worst human being on this planet.

It's a fitting reply and a fitting end to this interview...
Thank you so much. I have always liked talking to you.


Image Source: celebsguru , imbd , newsbuqz,celebritycurry ,instagram/ishidutta ,urdupoint, bizasia & mr.beingmarathi