Thank you Richa Chadha for saying 'Who wouldn't want to have sex with me?'
Here's the latest update from the world of Bollywood. We bet you wouldn't want to miss this. Read on for details... Says Randeep Hooda, while talking about Sarbjit, Aishwarya, Alia and lots more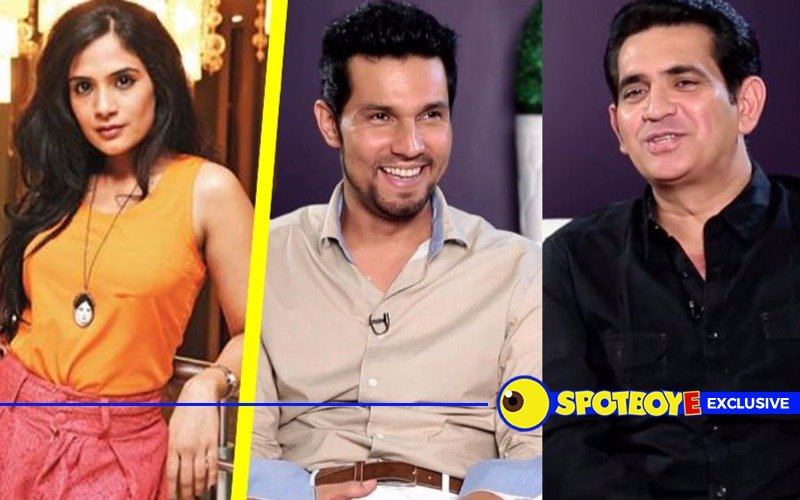 How did you get the idea of doing a film on Sarabjit?
Omung:
Sandeep Singh brought it to me, but initially I turned it down. I didn't want another biopic after Mary Kom. But when I saw Dalbir Kaur's videos, it shook me a lot. I began to read more about Sarabjit Singh. The rest, as they say, is history.


Did you always have Aishwarya Rai in mind for Dalbir's part?

Omung:
I look for very strong actors, those who will change their look and appearance, and not be just themselves. I wanted a mature actress to play Dalbir, someone who can play 22 as well as 60. I wanted someone who would command or demand that "Meri taraf dekho, aur kahin nahin." Who better than Aishwarya? Everyone says she is beautiful, now what else? That challenged me even more. I wanted to transform her and challenge the world.
A similar thing happened with me in Mary Kom. Many people told me that Priyanka Chopra doesn't look like Mary Kom at all. But after seeing the film, didn't Priyanka become Mary Kom for everyone? Wait and watch, Aishwarya will become Dalbir Kaur for the world.
How did Randeep Hooda come on board?

Omung:
I had written Randeep's name and asked Sarbjit's family what they think of him. Surprisingly, he was on their list too.
How did you get ready for the role?

Randeep:
Somebody sent me an article that Sarabjit's family wants me to play the role of Sarbjit. I wasn't sure then if a movie was indeed being made on Sarabjit. After few days, Omung called me. I think it was some kind of providence (smiles).
Were you nervous that Aishwarya is going to be your co-star?

Randeep:
No, I don't get nervous. In fact, I don't pay much attention to my co-stars at all. Even if it wasn't Aishwarya but anybody else, I would have yet done the role in a similar fashion. This film had too much on its plate for me to be concerned about anything else.
You lost a lot of weight for the role...

Randeep:
It's just that you have to leave all your temptations if you want to lose kilos. My sister is a doctor of internal medicine and metabolic diseases. She monitored my weight loss. So, one sister (Aishwarya) was trying to get me out of jail while the other was trying to make me look like I was in jail (laughs).
We decided to shoot the village scenes first, so I started to pile on weight. But soon, we had to shoot the jail scenes, so it became like a race against time- otherwise I would have lost weight more healthily and graciously.
You went about the role locking yourself up...

Randeep:
Yes, but I didn't do it for anybody else. Even the directors are not interested in the process, they want just the result. It was something I did for myself. Someone has gone through it for 23 years and if I do it for some time to touch upon it so that I can fathom what he must have felt, it is the least I could have done. Many times, I stop outside my vanity van which has a plate 'Artiste' pasted on it, and wonder if I am really one. An artiste, like a dancer or a singer or a painter, puts in so much effort into their work. Am I doing that much?


Some of the films you do take us by surprise...
Randeep: I am sure that Laal Rang will acquire its audience. I am very proud of that film and I think it is one of my best performances.
Some of my films have got a rating of 7 on IMDB. They are not bad films but the production house helming some of these films lacked the experience on how to mount a film because they were not run-of-the-mill ones. Besides, at times, I have worked with people who did not have sufficient marketing experience. But I have done movies which will stay. 100 years from now, if you pull out those movies, people will still appreciate them. I have never tried to take a short route. My career is not a flash in the pan. Initially, I didn't get many opportunities. It isn't easy for any actor to not get work and sit at home. The cumulative effect is finally showing now. And it is not just one movie. Things are happening now. I am lucky that Highway was produced by Sajid Nadiadwala, so it got a lot of eyeballs. If it was not produced by Sajid, it would have had the same fate as Laal Rang.
Later, I did Kick also, a complete different genre and I enjoyed it thoroughly. Main Aur Charles was another stylish, beautiful film, but it was misinterpreted. People thought it was a biopic on Charles Sobhraj, but it was about a jail break. How you market your film, how you pitch it is what has been missing from my films. It will get eyeballs one day but that doesn't mean I will deviate from my path and start doing films just because they are backed by a big production house. Besides, I have worked with Dharma and Yash Raj, so it's not that I don't get work from them.

Does it irritate you when a film is not marketed properly?
Randeep: Oh yeah! It breaks your heart only because it didn't reach out to the audience.

In such cases, have you ever called the producer and asked "Yeh kya ho raha hai?""
Randeep:
I try. I tell what is right and wrong for the film--- but I am not an expert either. So how can I influence them? I put my suggestions forward but I can't do anything if they're not taken; eventually it is their money. Khoon jalta hai--- but I feel more disappointed for the director, cast and crew who have done a fantastic job. But that doesn't faze me beyond a few days. It's more of a missed opportunity rather than a wrongdoing.
Do you feel disappointed when Alia Bhatt in Highway, who had done only two films till then, gets more credit than you?
Randeep: No film is complete with just one person. Everybody is contributing to it. The kind of adulation I got from Highway is unparalleled. I hope that a similar thing awaits me in Sarbjit.

Sandeep Singh (producer of Sarbjit) told us that studios were not ready to buy your film...
Omung: People were skeptical about Sarbjit; they felt I was making either a documentary or a very serious film.

Did that rattle you?
Omung: Not at all. Heavens were not falling, I was comfortable playing the waiting game.

Sarbjit is a sensitive film. Did you feel that you should hold yourself back on certain aspects?
Omung: No, I don't like to hide facts. Else I wouldn't have done justice to it.

Do you want the film to release in Pakistan?
Randeep: Yes.There were many rumours on social media that Sarabjit was a terrorist. It was a case of nothing but mistaken identity. Is it right to keep somebody in a kaal kothari for 18 years with shackles? In Geneva Convention, it is not even allowed for the prisoners of war. We are not bashing Pakistan in the film. It was just one country which got divided because there were two ambitious people who wanted to become the Prime Minister. More people died in the Partition than in World War II, didn't they?
Do you think that Pakistan will allow the film to release in their land?
Randeep: I don't know, but they will all watch it whether on Torrent or online. Most people will watch it for Aishwarya, some will watch it for me and others will watch it because it's a good film.
Omung:
I wish Pakistan allows to release it in their land.


Are you living in celibacy or are you a smart player now?
Randeep: I am a smart player now. I am not celibate from any angle. My personal life is nobody's business. I am one of those actors who have enough to talk about their work and have enough work to be talked about. I don't need a link-up before a film release. I don't need to be in the news when films are not happening for me. I have got my body of work and that's it. Think of it, why should I disappoint hundreds of women to please one (grins)? But yes, my mother is very keen that I should tie the knot; she wants to become a grandmother soon.

And what have you told your mother?
I have told her that I wonder why she wants me to get married when there are so many baby-making techniques these days (laughs).

Richa Chadha says: Who wouldn't want to have sex with Randeep?
Randeep: (Shrugs) Well, that's Richa's fantasy. And thank you Richa for making such a nice statement (laughs).


Image Source: facebook/SarbjitMovie , veooz , hdwallpaper & India Forumn
They say the best things in life are free! India's favourite music channels 9XM, 9X Jalwa, 9X Jhakaas & 9X Tashan are available Free-To-Air. Make a request for these channels from your Cable, DTH or HITS operator.