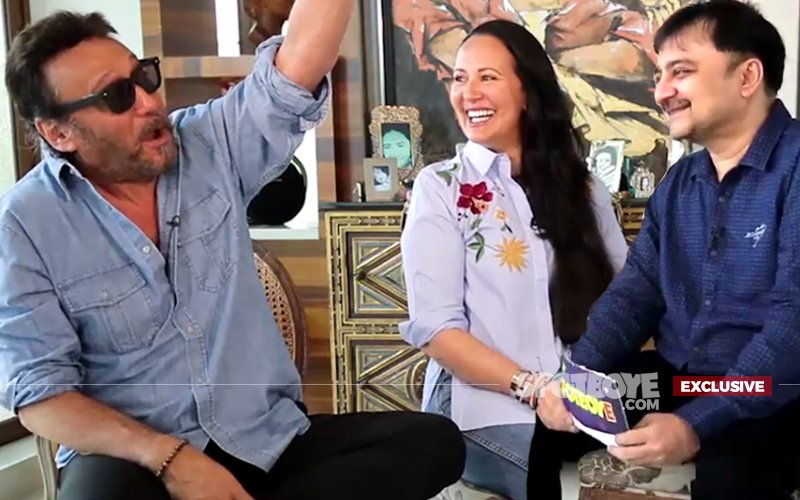 Your browser does not support the video tag.
SpotboyE.com brings you an interview with the B-Town's always happening 'Bidu' dad – Jackie Shroff and his beautiful wife Ayesha Shroff. To know more about their fun and love filled journey, keep reading...

Jackie Shroff has always been this happy- go-lucky person, but when it comes to his children and life he's way more ideal and someone to be looked up to, and the same goes for his wife who's a dedicated mother, and a finest wife ever--- as said by Jackie Shroff himself.

Over to the interview:

How have you been as husband and wife to each other and as parents to Tiger and Krishna?
Ayesha– More than husband, Jackie has been my best buddy, so that's how it has been so great for 29 years. As a father too, he's been the best that a father could be. We have been through so much together, and it's been a lot of fun, probably now is the best time of our marriage and lives together--- no complaints at all.
Jackie– I couldn't have asked for a better wife than Ayesha. When we were teenagers, that time also as a buddy she was fabulous. Now as a wife also she's superb, she's taught me the class, manners, English, the way to present myself, because I was this rough South Bombay boy, whom she transformed into a courteous gentleman. She has been the finest mother, without even me being around, as I used to be busy shooting for 3 films at a time, she managed to take care and nurture our son and daughter in the best possible way. Ayesha and I understand each other completely, and I believe that in a relation as you grow, friendship is that one factor which makes your bond last.



Image Source: dosthana

One thing you would want to change about each other?
Jackie– Nothing at all, for me she's alright. I think no one's that big to change others, if the change has to be brought about, it should be brought about by your own self rather than others doing it.
Ayesha– He's too generous– which is good but sometimes it's a negative thing too. He trusts people blindly and can be taken for a ride very easily.

How does it feel to be the parents of children who work in films? Do you'll get nervous for Tiger, knowing this industry is not secure?
Ayesha - I got goosebumps when you asked that! Honestly speaking, it's the best feeling ever, i think the best thing Jaggu and me have done is producing these kids, it's been the best thing in our lives. Thanks to the Almighty, they've turned out so well, not only in whatever they've achieved but as individuals and human beings too they've grown up so well, they're such good people at heart. I am proud to be their mother, and I couldn't have asked for better kids.
Jackie – No, I don't get nervous--- because i know that my children have seen me in the industry, my ups and downs, so they know how to keep the balance and sanity in check. They will simply respect people and continue to work hard.

Do you remember the first day when Tiger came and told you that he wants to be an actor?
Ayesha – It never happened like that as such, it was a very organic process. He actually wanted to be an athlete his whole life, and his dream was to play football for our country. But then eventually he got into talks with Sajid Nadiadwala and Sabir Khan who have been our great friends since long. They supported Tiger a lot and said that whenever he feels he's comfortable and ready, they will proceed with him.



Image Source: starsunfolded

Is it harsh on the newcomers when they're compared to the seniors in their family ? Are they backed up by good stories and directors, like you had in your time?
Jackie – Nothing has changed as such, business has been happening since a long time. The legendary actors such as Dilip Kumar, Raj Kapoor have made movies and enjoyed them, but in my time we started looking into the business, since then it has always been entertainment plus business. I feel there's no shame in checking how much you've invested and what returns you get out of a movie. And I don't think our time and their time is any different- no creativity is ruined, no director is bad, no story is bad, it's just it has transformed and evolved with time.
Ayesha – Not nervous but conscious, because as Jaggu said it's business also. Money is at stake and we need to be aware that a movie is not made for time-pass.



Image Source: fashionnstyle

Tiger is very quiet and reserved, so unlike Jackie--- why?
Jackie– He has just started with his career, he's groping and finding his own ways. He's playing alone in the field, so he tends to observe and learn more and prefers to speak less. He has never been under my shadow, he is what he is.
Ayesha- I fully endorse on that.

How do you feel when gossip or something unkind is written about him?
Ayesha– I'm thankful, because as of now there's no such news, and even if something comes up, we'll take it in good stride. I remember at the time of Heropanti there were many people who made comments on his looks saying that he doesn't have a beard, looks like a girl, and he was even compared to Kareena Kapoor, i told him to take that as a compliment, for isn't being called Kareena Kapoor a beautiful praise?
Jackie– In this industry every new person is eaten up by such critical comments. Even I became a victim of it at the time of' Hero, I remember that I was being called a wooden cupboard. But I didn't feel bad about that, because it's a part and parcel of this industry. It's more like a give and take process, and after some time we actors tend to get used to it.

The interview will be incomplete without asking you about how possessive and protective you would be of Krishna, knowing that she's now entered the industry?
Ayesha- Not at all, I think she's a girl who is very capable of taking care of herself. Our film industry is not a bad place at all, it wholly depends on the individual and how he/she copes with it. Both our kids are very sensible, and know what is proper and what is not, so I have no such worries.