Tiger Roars: Disha Patani and I Tried Our Best But...
The young Shroff gets candid that his relationship with Disha doesn't seem to be working out, the last 2 years have not been kind to him--- but Baaghi is another story, and life is looking on the upswing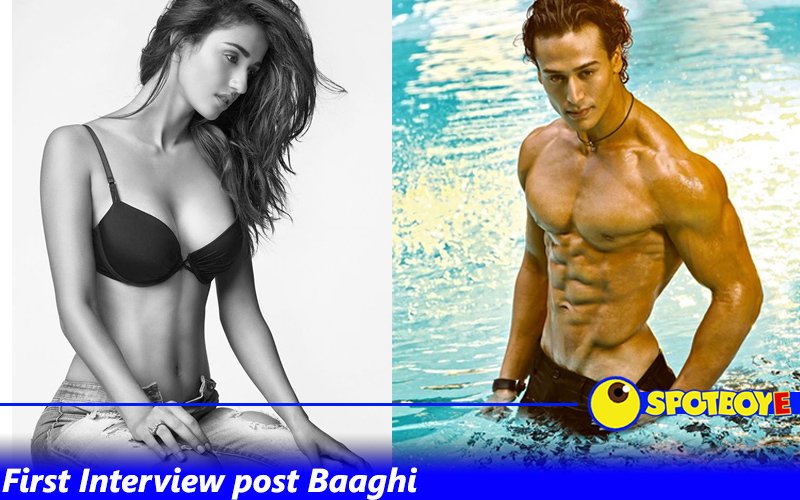 Jackie and Ayesha Shroff are on cloud nine. Their son Tiger's second film has had a good first weekend. The time is right to catch up with the young man for an interview. Excerpts from the conversation that followed:
So, Baaghi has been fairly impressive at the ticket windows...
(Excitedly) The last 30 minutes of the film make my adrenaline rush. I think Baaghi has given me a lot more scope to grow than Heropanti did. I went to Gaiety-Galaxy to see how people react to the film, they were whistling no end. The response has been very good so far. I hope it sustains (pauses).

Go on...
It was overwhelming to see that the janta was loving me. Baaghi has not been an easy film to shoot. I remember that I couldn't get some scenes easily
during the shoot, and I used to feel so angry and frustrated. Moreover, I shot with Ireland fighters whose hits were real.
One day, m
y body gave in, and I was admitted to a hospital in Bangkok
. I hadn't let this information come out, but
it was pretty serious
.

Action is fast becoming your forte...
After my first film Heropanti, I was told that 'dancing is fast becoming my forte'. I would rather prefer if people called me an actor who has extra talents. So now, I want to do a serious film. I don't want to known as just a dancing actor or a martial arts actor.

Comedy flicks?
No, I don't see myself in comedy space yet. For now, I want something more real and honest.

What was your reaction to the reviews of Baaghi? They came out quite mixed...
Yeah, and I read them. After all, it has been 2 years since Heropanti released.
I respect the critics and I want to change their opinion. If I didn't have people writing me off, I wouldn't grow as an actor. But I work for the audience, not the critics.
Many of them say that the first half is good, but the second half...
(Interrupts) I liked myself in the second half, which I prefer more than the first.

Who is better to work with- Kriti Sanon (Heropanti) or Shraddha Kapoor (Baaghi)?
Shraddha has several hits to her credit, but no starry tantrums. I never felt awkward with her. In fact, we had a lot of fun between the scenes. Kriti was my first heroine, so she'll always be special.

Shraddha and you were in the same school and you had a big crush on her. Has the crush increased or decreased after Baaghi?
Now, I admire her. I love her but for a different reason- her hard work and professionalism. She is the best person ever.

Was it easy to kiss her?
I was very comfy in locking lips with her. She is a lovely person. If a kiss is required in the film, why won't I do it? I am an actor, aren't I?

We go back to the Heropanti days when people subjected you to criticism that you look like a girl, have no facial hair, et al. Do you stand vindicated today?
It will never stop, it's a vicious cycle, and people will love to point out something or the other. As an actor, however, I understand that I need to surpass everyone's expectations. I hope that eventually I reach a stage where people accept and appreciate me in totality for how and what I am.

It's a long drawn battle for many actors out there...

Not for every actor. It depends on how one takes it. I think I am a very sensitive person. Many people wrote me off after Heropanti released, it just made me feel that I need to come back stronger.
I have been through a lot in the last 2 years.

Who stood by you more during those days- Mom or Dad?
Neither of the two, since I didn't share with them what I was undergoing. I was bottled up from inside, and I think my Dad knew what was happening inside me because he knows how brutal this industry can be. However, we chose not to talk about it to each other.
Back to Baaghi. What's your idol Hrithik Roshan's reaction to the film?
He couldn't attend the special screening
on Thursday
since he was busy with the look test of his next film, Kaabil. He has told me that he will see the film and revert. Now, that's one reaction that I am waiting for! That's my biggest test. I look up to him so much, he means a lot to me.

The interview will be incomplete without talking about your close friend Disha Pattani....
There's really nothing much to say on that front.

Isn't she special? Isn't she very close to you?
Well, we tried our best- but I don't think that I am the kind of guy anyone would fall for. I am so married to my work. I am not an outgoing person (pauses).

Please continue...
I am a very aloof person, who gives a lot to his work. It's very difficult to have a personal life with this kind of mindset.

A word about Heropanti and Baaghi's producer Sajid Nadiadwala and director Sabir Khan...
Both are family to me. Sajid sir takes utmost care of me. He wanted to fly down to Bangkok when I got injured. What can I say about Sabir who taught me the ABC of acting except that I wouldn't have been here if it wasn't for his diligence and patience.

You next will be Flying Jatt with Remo D'souza in the saddle...
Remo wanted to launch me before anybody else. We are very similar people and hence, we are always on the same page.

We don't see you socialising with the industry....
I am very out of place in get-togethers. I just don't feel comfortable in a crowd. Main bachpan se hi aisa hoon.


Image Source: facebook/TigerShroff/BaaghiOfficial, Hdwallpapers & Manav Manglani