Tina, Madhuri & Salman's Equation With Sanjay Dutt Glorified In Sanju?- Hirani Spills The Beans...
Sanju producer-director Rajkumar Hirani in a frank and exhaustive chat with SpotboyE.com clarifies on everything that you wanted to know about his much-awaited film Sanju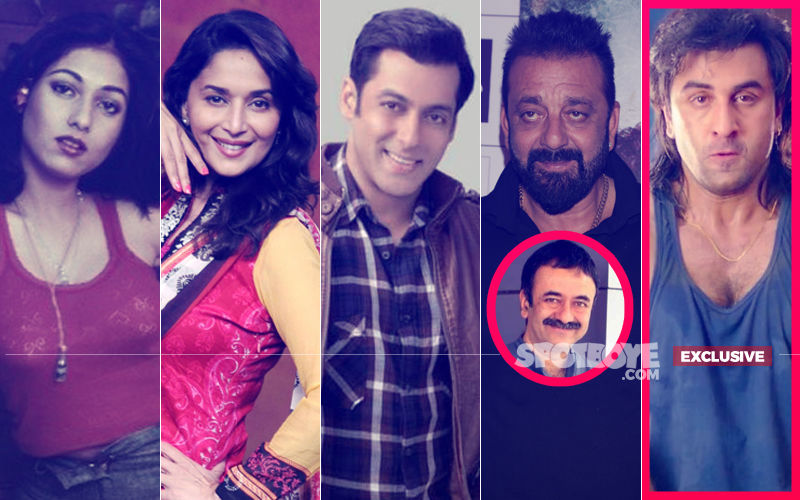 Ranbir Kapoor-Sonam Kapoor-Manisha Koirala-Dia Mirza-Paresh Rawal-Vicky Kaushal-Jim Sarabh starrer Sanju hits theatres on Friday. The time was right to catch up with the popular filmmaker Raju Hirani. His funky office at Andheri provided the ambiance for us to ask him upfront questions, and boy, he took them so calmly. Read on...



You were writing Munnabhai 3. How did you jump on to Sanju?
Sanjay had come out on parole. I was writing Munnabhai 3. I happened to meet him for a while, and I was curious to know about his life inside. As he started narrating, it struck me as to why I shouldn't take this likhi-likhai script and convert it into a film; it was temptation and greed. He was telling me almost everything in that meeting, and that one meeting became nearly 25. I was hanging out with him and he was venting it out. I called up Abhijat Joshi (Hirani's most trusted lieutenant and co-writer) and asked him if we could roll out Sanjay's life into a script. We decided to keep Munnabhai 3 at the backburner.

Did Sanjay tell you: No Filter?
I asked him if he had any list of dos and don'ts. You see, he had revealed far too many things in his vent. But he said 'Nahin, make it, jo dikhana hai dikha le. The monkey is off my back'. If he had put restrictions, I wouldn't have made it. Pehle hi agar restrictions daale hote toh mujhe lagta aage aur bhi restrictions dalega.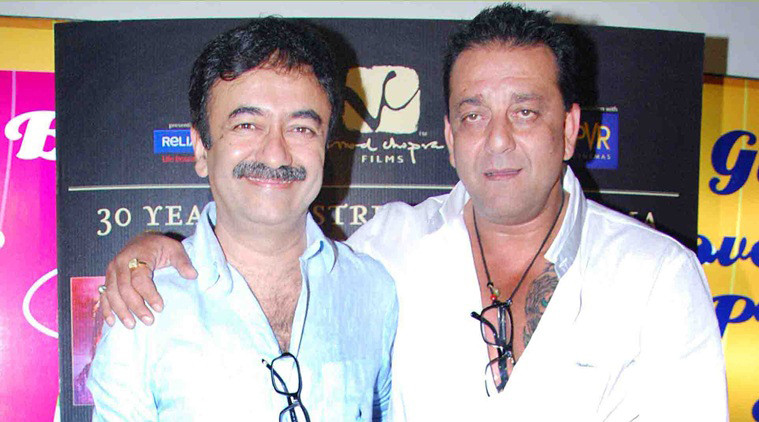 Rajkumar Hirani With Sanjay Dutt

Was Maanayata present in those meetings you had with him?
Yes, but not in all. And it was not in the capacity of 'mujhe check karna hai'- neither now when they both haven't seen the film yet.

Difficult to imagine that Sanjay hasn't seen Sanju so far?
I have shown him a few scenes, but he refuses to see more. Right now, Maanayata and his sister Priya are out of town. He says he will see it with family only after it hits theatres. Trust me, he has faith me and doesn't care beyond a point what is shown and what is held back.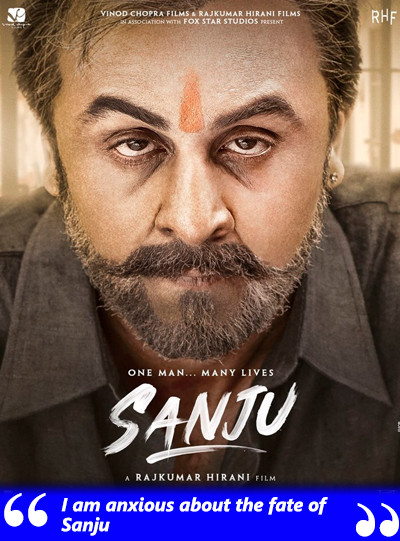 Did Ranbir come to to your mind, immediately?
Yes. Look carefully, there is a resemblance between Sanjay and Ranbir if you see their pictures from their younger days. Plus, nearly half the film is in the 80s.

And then obviously, you contacted Ranbir. How did he react?
Yes, I sent him a text. I told him I want to see him for a film. It was known by then that I am planning a film on Sanjay's life. Ranbir replied: Hope it's not the Sanjay Dutt biopic.

Oh...
I wrote to him in return: Hai toh wahi, but listen to it at least once. He heard it, felt that it had potential and immediately said 'yes'. He is getting to play as many as 6 roles!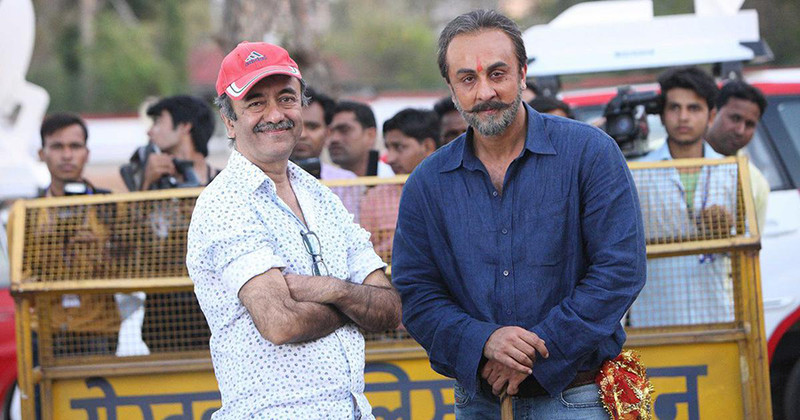 Rajkumar Hirani With Ranbir Kapoor

What were Ranbir's reservations?
He had heard those stories from Sanjay, but you see those are anecdotes. Anecdotes can't make a film, they can make a series. You may have 5 fantastic anecdotes from your life but still you need a spine to hold a full-length feature film.

Also, biopics are made on achievers. He could never imagine how a film can be made on Sanjay.

What was Sanjay's reaction when he learnt that Ranbir would essay his character?
I didn't tell him soon, but Sanju was very happy as he is fond of Ranbir. It might have crossed his mind how Ranbir would carry it out, but I guess he trusted me and never expressed his reservations if any.

3 months later, I took a picture of Ranbir, a slightly long shot, and sent it to Sanjay. He replied: Why you sending me my photo? I said to myself, 'Kaam ho gaya' (smiles).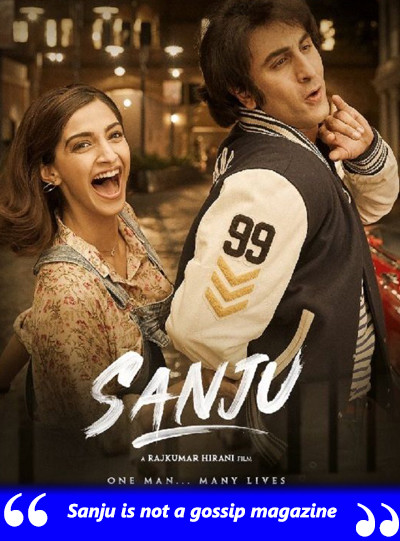 You shot a sequence when Sanjay actually came out of jail...
We haven't used that. It was wrongly reported that it was meant for the film. My assistant shot it purely as a making footage.

How did you do the remaining casting?
The most difficult part was to cast Sanju's father, Mr Sunil Dutt. We easily succeeded matching Ranbir to Sanjay and thought we will sail through when it comes to his Dad. We tried with many actors (Read: Akshaye Khanna, Jackie Shroff inclusive)--- but it was just not happening.

Why?
You see, if a person has characters like a moustache/beard, it becomes easy. But yahan sirf chehra tha, ab woh Sunil Dutt saab exact chehra kahan se laayen?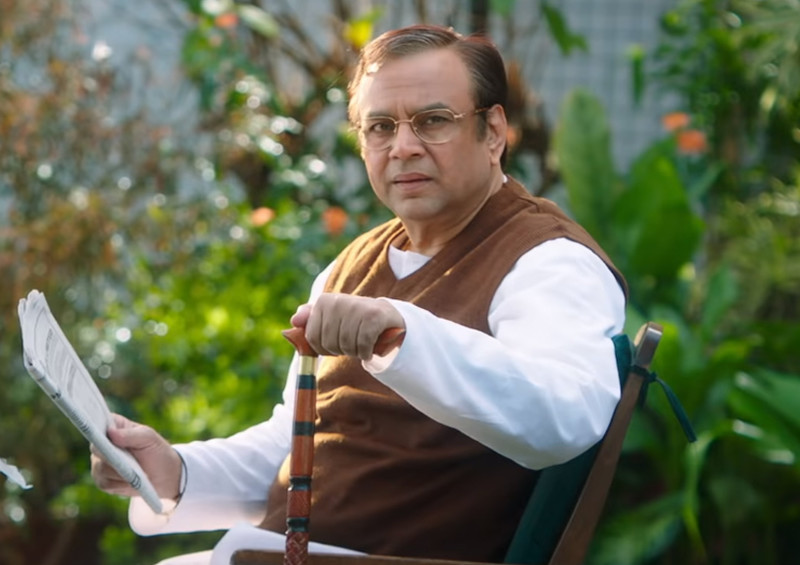 Paresh Rawal As Sunil Dutt

Go on...
So I decided to rather go ahead with a brilliant actor. That's how Paresh sir (Rawal) came in.

Manisha Koirala?
I am glad that she came on board, she has a small role. She is so charming. I am very happy that I got to chat with her on the sets for quite some time.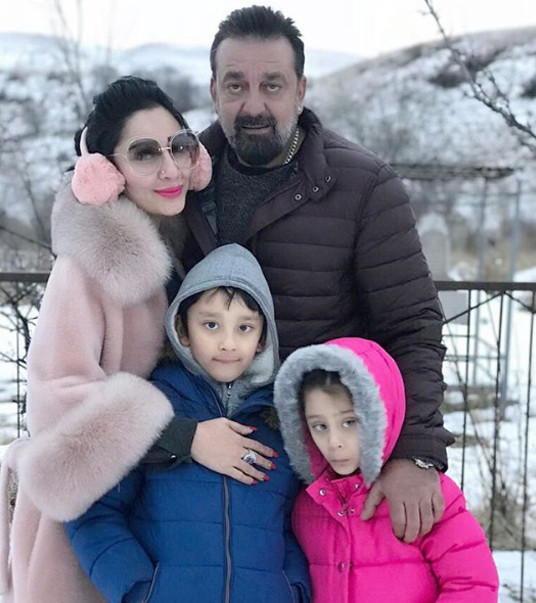 Sanjay Dutt With Maanayata

Dia Mirza?
Well, I was just chatting with her one day and she said 'Arre why don't I do the Maanayata's part?'. I hadn't envisaged her in that character, but she came out trumps in the test and has done a fab job.

Vicky Kaushal too is fab as Ranbir's close friend.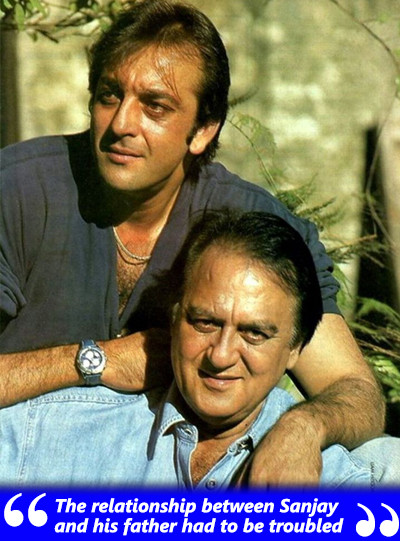 You have said in one of your interviews that it was the Sunil Dutt-Sanjay Dutt father-son relationship that propelled you to make Sanju...
We have heard that he kept that gun in his house, took drugs, etc. But what was happening inside the house? How Mr Sunil Dutt battled it out when Sanju was led away to jail. Nobody knows that part. And nobody knows the Vicky Kaushal part. Those two portions fascinated me.

You see, the dynamics in a father-son relationship are always very interesting. The father wants his son to do well, but always feels that the son is lecturing him too much. The two are in a state of constant competition.

Sunil Dutt was a very strict father...
Yes, he was.

Sunil Dutt and Sanjay Dutt had a troubled relationship...
Hmm... because Sanjay was on drugs, that relationship had to be troubled.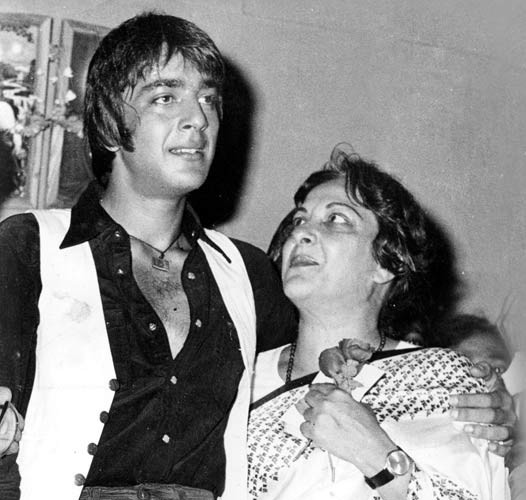 Sanjay Dutt With Mom Nargis

Its' said that he even raised his hand on Sanju at times...
He might have, but I am not aware of that.

Have you tried to glorify Sanjay Dutt through your film?
No. It's his story as I see it through my eyes. We have made the story and left it for the audience to judge.

Give his story to 5 directors, you will get 5 totally different films. One might cling on to his relationships and make a love story, one might be inclined to canvas his drug consumption and converts it into a thriller. I got attracted to the father-son bit.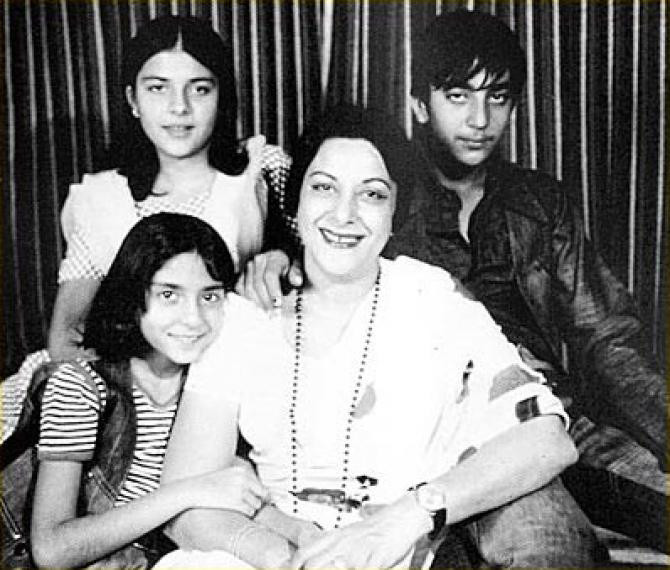 Sanjay Dutt With Mom Nargis And Sisters Priya And Namrata

What did you get to know about Nargis?
From what I got to know from Sanjay and his sister Priya, Nargis was a very doting mother, who even sent tapes talking to him from New York hospital. She pampered him. And, she wanted him to be an actor. It was very sad that she passed away three days before his debut film Rocky released.

Bollywood has had it thrice--- Nargis before Rocky (1982), Mona Kapoor before Ishaqzaade (2012) and Sridevi before Dhadak (2018)...

Yes, I didn't think of that. But now that you say it, it hits me.

Did you shoot at real locations?
Wasn't possible. Many places from 80s, which were a part of Sanjay's life, either don't exist or have changed drastically.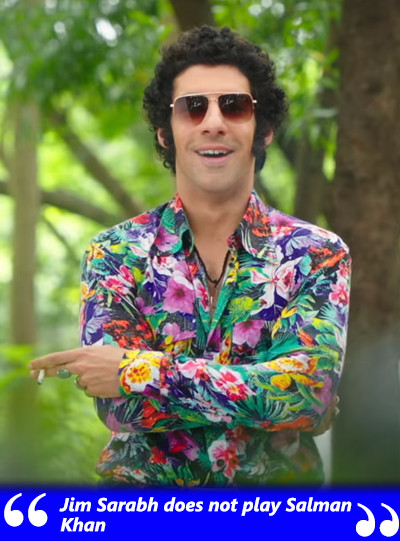 The trailer suggests that it's a typical Hirani film- he will tell you that "don't have too many relationships, don't do drugs, don't keep illegal guns at home"- but he will tell you in a light way, he will just nudge you. Couldn't it have been a grim and dense film, considering that Sanjay has had a multiple-layered life?
(Smiles) As I said, every director will treat Sanjay's story in his own style. I don't think I have made a light film, humour is just in the correct doses. In fact, I have made a very dramatic and intense film. You will cry at many places, you will laugh at some places. But yeah, I have definitely not made a grim film.

How many of his girlfriends from the industry have you shown?
That's not an important part of my story. And I didn't want to indulge in any sensationalism.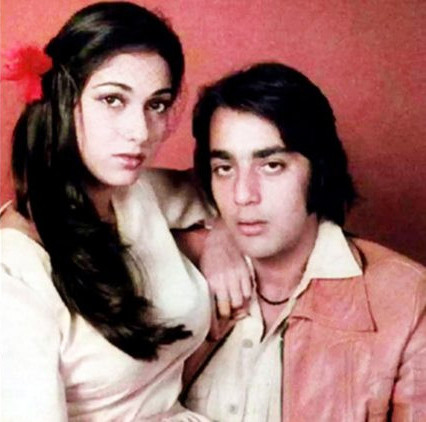 Sanjay Dutt With Tina Munim

So there's no Tina Munim, no Madhuri Dixit?
(Shakes his head) No. that's not the story we are trying to tell, it's not a gossip magazine- ye aaya, phir woh aaya.

So what does Sonam Kapoor's role signify?
(Laughs) Picture dekh lena, yaar.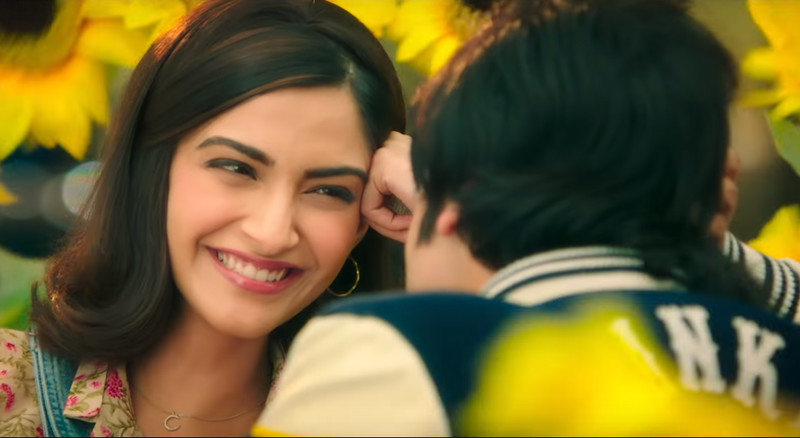 Sonam Kapoor In Sanju Trailer

Which Ranbir look was the toughest to achieve?
80s was easy, it was tough to get the older look, he put on weight and we stared with the older look portions.

Jim Sarabh plays Salman Khan?
Nope.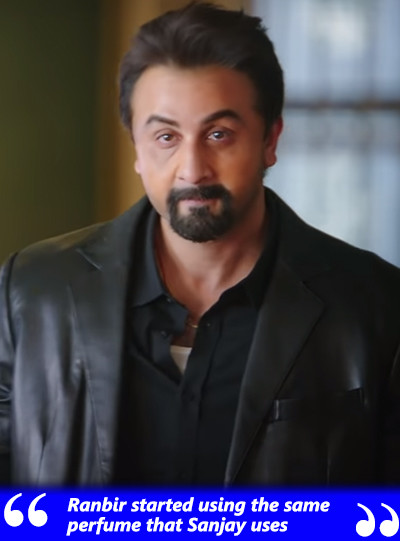 Salman recently said that Sanjay should have played his role in Sanju...
I don't know what context he said that in, but how could have Sanjay suddenly appeared after a certain period of time has elapsed in the film? What I mean is if I had cast Sanjay, then how would he have played a 21-year old? So I cast someone who can play old and young both.

Did Ranbir have inputs during the making?
Yes. God, he was so accessible. He responded to even my ADs, when they called him up. He was virtually living out of my office for 3 months, quietly seeping information. One day, I saw thousands of videos of Sanju categorised year-wise on his phone. He started using the same perfume that Sanjay uses, he wore the shoes with the same heel that Sanjay uses so that he could get the bounce which Sanjay has in his walk.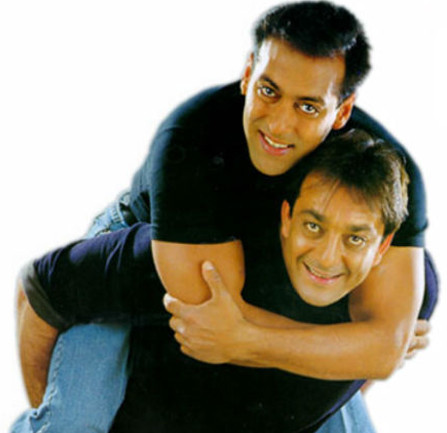 Sanjay Dutt With Salman Khan

Aamir Khan was supposed to play Sunil Dutt's part?
Aamir wasn't even approached. Like always I do for every film of mine, I had just narrated the script to get his reaction. And, he was bowled over. I just told him 'Arre yaar, I am making this film and you aren't there'. He asked me to come to Panchgani, but later said 'Yeh mat karvana, yaar. He showed me portions of Dangal and said that doing Sanju might get him slotted.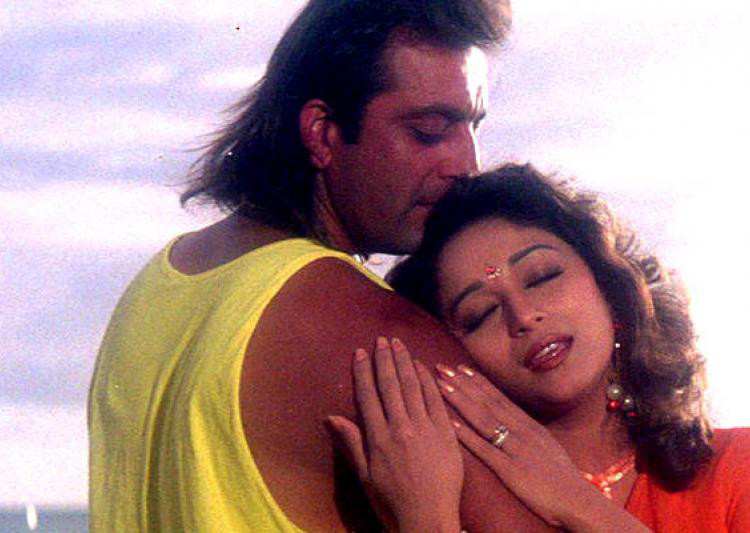 Sanjay Dutt With Madhuri Dixit

Which film of Ranbir do you rate as his best?
Haven't seen all, but I loved Rocket Singh. Ranbir told me 'sir, chali nahi'. But I think he stands out in every film.

Many of his films haven't clicked at the box-office. Why?
It is difficult to say what resonance will a particular film generate.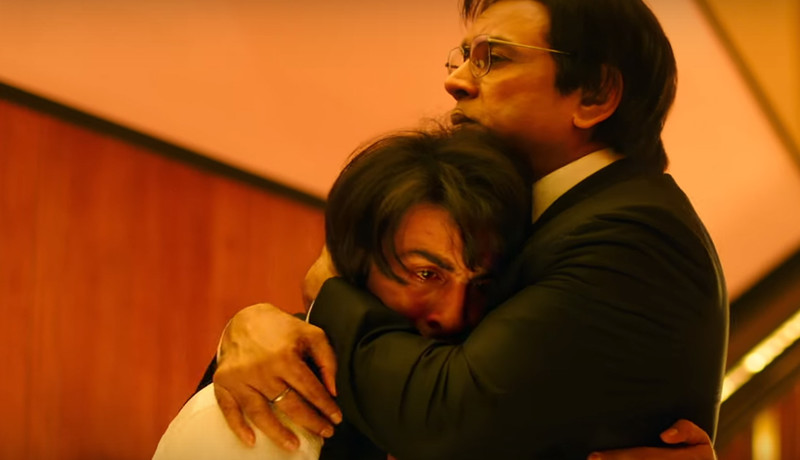 Ranbir Kapoor And Paresh Rawal In Sanju

Are you tense before Sanju?
I am anxious. It didn't happen in the first film Munnabhai MBBS, but after that you crave for appreciation. Doesn't that happen in every field?

Would you have made Sanju if Ranbir hadn't agreed to do it?
Subjective question, but we didn't take long to meet Ranbir and lock everything after he sent me that message ("Hope it's not the Sanjay Dutt biopic") (smiles).


Image Source: indiaonline, stylemonger, APH Images, twitter/sanju, liveup, scroll, eyeni, youtube/t-series, nakaranjan,