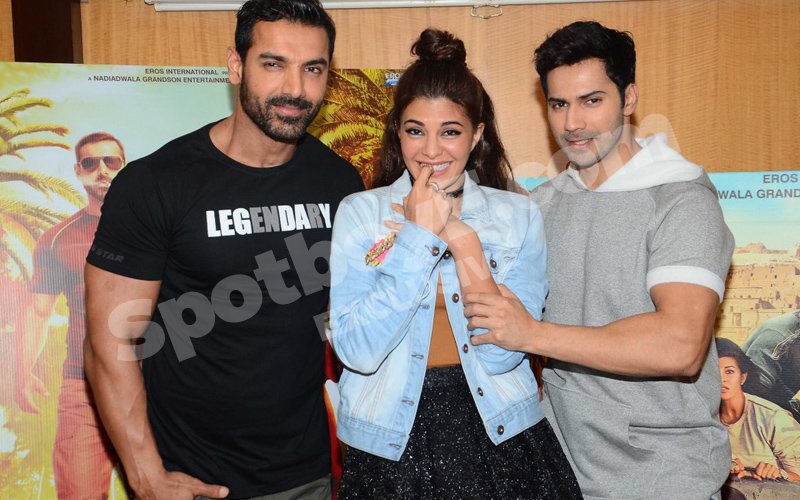 Your browser does not support the video tag.
Dishoom starring Varun Dhawan and Jacqueline Fernandez hits theatres
on Friday
. SpotboyE caught up with the Awesome Threesome, and this is exactly what transpired:
Varun, this is your family film and you obviously know how the cast fell into place. Tell us.
I was very excited about Junaid's part. I told Rohit (brother, Dhawan) about it, but I wasn't yet cast then. Rohit said that he wanted to cast Kabir (now played by John Abraham) and Junaid together; he wanted the dynamics right between a man and a boy. On the other hand, Rohit was very clear that he wanted John for the man's role. He spoke to Sajid Nadiadwala (producer) about it and they went to John. A day or two later, I got a call from John saying that we'll make a fab jodi in Dishoom and I should read the script ASAP (pauses).

How did Jacqueline get in?
There's a girl Ishika with Kabir and Junaid, who has her share of grey shades and is a bit mysterious as well. Rohit wanted someone who looks innocent and sexy both. Jacqueline fitted the part. Mind you, she is not just an eye-candy in the film, she helps John and I at many stages in the story.

John, do you agree that Dishoom brings you back in your forte zone- the racy, pacy stuff?
Yes. The audience loves to me in this avtaar, which they will get in this film. Dishoom is sending out the right vibes.
Varun, did it happen that Rohit pulled you up in certain scenes?
There were differences, no doubt. But Rohit didn't pull me 'up'. He pulled me 'back'. as an actor, I always tend to give more. I get up in the morning to give 500 per cent every day.

Jacqueline, how was it to shoot with these guys?
I became one of the guys. None of us was treated differently. We made a fantastic team and I was blessed to have the energy and enthusiasm that John, Varun and Rohit brought on the sets. Even after pack-up we were hitting the gym for long periods.

John, did you throw up some resistance when you were asked to smoke in the film?
I told Rohit that I can't smoke and my audience wont like it. Rohit convinced me that it was very essential for the character. Right from Kabir's first scene where his girlfriend forbids him to smoke and he replies: Goli nahin maar payi to cigareete kya cheez hai', he needed a cigarette in the film.
So at the end of it all, it was Kabir Shergill and not John Abraham who was smoking. Often, my throat was burning and I needed water. But you see, I don't get addicted to things. Like I remember I smoked 60-80 cigarettes even for No Smoking and Shootout at Wadala.

Varun, we spoke about John's lips. Now how about yours? Your lips were working overtime in Dishoom- first you did that Spiderman kiss with Jacqueline and then followed it up with a kiss with Parineeti (Chopra)..
.
(Smiles)

Varun:
Gosh, it was so difficult. We had quite a few retakes.
Jacqueline:
He was properly hanging upside down with blood rushing into his head
Varun:
At the end of the shoot, I was spinning. As for the Parineeti one, it's
not even a kiss but just a peck. We need not make a big deal about it.

Varun, who is hotter- Jacqueline or Parineeti?
Varun: Both are super hot. I like both of them.

Jacqueline: I would say Parineeti if I was Varun. Say it, Varun. Say it.

Jacqueline, your take on the Sikh community's objection to the kripan around your waist?
It was unfortunate. It was misinterpreted and misunderstood. Such things happen, but now let me clarify that it wasn't a Kripan but an Arabian sword. We have a massive respect for religion and culture. Thankfully, it was all sorted out in a peaceful manner.

Your picture on Twitter with the 'bulge' went viral and you were trolled...
I will talk about it. But I don't think that I was trolled. In fact, certain people were praising certain parts of mine.

Don't tell me that you didn't know what you had done when you posted that picture...
Kisiko nahin pata chala. Even the comments came in after 4 days.

Box-office expectations from Dishoom...
John:
I expect this film to do more than anybody else expects in my entire cast. I have so much faith in the film.

Jacqueline:
From Day 1, I saw Rohit just go for it. Everything was so flawless. From the first schedule, I knew that Dishoom was big. The trailer made
me realise that it is bigger than I imagined..

Vaun:
I want Dishoom to be remembered as a cool, good film.

I think, that a lot of credit for the positive vibes that this film exudes, goes to Sajid Nadiadwala...
John:
Completely. He has mounted Dishoom splendidly. Sajid gave m ea big hit in Housefull 2. Full marks to him. At the same time, Rohit thinks big. Agar koi auto chala raha aur usko Ferrari de doh, toh woh kuch nahi kar payega.

The interview will be incomplete without talking about your Dishoom collegaue- Akshaye Khanna...
Varun:
He is going take everyone by surprise.

Jacqueline:
I can't wait to see him on screen

John:
His presence in the film gives it immense credibility. It's an honour to have worked with him. He is one of the best actors we have.


Image Source: Manav Manglani