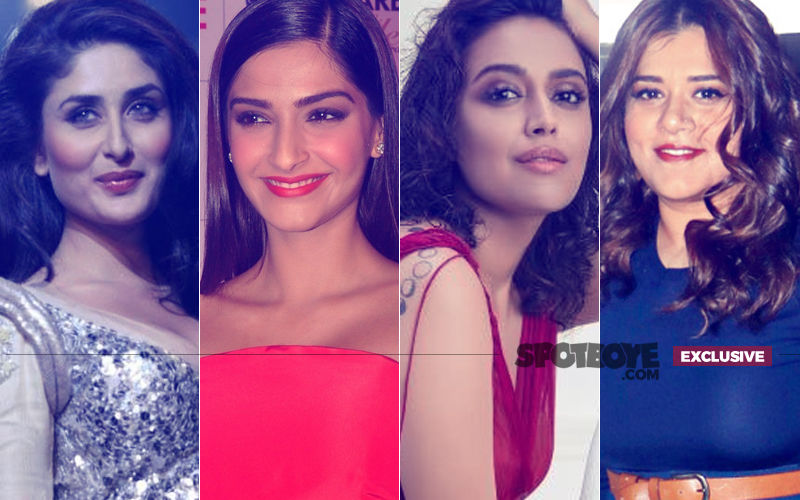 It's not a chick-flick, not propagating feminism; I think Veere Di Wedding is celebrating life. Right or wrong?
Kareena: You are absolutely right. This film could well have had males. It is indeed celebration of life.
Sonam: I second that too. Our film is just a film, which is entertaining and so let's enjoy it.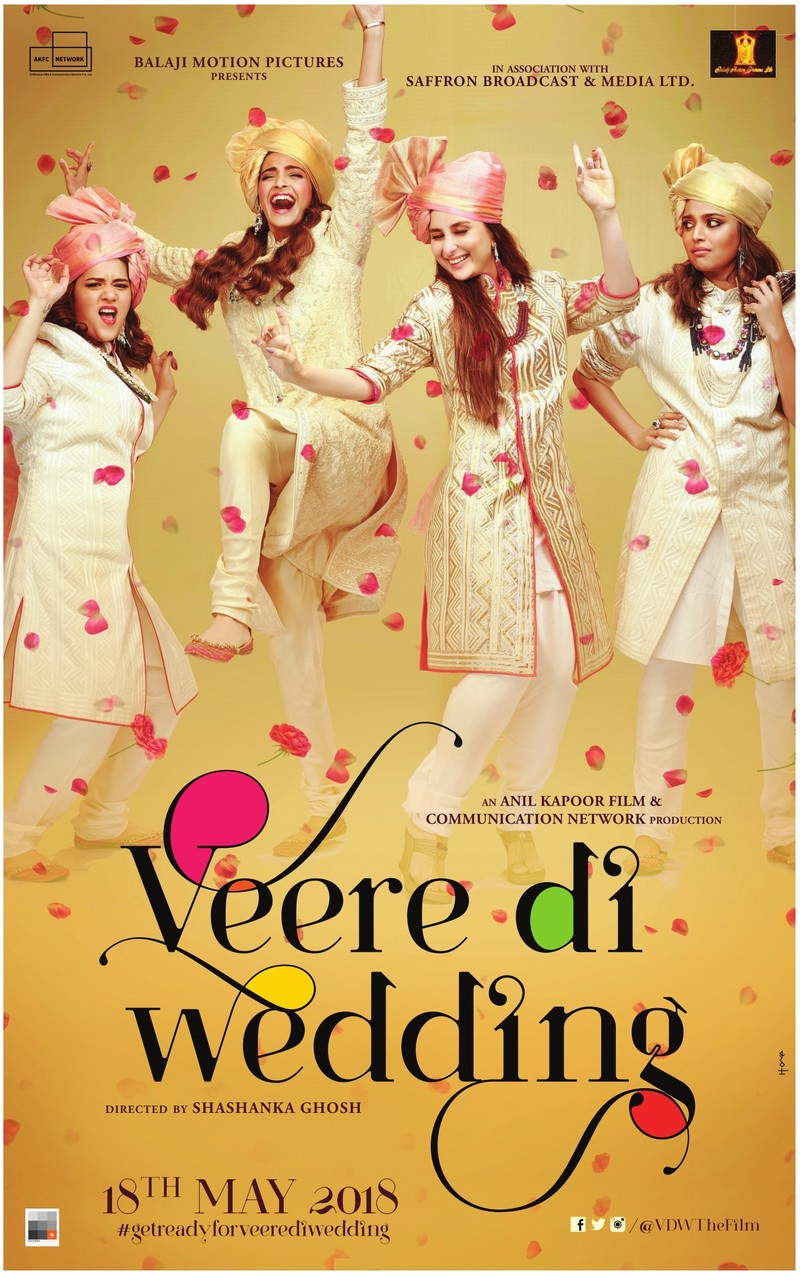 Veere Di Wedding Poster

Why has it taken so long for Indian cinema to have a film with 4 girls saying it as is?
Swara: See, earlier you had mainly male directors making film for male producers, with largely male actors as protagonists.

And I am not saying this in a bad way lekin aisa tha. But that's changing, women are now calling the shots. Ekta is of course one of the biggest ones. And then there's Rhea Kapoor for who this film happened. Yes, it is strange that for 105 years, we haven't been able to make a woman-centric film where women are having fun and not in love with the same guy same guy, no victim, no revenge. Anyway, now it has happened. Good times in Bollywood (smiles).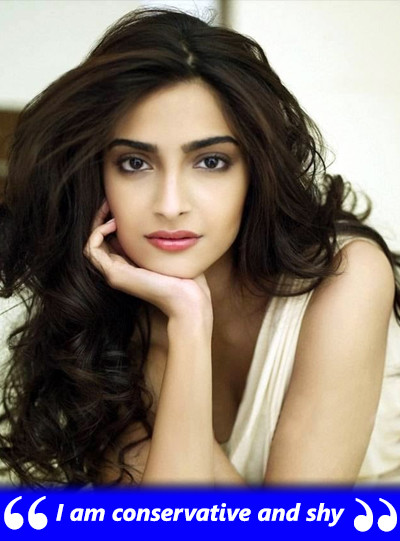 How close is your character in Veere to the real you?
Shikha: I am playing mom to a 1-year old and i am not married. So yeah, I had to work on my part.
Sonam: Not similar to me, uski shaadi nahin ho rahi, lekin meri abhi abhi ahui hai. Plus unlike Avni, I am conservative and shy.
Shikha: You are not conservative!
Sonam: No? Okay, (laughs) let me put it this way, my sister Rhea says I have OCD. Hmmm... well, unlike Avni,I am a sort of perfectionist, I am quite a black-n-white and I like things in a certain way.
Kareena: Kalindi is not me. She has reasons why she is commitment-phobic but I am completely a sucker of love. I was dying to get married.
Sonam: You were dying to get married?
Kareena: Yeah. I was the first actress to take the plunge when people said 'Kya kar rahi ho? Your career will be over'. I said 'Tel lene gaya'. I wanted to get married to the man I love, I wouldn't have found him again na?
Sonam: I wasn't keen to get married in general with the idea, but once I met the guy I was supposed to get married to I suppose, I said 'Fine, let's get married'. That was the right thing to do at that point.
Swara: My character's has been totally out of my depth. Her logic is different from everyone. She takes care of her friends in every way, so she's endearing. But my look was a saga, aise kapde toh pehne nahin the maine pehle. Rhea wanted me to lose weight. One bullock-cart was lagaoed a dhakka and made into a car. And guess what! Shashanka Ghosh (director) told me after a year it's okay if I let myself be the way I am. I told him that he should have told me earlier, I would have been saved from indulging in 36 diets.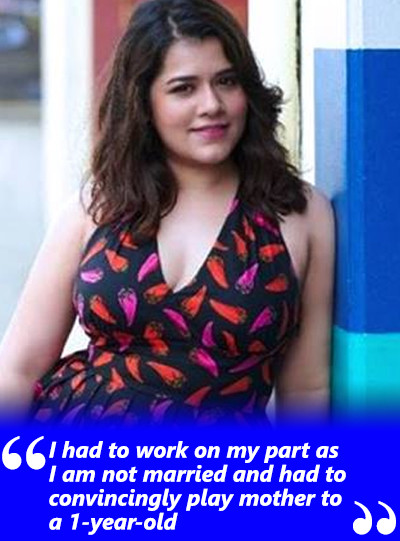 Does the film remind you of days when you were younger?
Sonam: I think each one of us has had one person in a group who is wild, and then there's one who keeps them together.
Kareena: Yes.
Sonam: I have had a group of four constant friends.

Were there double standards at home?
Sonam: My parents never treated me differently in contrast to my brother. Hopefully, narrow and regressive thinking will change with films like Veere...

Many men have been traumatized after watching the tralier of Veere...
Sonam: Are they?
Shikha: (shakes her head).
Swara: I think kisika mooh todne se toh, gaali bolke apna gussa nikal doh. Don't do it while you campaign in politics. It is not the job of a story to be moralistic. I think the surprise is more because A-list big stars like Kareena and Sonam who have so much goodwill are shown to say certain things, so far, their characters have been those girls who you can bring to your family.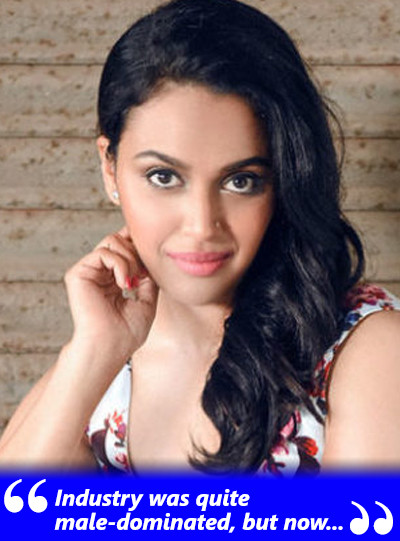 How do these firebrand girls handle trolls? Swara, you rose to defend Kareena...
Swara: I felt responsible for that particular thing to Kareena.
Sonam: You stood up for her before too.
Swara: It pains to see them hiding behind anonymity, their power comes from a sad place.
Sonam: Ignore them.

What is that one thing you want to change?
Shikha: It's a long list but why get into it?
Kareena: Promotions, we should have confidence in our product. Plus, there's too much of undesirable angst on Twitter.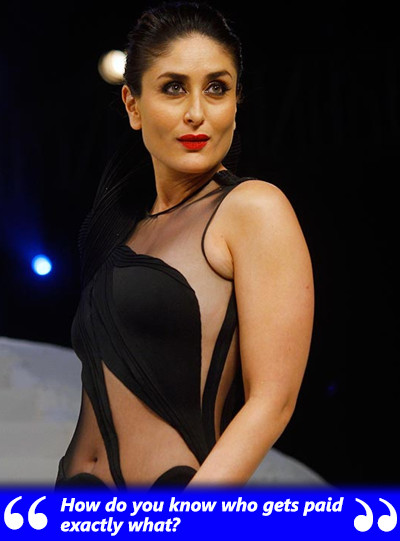 I thought at least one of you would say about the disparity in pay packets compare to your male counterparts...
Kareena: How do you know who gets paid exactly what?
Sonam: That time will come. But on date, I refuse to work in films which do not pay me what I deserve.