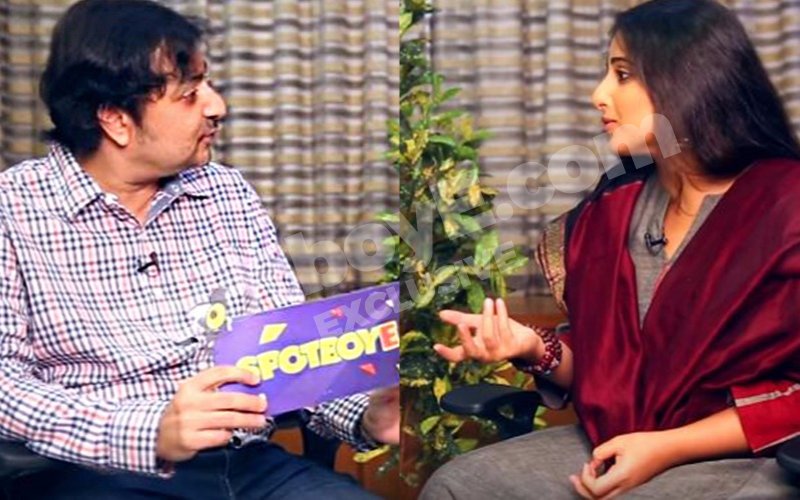 Your browser does not support the video tag.
Vidya Balan is extremely busy these days. She has just had a release -- Te3N -- and is all set to start shooting for two films, back-to-back. Amidst her hectic schedule, SpotboyE met the actress for a candid chat about all matters personal and professional. Excerpts:

How did your patch-up with Sujoy Ghosh happen?
(Laughs) I had gone to a coffee shop and I saw him seated there. I just walked up to him, tapped him on the back and said, 'Do you remember me? I have worked in your film.' He replied, 'Yes, I remember. You had played a pregnant woman, right?' (Kahaani). And, we both burst out laughing. Our patch-up happened within 10 seconds. Then we started talking over some hot coffee and it just didn't seem like we hadn't talked to each other for over one-and-a-half years.

Did he offer you 2 more movies in that meeting?
No, aise thode hi hota hai? He just told me that he was planning to produce a film (Te3N), which was being directed by Ribhu Dasgupta. He said: 'Ribhu wanted to approach you for the movie. It's good that we have patched up, because I was wondering how to approach you'. Then Ribhu met me and I liked the script.



Image source: hotmag
How was it working with Amitabh Bachchan again?
It was wonderful, it always is. I will have to come up with a new word to describe the experience of working with him, because otherwise, I am going to sound repetitive. It's always so inspiring. I barely shared screen time with him in Te3N, but in those one or two scenes I had with him, I could only see John Biswas, his character in the film. That's the magic of that man.

Is his enthusiasm still the same as it was when you worked with him in Paa (2009)?
Absolutely, which is the reason he has lasted 46 years -- the longest an actor has lasted in Bollywood. After another 25 years, we'll be saying he's the only actor who has lasted for 70 years (laughs).


Image Source: Manav Manglani

Let's talk about Kahaani 2, the second film Sujoy gave you after the patch-up. Is it as intriguing as the first one?
It may be the same franchise, but it's a different film. It's too early to dwell on it now, because the film is releasing on November 25. We have all worked really hard. In fact, I have not worked this hard during the last 9 years. All these years, I have done a maximum of 2 films in a year. But this year, I have already finished one film, I'll be starting another film in a week's time (Begum Jaan) and I'll move on to another film (Kamala Das biopic) after that.

You are doing a Marathi film (Ek Albela) as well. Do you know how to speak the language or did you undergo some training for it?
The film is a biopic on Bhagwan Dada and they are recreating his film Albela. I play Geeta Bali and I have 2 songs and a couple of scenes. Also, Geeta Bali was a Hindi film actor, so I have not spoken Marathi in the film. I barely have dialogues in that movie. Having said that, I know how to speak Marathi, because, I was born and brought up in Mumbai (smiles).

Tell us about Begum Jaan. It's going to be an experimental role for you…
I won't say experimental, really. It's very much in keeping with the roles I invariably do. I am playing the madame of a brothel and the story is set in the Partition era. This is my first historical. It's fictional, but I've never before told a story that's steeped in history. That's something I am looking forward to. I have seen the Bengali film (Rajkahini) on which Begum Jaan is based. I found it extremely powerful and I loved the character that inspired mine in Begum Jaan.

At one point, you said you'll not do any more biopics. Now, you are doing two...
I did not say I'll not do any more biopics. I'd been offered about 11 biopics of extremely interesting characters. For some reason or the other -- either I was not too happy with the script or I didn't vibe well with the director -- I didn't take them up. Also, I didn't want to do an actress' biopic immediately after The Dirty Picture (2011). Which is why, even though I wanted to do the Meena Kumari biopic, I didn't do it at that time. I'd okayed the M.S. Subbulakshmi biopic, but that ran into some legal hassle. When I was offered Kamala Das's biopic, I found her a very interesting personality. She was a very interesting poetess and writer.

What exactly do you look for in a movie?
Character, script, director, producer -- they are all equally important.

Money?
Money, of course. I am a professional and I have a fee, but depending on the budget of the film, it goes up and down sometimes. But that's okay.


Image Source: amazonaws

Many of your colleagues have raised the issue of pay disparity in Bollywood. What do you think?
It's absolutely right, there's no two ways about it, because, we work equally hard. It also depends on merit. So, it's not just about being paid equal, but also what someone brings to the table. For example, you can't compare the fee of a new actress with that of an established male actor, but she should get a pay that's equal to that of a male actor who is just getting launched. In that sense, equal pay is non-negotiable.

Is the disparity too high at the moment?
I think so, but I have not acted with any of the Khans. So, I don't know what's the disparity in fee in those projects. I don't know how much they get or how much their lead actresses get. But I do believe that the difference is huge.

Now that you are talking about women's rights, you had recently supported Kangana Ranaut (in her legal battle against Hrithik Roshan). Do you still stand by that?
I don't know either Kangana or Hrithik too well personally. Over the years, I have met both of them only socially. This is not a personal take on anything. I don't know what their issues are. With due respect, I don't even want to know. All I am saying is, as women, we find it easy to fight on other people's behalf. We rarely fight for ourselves, right, wrong or otherwise. Which is why it is creditable that she did what she did.

Did Siddharth Roy Kapur (husband) get worked up when you supported Kangana, because he's producing Hrithik's upcoming Mohenjo Daro?
No (laughs). I believe that was the talk of the town and I was in Kolkata at that time. It was quite interesting to know from the papers that he was miffed with me. To be honest, I didn't read it, but some people who did, told me about it. I was like, 'Wow! How do people make these things up?'

Stories keep surfacing about some or the other trouble in your marriage...
Frankly, I don't want to say anything. First of all, it's nobody's business. Even then, if you ask me, I will tell you what the truth is.

Go ahead with the truth...
All's well in my married life. Touchwood.