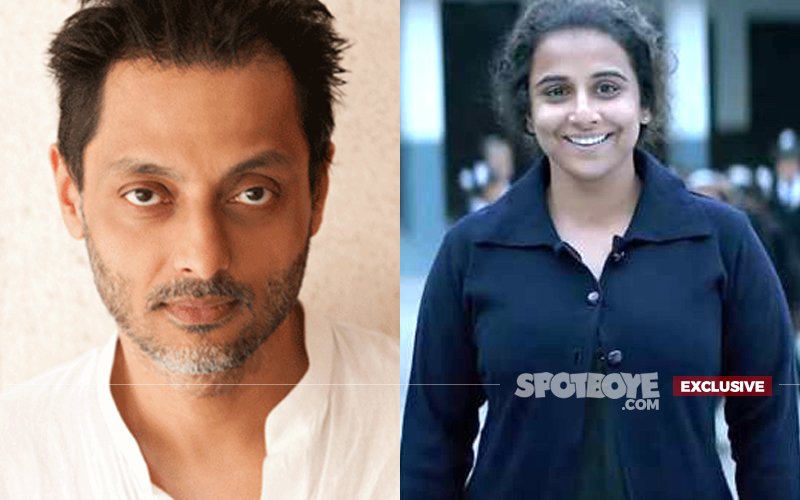 Sujoy Ghosh's Kahaani 2 hits theatres
on Friday
. The time is right to catch up with him for a chat. SpotboyE.com met him at his Bandra office
on Monday
morning. Over hot cups of tea, Ghosh unfolded what went into the film's making and lots more. Read on...

You patched up with two people before you started Kahaani 2- Jayantilal Gada (producer) and Vidya Balan (protagonist)...
I don't think I had too much of a problem with Jayantilal. Ab kaun pagal hoga to ask for Rs 38 crore? But the media reported it. So now, let me put it precisely. If we were to continue the Kahaani franchise, its central character Vidya Bagchi had to go on a second assignment but on a larger canvas a la Bond style. So the media said Rs 38 crore amount was actually the budget of that film. But now I understand that to immediately make a film with Vidya and I, maybe we wouldn't have recovered Rs 38 crore. So, there was a conflict between Jayantilal and I.

Why was your proposed canvas to the tune of Rs 38 crore?
I had no other option if I was to take my first Kahaani to the next level. There were a lot of stunts in the story which I had outlined, for which I needed a strong backup.

So that planned film and this Kahaani 2 (which releases after 3 days) are different?

Absolutely. That Kahaani was a very instant thought which was meant to capitalise and commercialise the success of Kahaani. In hindsight, it was a wrong thought. If I had made that Kahaani 2 then, I would have fallen flat on my face. The intention to make Kahaani 2 then was wrong. I am very happy that I had a mismatch with Jayantilal and that film didn't happen.

And then?

I had a few scripts which were great while standing alone, but those wouldn't have qualified for Kahaani 2. Kahaani had become a people's franchise and ceased to be only mine, so if I go wrong with its second part toh log mujhe joota marenge, aur beech raaste par marenge.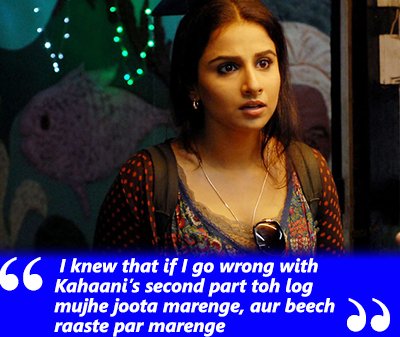 Image Source: vk
So how did Kahaani 2 happen?
I had the germ of an idea for it, but I didn't know how to convert it into a film. With life, experience and reading, things began to fall in place and I could almost see a script in front of my eyes. I didn't want to delay it any further and I immediately started penning it.

The trailer gives a feeling that you have included some real-life incidents in the story...

Bahut saare. Zindagi bahut hai isme. But I am not here to make a documentary. So I had to make a film which will engage and entertain you. So howsoever gambhir your thought is, it has to be something that takes you away from Whatsapp Twitter etc. This is my challenge when I set about to make a film

Did you write it before you patched up with Vidya?

Yes, I had started writing it then.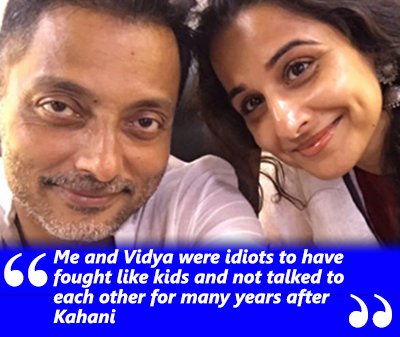 Image Source: indiaforums

So then you had somebody in mind besides Vidya?
No, nobody else. I think she was destined to do this,. Frankly speaking, I had discussed the thought of Kahaani 2 with her in 2013 when she had moved to her new Juhu house with Siddharth (Roy Kapur). She said she will give me 2 hours but I had an idea of only 2 lines. She strongly felt that I won't be able to convert this idea into a film. Par woh kehte hain na: Dil agar aa gaya gadhi par, toh pari bhi kya cheez hai? I was so adamant to make Kahaani 2.

Vidya and I go back a long way. We were tattus, we were idiots to have fought like kids and not talked to each other for many years after Kahaani.

Why did your ego get so hurt when she refused your film Durga Rani Singh?

Whether it is friendship or any other relationship, we tend to take it for granted and start having very unrealistic expectations from our partner. That's when the equation in question gets f***ed up.

So yes, you are absolutely right in saying that I should have known that VIdya is not bound to do everything I say. Khair jo ho gaya so ho gaya, ab to sab theek hai.

So what is Kahaani 2 all about?
Can't say much as it's a thriller. Let me just say that it's the story of a mother who promises her daughter that nothing will happen to her as long as she is around.

So there is a shocking end that will shock, ala Kahaani?

I don't want the end to shock you. I don't make films to throw people off their chairs. I want you to enjoy Vidya's journey in the film, just like you enjoyed Vidya Bagchi's journey in the first part.

You got a fair number of awards for Kahaani. Expecting more for Kahaani 2?

Kahaani 2 was my toughest exam till date. I have worked very hard for it and I await my mark sheet very nervously and impatiently. I have worked very hard for this film.

Why did you need to work so hard on Kahaani 2?

I took one month to create two scenes. I think I have answered your question (pauses). However, Vidya on the other hand went into one scene from another in just a matter of few hours. Her performance in Kahaani 2 is amazing..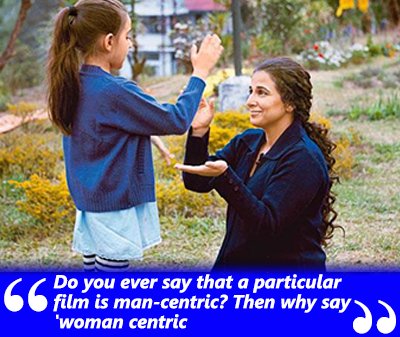 That's a million dollar question. If actors knew what would click, they would get a Noble prize. Even I am shitting bricks for
December 2
.
Now that Dear Zindagi has brought back people into the theatres after demonetization, does that increase pressure on your Kahaani 2?
Not really, but as I said, I am nervously and impatiently waiting for my marksheet (bites his nails).

What was the idea behind signing Arjun Rampal?
He is a fab actor, you have no idea how good he is.

I know how good he is, and I feel that he has not been given his due...
Absolutely. I don't know the rest of the story, but trust me the more complicated and complex the scene, the better he gets. I am proud of his work in the film. Besides Vidya, I could see him in this role even when I was writing my script.

You are contradicting yourself by saying that you had Vidya in mind...

(Smiles). I think even when we were not talking, she was still my close friend. Sachi dosti isiko bolte hain na?

Did Arjun have any reservations about Kahaani 2 given that it is a woman-centric film?

No, he knew that Kahaani 2 is Brand Vidya but he had no qualms about it.
But what do you mean by Kahaani 2 being a woman-centric film? Or for that matter, any other film? Do you ever say that a particular film is man-centric? Then why say 'woman centric'.

That reminds me of the controversial question, should heroines be paid as much as their male counterparts?
Absolutely. Look at the kind of work they put in. Look at the s*** which Vidya has gone through for Kahaani 2. Or for that matter, PeeCee in Mary Kom, Kangana in Queen, Sonam in Neerja... these girls have carried the entire film on their shoulders.

But the argument by a section of the industry is that heroines don't draw crowds but heroes do, so they are okay with paying an astronomical amount to the hero...

If something is wrong, let's undo it rather than grin and bear it. Everything in this world is created by us. Why do we like to categorise and classify things? I agree that heroines don't get you the numbers as much as the heroes, but who's stopping us from creating a change for the better? Let's make more movies with girls, the practice to pay them as much as the boys will then happen for sure. Aaj mere paas kya hai Kahaani 2 mein Vidya ke alava? Jo bhi dhanda hoga woh vidya ke naam ke upar hi hoga na

And for Pete's sake let's restrict ourselves to good films and bad films. Why are we so stuck up in our heads? Abroad they don't look at a star to play Harry Potter, they make it with a newcomer na? Inshallah, a day will come when I will be able to make a Rs 38 cr film starring Vidya Balan.

Te3N, which you produced, failed to live up to expectations. Will you do more films as a producer?
I need to discipline myself as a producer. I don't know if I have sufficient knowledge that is required to be a producer. We didn't make money on Te3N. I need to understand numbers. Te3N however was an enjoyable experience. Of course there is no guarantee that if I start understanding numbers, I shall produce successfully. But you know what? A producer's job is not a part-time job.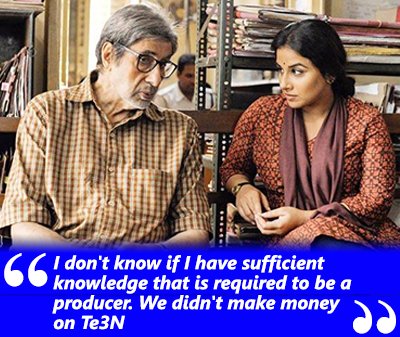 Movies will be made. I have always had go to many offices to get a producer. Studios or no studios, it doesn't matter to me at least.

You were supposed to do a film with Balaji...

That didn't happen because the subject was a bit similar to Drishyam.

What happened to Borivli?
That was another film which I couldn't make. It was a very expensive film set in 2025. It was a dark, gritty film which can only be made with Mr Bachchan. I don't know if it's the right time now to get into it. His character was rather frivolous which I could have pulled off then. With time, a lot of respect, assumptions and expectations have creeped in when it comes to my relationship with him. I wouldn't have the confidence to try that now. It's like asking if he was to play Anthony Gonsalves now, would it fly?

Let's go a little away from work-related questions before we close...
Sure.

What is Sujoy doing when he is not thinking and making movies?

Trying to catch up with my kids in England. My phones go unattended, and when they come on line, all I hear is 'Oh Dad, I'll call you in a bit', 'Oh Dad, my friend is here and I can't talk now'. You know how life is if you are a parent. But it's fun. Children are our life and we love them more than anything else in the world.