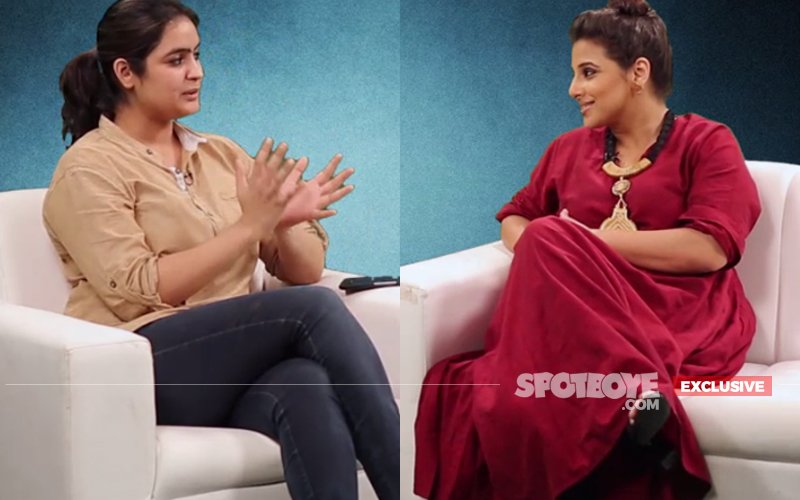 Your browser does not support the video tag.
There's a kahaani behind evety kahaani. What's the one behind your patch-up with Sujoy Ghosh after you'll had a big fallout?
Sujoy and I, we weren't talking since one-and-half year. Humare beech mein yaa to bohot dosti hoti hai yaa bohot jhagde hote hai.
Actually after Kahaani we were supposed to do one more movie: Durga Rani Singh, but then I fell ill and had to leave it, so I told him to go and make it with someone else. At the very same time, I had also signed up for Humari Adhuri Kahaani. I tried to get off that film too, but Mahesh Bhatt told me that he could wait as he was running behind schedule by 6 months. I didn't quit HAK and I think that ticked off Sujoy.

One fine day, I happened to walk into Costa Coffee (Khar) and I saw him. I was hesitant to talk to him but eventually decided to break the ice. I went and tapped him and said "Hi Sujoy, do you remember me? I've worked with you, we did a film together called Kahaani and he shot back: 'Weren't you that pregnant woman in the film?' and we both burst out laughing. We quickly reconnected and he offered me Kahaani 2.

This is perhaps the first time that a franchise may turn out to be better in its second part...
You know firstly this isn't a sequel, we're taking the franchise forward, so there are completely new and fresh characters involved, it's a different world, it's a completely different story, so I think in that sense there isn't any baggage from Kahani. We have tried to tell a story we believed in and people have loved the trailer. Now let's see what happens next Friday in theatres. Fingers crossed.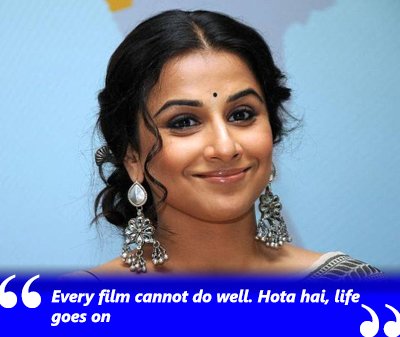 Image Source: bigdays

Are you nervous? Kahaani was extremely successful at the box-office...
No, I don't think there's any pressure. Four-and-half years have gone by, it might have been a different story had Sujoy made Kahaani 2 in two years.

Your recent films- like Ghanchakkar, Hamari Adhuri Kahani and Pyaar Ke Side Effects- didn't work really well...
Yeah it's really unfortunate that those movies didn't work--- but then every film cannot do well. Hota hai, life goes on.

What went wrong with those movies?
I took about 8 months off, that was just because I wanted to focus on my health--- but of course I did some introspection. I went back and asked myself about what could have possibly gone wrong, what I could have done differently, what any of us could have done differently--- but got no answers.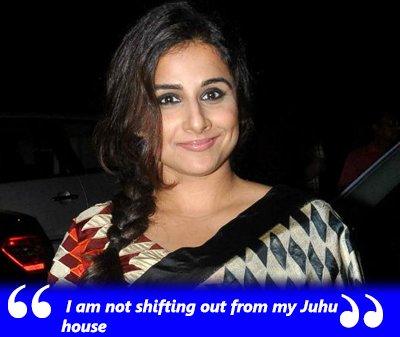 Image Source: ravepad

Did you ever feel during this period that time is running out on you?
Nahin kabhi nahin, because I had chosen that break. It wasn't thrust upon me circumstantially. Mind you, I was still being offered films.

The studio culture is collapsing, and your husband Siddharth (Roy Kapur, Disney UTV) was a part of a very leading studio. How do you see this shift? Should stars reduce their fees?
This is a question which should be asked to male actors, because female actors aren't getting that kind of money (smiles).

Hmm... Are you excited about Siddharth's next venture?
Absolutely, I'll be happy for whatever he does.

Where's he going?
I think I'll leave it for him to speak about it

How was it working with Arjun Rampal in Kahaani 2?
It was wonderful. Arjun's so easy, he doesn't take himself seriously- and he's such a good actor. It was fun working with him because we knew each other socially.

You seem to be very active on social media too, has it become an addiction?
No, it hasn't become an addiction. In fact, I don't think that I am very active on social media. And lately, I have not even checked my Twitter, Facebook and Insta, so I'm far from being addicted. I don't need to draw a line... but rather I need to be more engaged.

You'll be playing the role of a procurer in Srijit Mukherji's Begum Jaan. Tell us about that...
It's too early to speak about Begum Jaan, but yeah Begum Jaan is set in partition times and I'm playing a procurer or the madam of a brothel, and it's a role that I wanted to play since long. It required me to be very violent and abusive, and I didn't know it was in me, but it was (laughs)!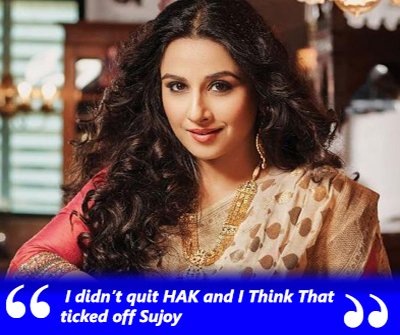 Image Source: revellia

Are you learning Malayalam for Aami- a biopic you doing on author Kamala Surayya?
She interests, intrigues and mystifies me and I really want to understand her or rather more than understanding her I want to know her. She's so not conventional in the way she lead her life. All this led me to say yes to that role.

But I remember you saying that you didn't want to do any biopics?
I had offers of nearly 10 biopics... and some of them interested me. Like for one, a biopic on M.S. Subbulakshmi... but I couldn't do it because it got into some legal hassles. Another one that interested me was the one on Meena Kumari, but it came very soon after The Dirty Picture and I chose not essay the part of an actress so soon.

After your dengue and the swimming pool in your building, we heard that you are planning to shift from your Juhu residence...
Not at all! But if somebody wants to gift me a house, he/she is more than welcome (smiles)!

Why should people watch Kahaani 2?
Because they loved the trailer. The audience is very curious about what happens next.