Vikram: Sushmita and I were a bundle of immaturity during our extramarital affair
Here's the latest update from the world of Bollywood. We bet you wouldn't want to miss this. Read on for details... The Love Games director opens up on matters of the heart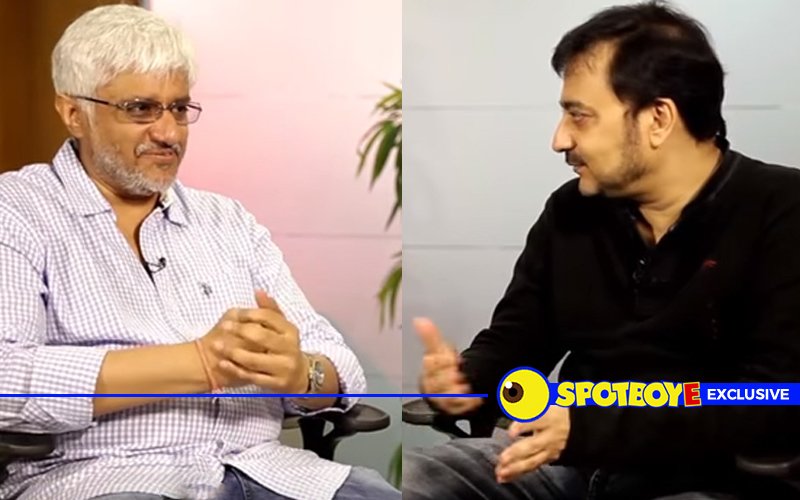 Vikram Bhatt believes that the Indian audience is ready for a bold film like Love Games. Ahead of the release of his movie, the director talks to SpotboyE about the erotica, his doomed relationship with Sushmita Sen and more. Excerpts:



How did you decide to make such a bold film- Love Games? The promos are shocking…
There are three characters in the film -- Ramona Raichand (Patralekha), Sam (Gaurav Arora) and Alisha Asthana (Tara Alisha) --- and I have met people like them in real life. There is this socialite lady, who people say, married for money. When her husband died, people said she had murdered him. She has come from a very poor background and doesn't know much English. Her limitations make her doubt if she deserves everything she has. To validate herself, she is constantly in search of good-looking men who she can sleep with. Whether I'm desirable is the ultimate validation for a woman.


I have also known people like Sam, who harm themselves. I'll share something about my life with you. I was having an extramarital affair with Sushmita (Sen) and was going through a divorce. I was very depressed -- it's like your whole life is crumbling around you. I remember standing on the 6th floor of a building, looking down and thinking, 'What if I jump? Will it not solve all my problems?' It was such a real thought, I stepped back. It was a moment of coming closest to suicide. Though not suicidal, Sam does self-harm -- he takes a knife and cuts himself.

And then, there is Alisha, who is a battered housewife. She is a surgeon, but puts up with her violent husband. She is like Zeenat Aman, who was also in an abusive relationship. Rati Agnihotri recently opened up about the violence in her marriage. Why do successful and independent women take this




Who is the socialite which Patralekha portrays?
I don't want a legal battle, else I would have told you.

Does she know you have made a film on her?
I don't think so. Frankly, I think there must be too many like her. There's no dearth of shallow people.


You finally decided to make this film when you met a young girl in a mall who told you that people are ready for such films today...
I have written about 200 stories on Facebook. I have now taken a break because of Love Games. A girl came up to me in a mall and said, 'Sir, I am a big fan of yours'. When I thanked her, she clarified, 'Not of your movies, but your stories'. She said, 'Why don't you make movies on such stories? We see two different Vikrams in the stories that you write and the movies that you make.' I told her, 'I write stories for myself. While making movies, I have to think about the producer, distributor, etc… Also, I don't think that my stories would have any takers'. She shot back, 'You're wrong. We are ready, but the filmmakers are not'.

You are a very well-read person, but you haven't translated all that on screen...
I always wanted to make relevant films like Love Games, but we were never allowed to do it.

Who was stopping you?
We had been conditioned to make a certain kind of cinema which should run in single screens in Amravati (pauses).


Go on...
My last two films Creature and Mr X didn't do well. So I must thank the Bhatts who have stood by me and Bhushan (Kumar) who has put money on me. Don't forget that Creature had been financed by Bhushan. To tell you the truth, I have confidence in my abilities. I am a talented man. If and when I have failed, I have failed after working very hard. I have never adopted the lazy route.


Surely you didn't have Patralekha in mind when you set up the stage for Love Games?
Not at all. She is a good actress but a timid person. I want her to come out and say 'I am a sex addict' during the promotions, but she feels that it would make her a sex addict in real life. She is not mature enough to understand that real and reel are two different aspects of life.


Did you try explaining it to her?
It's a waste of time. She did everything that was required to shoot the film, but she has gone very cold in its publicity.

You say that Love Games is a very relevant film. Do you think that the world has changed so much?
Of course. Don't you have swingers in real life? Don't you have Tinder, Truly Madly and Gather on apps? The film is a reflection of today's society.

So, what's your take on marriage in today's times?
Redundant. Absolutely redundant.


Back to Sushmita...
We were too young, then. I was 27, she was just 20. We were a bundle of immaturity.

Have you met her after you two parted ways?
No, and it's not that I am avoiding her. It's just that it hasn't happened.

Over to your two newbies- Gaurav and Tara...
Gaurav had auditioned with the Bhatts for Aashiqui 2. I know Tara's mom very well, she's a good friend of Soni Razdan.


You didn't go to the Revising Committee after the Examining Committee rejected Love Games...
No, I didn't. We preferred the Tribunal. It was a collective call taken by the Bhatts and Bhushan. We were lucky that we had a lot of time after the Examining Committee rejected our film. We had the time to head to the Tribunal. Most filmmakers reach the Censor Board only a week or two before their film's release. I wish we all have a month at least to complete the Censorship. I think we are in a terrible state as far as Censorship is concerned.

It's just Raaz 4 for now after Love Games...
Yeah. I don't look too far ahead.

Image Source: Clapsnslaps, Ooyuz, twitter/MaheshNBhatt, Blogindia & Indiaforum