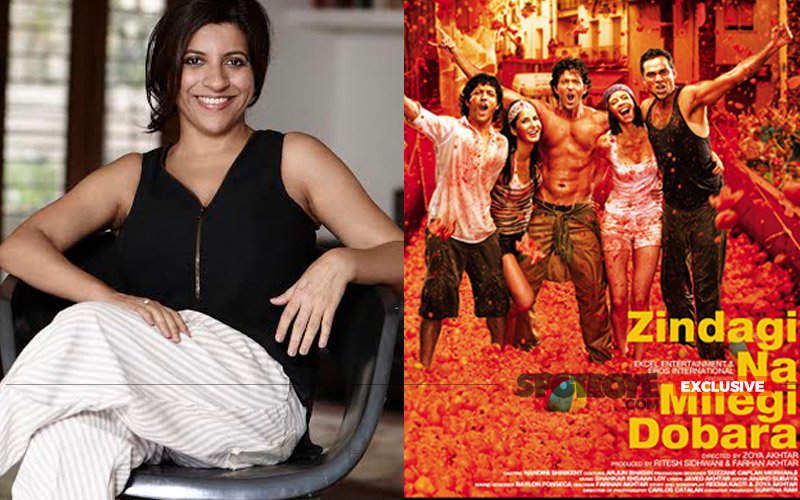 SpotboyE.com caught up with Zoya Akhtar at her Bandstand bungalow over hot cups of tea. Excerpts from the conversation that transpired:

Coming from a filmi family, didn't you ever nurse a desire in your growing years to be in front of the camera?
Acting, no. But I loved watching movies. My parents (Honey Irani & Javed Akhtar) used to watch a lot of cinema. We had a projector at home and it was fun. At 16, I saw Mira Nair's Salaam Bombay and it was confirmed that I wanted to direct films.

What impressed you so much in Salaam Bombay that it set up your mindset on taking up filmmaking as a career? Your films and Mira Nair's films are so different…
I grew up in the 80s when most Hindi films were terrible. Salaam Bombay made me realise that a filmmaker can make what he/she wants. It stirred me, it motivated me. Of course our films are different, we are different people :-) Aur abhi toh maine sirf char movies banayi hain (Luck By Chance, Bombay Talkies, Zindagi Na Milegi Dobara, Dil Dhadakne Do). I still have many films in me.

You grew up more with your mother. Was it a tough time when your parents ended their marriage?
Of course it was tough- divorces were 'uncommon' those days and even being in the film industry was considered 'uncool'. Every divorce is tough (pauses).

Go on...
My mom was very young, she was 28, I was 10, Farhan was 9. But... (pauses).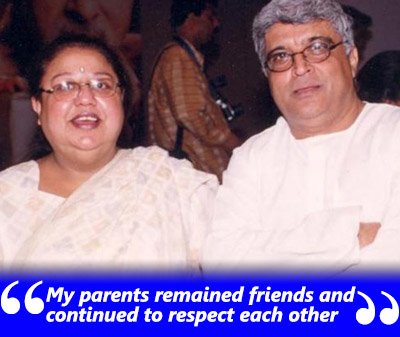 Image Source: entertainmentweb

But what?
My parents remained friends and continued to respect each other.

How did you cope with it?
My parents didn't let their differences come in the way of our upbringing. They really took good care of Farhan and me; we were very loved.

Did their split pinch you?
If anything like this happens in any family, one can't remain unaffected. There's a change in the family structure. Today, however, divorces have become very common and the kids in those families too adjust rather quickly.

When did you declare it to your parents that you want to make your own film?
In my teens. I had started working with Mira Nair when I was 21. Then I worked on a film in New York as a PA, followed it up with Kaizad Gustad on Bombay Boys and Mahesh Mathai on Bhopal Express. I went on to assist in many commercials and after I finished Dil Chahta Hai, I decided I should write my own script.

Going to your first film Luck By Chance...
It was crazy. I couldn't make it for 7 years. I couldn't cast anybody. Nobody wanted to act in it. Actors were so different then. I decided to wait and went on to be an Executive Producer for Honeymoon Travels Pvt Ltd and Lakshya.

And finally when it hit theatres, did its box-office matter to you?
Of course, it did. There was no success. I was busy lapping up the great reviews it received and found out only later that it was not making money. I don't want anybody to lose money on my film.

So was that at the back of your mind when you set out for Zindagi Na Milegi Dobara (ZNMD)?
ZNMD was not considered commercial either, it just happened to be a hit so now people ask me if I planned it. The industry folk had seen it before it released and said it won't work, they said that it was a slow film--- but the audience got it bingo.

Why were actors not ready to do Luck By Chance?
Because in their eyes the protagonist was negative.

And in your eyes?
In my eyes, he was simply human. He was grey. We all are a shade of grey.

Did it make you feel that how could actors refuse someone who is Farhan's sister and Javed saab's daughter?
No! Because that is irrelevant. It frustrated me because so many bad films were being made and I was having a hard time (smiles).

Travel is an important part of your films...
Not at all.

Maybe it is felt that way because Zindagi Na Milegi Dobara and Dil Dhadakne Do left such impressions, unlike Luck By Chance and Bombay Talkies?
Luck By Chance and Bombay Talkies didn't leave impressions because fewer people went to see them. They went to see ZNMD and DDD and then they complained about my indulgence in travel (laughs). ZNMD was a travel film, it is a road trip and you have to see the country you are driving through. DDD was a family story, travel came in because we set the film on a ship--- but travel is not the dominant factor and nor is it featured as such.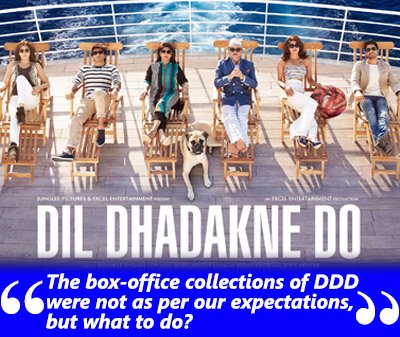 Image Source: ashitsharma

How would you rate the box-office collections of DDD?
Not as per our expectations.

Did that bother you?
Of course, but what to do? It is what it is.

Why did it happen that way?
Who knows? I don't know. I have no idea.

You were blamed that this film (DDD) caters to only the Pali Hill and Malabar Hill residents…
Is Prem Ratan Dhan Payo about poor people? It did very well. So, was the problem that DDD catered to rich people or to modern people? You know what I mean? I am confused.

I don't want to think like this and I will continue to make the films I want. Above all, I will continue to find my audience, whether it is in Malabar Hill or Pali Hill. I want to make good films to the best of abilities and I don't want my producers to lose money. I know what I like, I want to tell stories that move me and I want to communicate those feelings through my films. I can't keep changing with every hit and adopt a herd mentality route. I have to be me.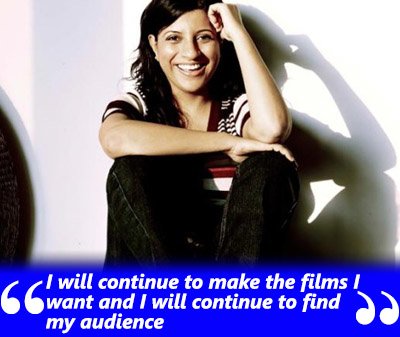 Image Source: mintified

Where do you get your ideas from?
I pick up many instances from real life. Moreover I was a literature student, and I read and travel a lot.

The Abhay Deol-Kalki Koechlin breakup in ZNMD and the Rahul Bose-Priyanka Chopra split in DDD stood out glaringly, and since you say that you take references from real life, I get a feeling that you don't believe in the institution of marriage…
Didn't you see that Hrithik Roshan and Katrina Kaif get married in ZNMD? Didn't you see Ranveer & Anushka hook up in DDD, Farhan and Priyanka too hook up and moreover Anil and Shefali save their marriage?

That doesn't answer my question. Let me ask you straight instead. Would I be right if I said that you don't believe in the institution of marriage?
No, you are wrong. I believe there is no one size that fits all. If being married makes you happy, then more power to you. And if being single makes you happy, then please continue being single. Nobody should be doing anything simply because he/she is supposed to do that.

We haven't heard about any link-up of yours…
That's because I am a private person (smiles), but marriage can't happen just because ' ab time ho gaya hai, ab shaadi kar leni chahiye'. I should feel from within that I have to marry a certain person.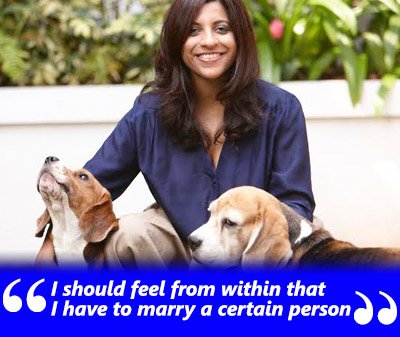 You have been vocal about rooting for changes in the Censor Board policies. Do you feel that Shyam Benegal is just a rubber stamp, aur ho to wahi raha hai jo pehle ho raha tha?
No, I think Mr Benegal is an amazing person and has rightly asked for films to be certified as per Age Groups. I am hopeful that his recommendation will be put into practice.

But you don't make films which don't qualify for family viewing...
Not yet, but who knows what I will make some day (shrugs).

You touched upon gender discrimination in DDD. Do you endorse the opinion of today's heroines who say that they should be paid on par with their male counterparts?
I would love women to have more power than they have now. I would love it if they're paid more than what they get now. But at the end of the day, it's business and your price is defined by what your film opens at. Compare what any heroine generates at the ticket windows to how much would any of the Khans (Shah Rukh, Salman, Aamir) bring you, so the Khans are bound to be paid more. So to change this, the audience has to patronise the actresses more. Go watch their solo films, watch women-centric stories.

You don't believe in any religion...
No, I don't. I was brought up as an atheist, but I am happy to tag along with my friends to any place of worship. We celebrate all festivals at home and there's no rigidity.

If you are under stress, don't you take recourse in a prayer?
It's a very personal question, but I shall take it. It's the connect you have. Like, I have a connect with nature. I relax in nature. And then, I feel the presence of someone larger than me. Is that God? You may call it God, but someone else may call it Universe.

So you take off to outdoor trips and find your answers there?
I try to. In fact, one of the biggest problems of this city is that we have lost our connect with nature. We see it as something exotic or rural. It's strange that we see nature as an "other". I mean we are nature, we are just another animal- and the violence and unrest in us today is because we are not rooted with our real environment anymore. I hope we establish that connect again.

How close are you to your brother Farhan?
Very close. Our professional and personal lives are separate, but I am very close to him.

How did you cope when his personal life underwent turmoil (parted with his wife Adhuna) sometime ago?
I am so close to him that I will never talk about that (smiles).



Thumbnail Image Source: behance