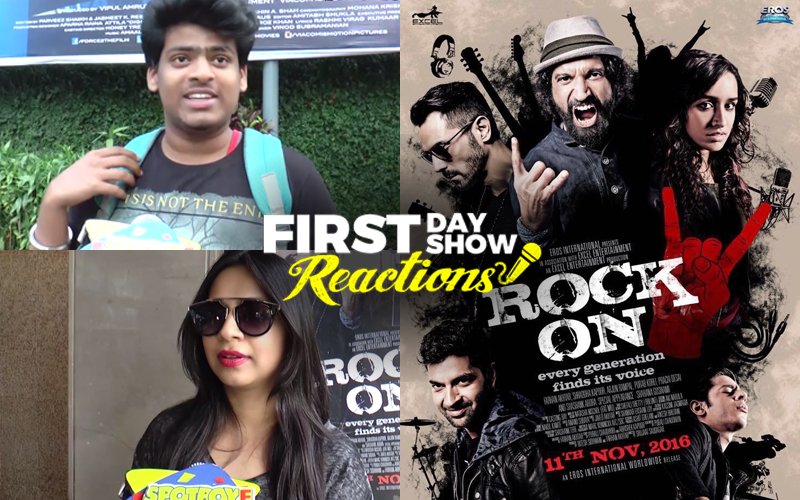 Your browser does not support the video tag.
Rock On!! released 8 years ago and went on to become a cult film. In fact, the film's music became so popular with the youth that it finds a spot in the playlist of most clubs and rock concerts even today. Sadly, the same cannot be said about its sequel.

Our critic too was of the opinion that Rock On 2 wouldn't be able to set the cash registers ringing (Movie Review: Jaago... Aur Bhaago Rock On 2 Aaya, 11 Nov 2016). In fact, it might end up giving you rock-n-roll blues.

If we were to only talk about the music of Rock On 2, it wouldn't be incorrect to say that it failed to garner enough buzz. Lead actor, Farhan Akhtar had earlier admitted in an interview that it (music) will grow bigger once the movie releases. However, that doesn't seem likely anymore.

The movie hit theatres today and the first day saw very few footfalls at theatres. One suburban theatre had just 4 people in the audience, another cinema hall saw 25 people, 15 of whom were from the media. Well, surely a bad start.

However, I decided to not jump the gun, and waited for the second show to get over too. Sadly, the second show also had only 30 seats full.

Talking to audiences coming out of the theatres, I figured that people weren't seeing films because they were busy getting their ₹500 and ₹1000 notes exchanged at the banks. They confessed that the new rule would definitely affect the fate of this film at the box office.
Sources from the industry say, "It's a tricky time to release a film. People are bust settling their money, queuing outside banks as they opened for the first time today since the rule was imposed. A miracle is required to lure people to theatres, that too towards a film that has created no buzz in the first place."

Talking about the film itself, people who managed to watch the film said that it was an average one time watch and lacked the spunk that the first instalment had. The songs too are way below expectations according to the audience.

However, everyone unanimously praised Arjun Rampal. People loved his rockstar avatar. No wonder he won the National Film Award for Best Supporting Actor for the 2008 film.

Let's see whether the movie catches up in the coming week once people are done exchanging their ₹500 and ₹1000 notes at the banks.


Thumbnail Image Source: mazale