Mumbai Saga Vs Sandeep Aur Pinky Faraar Box Office Clash: Trade Experts Hope The Two Big Films Take The Business Ahead-EXCLUSIVE
As Mumbai Saga and Sandeep Aur Pinky Faraar clash at the box office, here's what the trade experts have to say about the business both the films will bring in for the theatre owners.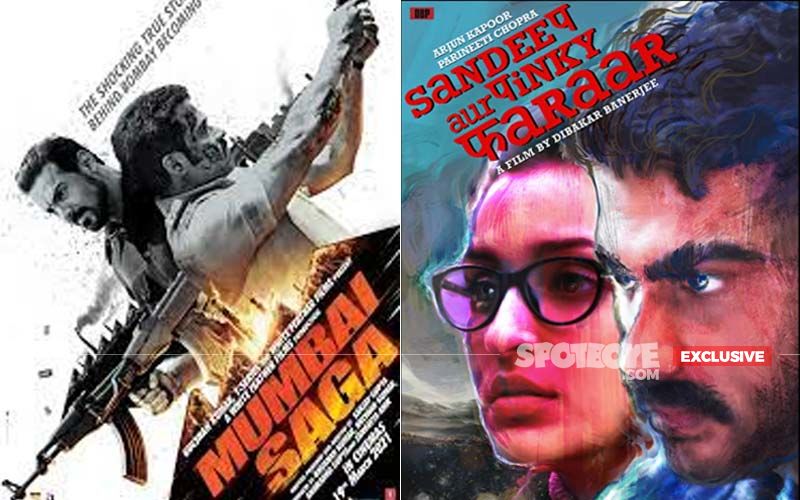 Boxoffice bleakness is now a pandemic, with every week looking less viewer-friendly for the movie theatres. Since movie theatres re-opened after the lockdown only one film has shown any kind of box office collection, and that's director Hardik Mehta's horror-comedy Roohi which released last week. The other post-lockdown releases have all been washouts. This week Sanjay Gupta returns with another gangster thriller Mumbai Saga. Based on real-life activities in the underworld the film pitches 'gangster' John Abraham against 'cop' Emraan Hashmi.
While director Sanjay Gupta considers Mumbai Saga to be a very special film in his repertoire there isn't any noticeable excitement in the movie-going audience for the product. "Last week's Roohi was fun to watch. Mumbai Saga looks very violent and grim. I don't think I want to see this right now, especially with the rise in COVID cases all across the country. As for Sandeep Aur Pinky Faraar, it looks stale. Audiences will go back to the theatres only if they are given a big enough incentive to do so," says Roshan Singh, a leading exhibitor of Bihar.
Also, Mumbai Saga looks, at least outwardly, like many of Sanjay Gupta's earlier gangster epics including Shootout At Wadala (2013) in which John Abraham had played a similar tikka-marked gangster. The audience at the moment doesn't want déjà vu. They want laughter and entertainment.
Analyzing the prospects of the two releases this week prominent exhibitor Akshay Rathi comments, "Mumbai Saga is clearly the movie of the week. With the rising number of COVID cases in Maharashtra on one hand and the vaccination drive picking up steam on the other, there are too many moving parts in the equation for anyone to be able to estimate what the box office numbers would be like. However, this is a film that caters to an audience that has put the paranoia of the virus far behind it. I'm hopeful it can do very well."
On the other hand trade analyst, Girish Johar is more cautious in his optimism. "Mumbai Saga and Sandeep Aur Pinky Faraar are two major releases this Friday. After Roohi brought some hope, these two films will be expected to take the business ahead. However the pandemic is still on and even though vaccine drive has started, the graph of daily increasing cases hasn't slowed down. The Government has become more strict especially in Maharashtra, and has issued very strict guidelines with the warning of shutting businesses be it food, restaurants, malls or even cinemas, for those who are caught flouting norms."
However, Girish sees brighter chances for Sanjay Gupta's dark violent saga. "The stakes are higher, chances slightly stronger for Mumbai Saga, as the film is based here in Mumbai the audiences will connect more with the film, in this particular region. Having said that, John, Emraan and Sanjay Gupta have a huge pan-India appeal and I am pretty confident that they will tide over this easily and the film will have a good start at the BO. Sandeep & Pinky Faraar, backed by YRF and Dibakar Banerjee, is a niche and upmarket thriller-drama. The film is expected to have a decent start at the BO, especially in urban cities and upmarket multiplexes. Overall, it is going to be an exciting weekend at the BO."
Fingers crossed!
Image Source: IMDb, youtube/t-series/yrf