Will Tenet And Indoo Ki Jawani Bring Back The Audience Into The Theatres Post Lockdown This December? Trade Analysts Kick In-EXCLUSIVE
With Tenet and Indoo Ki Jawani hitting theatres, our trade experts speak if the films will manage to get the audience back into the cinema halls!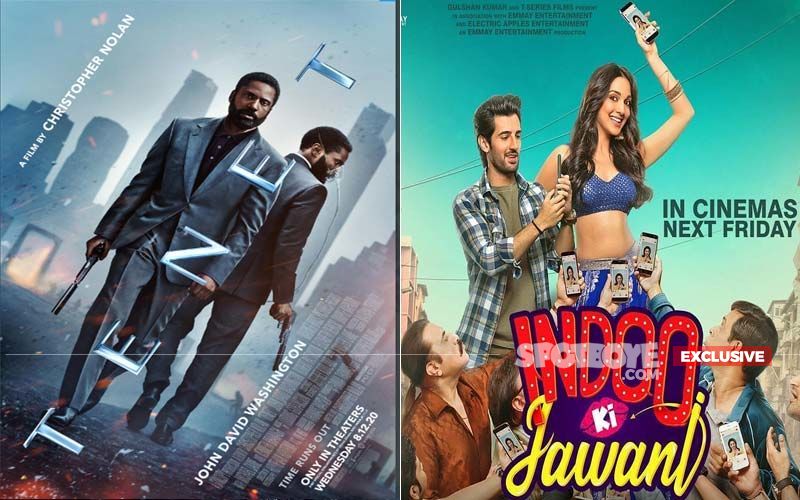 Christopher Nolan's Tenet hits cinema halls in India today, December 4. The film is releasing n English, Hindi, Tamil, and Telugu all across the country. Though the film had a worldwide release as and when the lockdown was lifted in select countries, we saw Tom Cruise and our very own Sonam Kapoor watch the film in London. Apart from Dimple Kapadia, Tenet features stars like Robert Pattinson, Elizabeth Debicki, Martin Donovan, Fiona Dourif, Yuri Kolokolnikov, Himesh Patel, Clémence Poésy, Aaron Taylor-Johnson, Michael Caine and Kenneth Branagh. On the other hand next week, on December 11, Kiara Advani's Indoo Ki Jawani releases in theatres and decided to ditch the OTT way. But will these two big films help get the audience back into the theatres? Our trade experts speak!
Girish Johar: "Tenet is one film which is very keenly awaited for release in India. It is being released in multiple languages and has a very good buzz around it. Despite the pandemic scenario, the film is going to get a wide release and advance ticket bookings are also very upbeat. Tenet will SURELY be the film to change the gear of walk-ins into the cinema to a better one. How much upside change, time will tell. Also, Indoo Ki Jawani has a decent awareness but is more of a youth-targeted film which, unfortunately, with schools and colleges being closed can be a dampener. But will add surely to the curiosity of audiences and will depend on its content and WOM (word of mouth).
Amod Mehra: "Tenet to a certain extent in multiplexes, may bring back the audience. But not Indoo ki Jawani as there is no buzz about this film."
Atul Mohan: "Yes, Tenet is the one which is likely to pull the audience back into cinema halls. The advance booking and the public's anticipation so far is very encouraging. This is good news for trade and cinema owners, especially multiplexes. I don't think Indoo Ki Jawani has generated any excitement in public and trade. The promo has failed to generate any hype or excitement as it lacks any face-value. Right now only one thing can draw the audience back and that is a big-budgeted entertainer."
Akshaye Rathi: "These two films would be good stepping stones in the film industry's march towards normalcy. The key to the exhibition sector's resurrection is a consistent flow of content and every film that is releasing counts."
Image source: youtube/T-series,youtube/WarnerBros.UK&Ireland,instagram/twinklerkhanna,instagram/#indookijawani,twitter/TENET