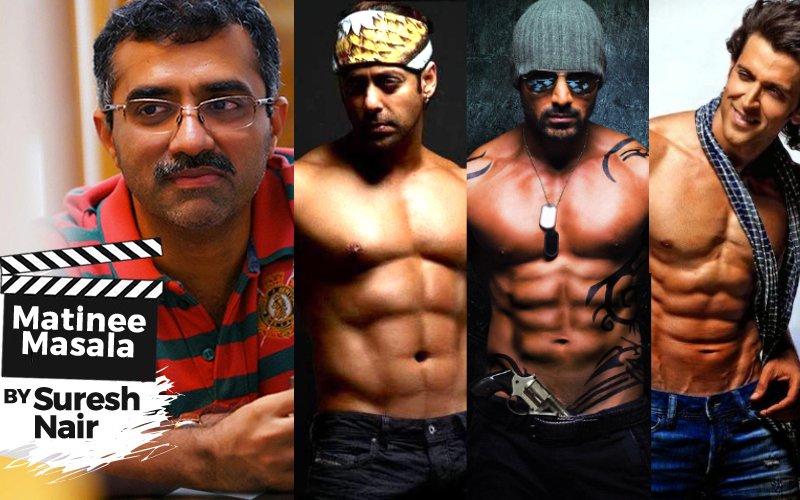 A few years ago, a director narrated a funny incident. He was explaining to a young actor how the scene they were about to shoot was a very important one that required him to give his best. The actor nodded and rushed to his vanity van and started doing push-ups! Unfortunately, when the film was released, nobody appreciated his acting, because all the emoting that his abdominal muscles did under his shirt went unnoticed while the camera focused on his face throughout the scene…

More recently, I had this strange meeting with an actor who was on an intense fitness programme. All through the meeting, he seemed quiet and depressed, making me wonder if it was something to do with me. Until he said those magic words that usually girls tell boys while breaking up – "It's not you, it's me!" He confessed that he was on a zero-carb diet and because of that, his brain wasn't functioning that day. Sometimes that's not such a bad thing.

It's hard to say when our cinema's obsession with six-pack abs started. There was a time when Dharmendra and Vinod Khanna were the macho men. They strutted around often without their shirt, displaying proudly their natural abs and unshaven chests. Vinod Khanna in Qurbani (1980) is one such example. As for Dharmendra, he not only often took off his shirt, but he even showed off his legs in a strange mini-skirt in Dharam-Veer (1977). His son, Sunny Deol, was arguably the last of those kind of macho men. Those were the good old days when the heroes didn't have to wax their chests or do 200 crunches to achieve those unheard of six-pack abs.

Image Source: vk & viralshastra

I think Sylvester Stallone is the culprit. Ever since he ran through the Vietnamese jungles in Rambo: First Blood Part II (1985), the trend of well-oiled muscular action heroes came into vogue in Hollywood. But, if I'm not mistaken, apart from Arnold Schwarzenegger, six-pack abs was mostly a qualification required only for B-grade action movie stars – like Jean Claude Van Damme and The Rock. The likes of Bruce Willis or Harrison Ford didn't feel the need to suddenly turn John McClane or Indiana Jones into incredible hulks.

But far away in Hindi phillums, Stallone surely inspired one guy to go to the gym. And soon, Salman Khan ripping off his banians or shirt became a box-office success formula. So whether he's a cop or a pop singer, chances are Salman Khan will find some excuse to strip till his waist. Of course, with Sultan, he's found a role that allows him to wear as little as possible. Now, I'm not sure if Salman or Stallone inspired Sanjay Dutt, but he went one step ahead and took off his shirt and danced in the rain like good old Mumtaz in countless films! The movie was Yalgaar (1992).

In recent years, Farhan Akhtar was impressive in Bhaag Milkha Bhaag (2013), though he beefed up to twice the size of the real Milkha Singh – almost becoming Hulk-a Singh!

Image Source: youtube/YRF

Of course, in Hollywood, the likes of Hugh Jackman and Tom Cruise do occasionally display their sculpted physique; whenever a role demands it, but it's never in slow motion frames – like, say a John Abraham or Hrithik Roshan.
Ironically, the six-pack 'absession' became the benchmark for the new James Bond. While Sean Connery, the original 007, would have women swoon over him despite his hairy chest, Daniel Craig as the latest avatar of James Bond emerged from the beach, showing off his six-pack abs – an unheard of requirement for the British secret service until 10 years ago!
And 10 years since he lost his memory, Jason Bourne still can't remember a thing about his past, but he seems to remember all his gym workouts. For, in the latest addition to this Matt Damon action franchise, the amnesiac spy bursts onto the screen in all his muscular glory in a scene reminiscent of Stallone's entry in Rambo III (1998).
It's a mystery why the South hasn't jumped onto this bodybuilding bandwagon. It probably must be something to do with our inability to resist rice and sambar!

DISCLAIMER: The views expressed here are solely those of the author and do not represent the views of SpotboyE.com.

Thumbnail Image Source: imghans, madbiceps & fashiontrends