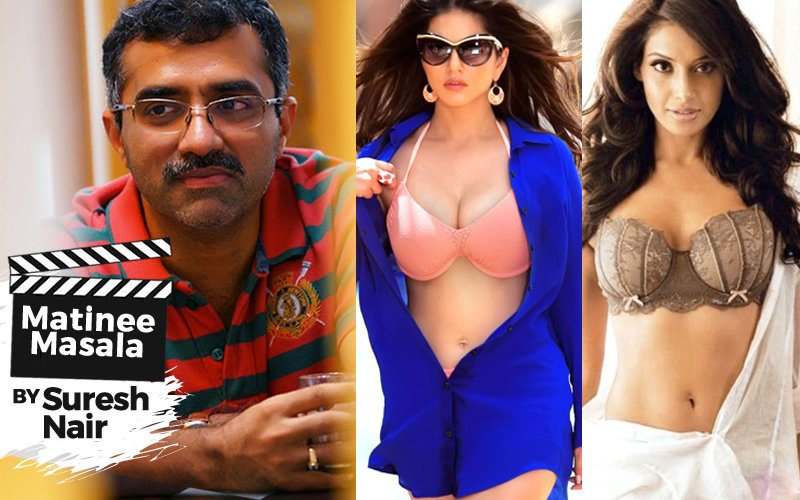 My school group on Whatsapp has around 60 members, though most of them are silent spectators to the handful who regularly engage in chatting and forwarding jokes. But all it takes is a casual mention of Sunny Leone and almost all the guys in the group suddenly wake up as if they have just got the whiff of their favourite dish wafting out of someone's kitchen!

The girls, of course, react with smirks and snide remarks – to which more guys respond and rise to the defence of Ms Leone. Like one of them pointed out, "Sunny ke baare mein kuch mat kehna; her last name is the currency of a country! Sierra Leone ka naam suna hai?"

All this might be in good humour. But the fact is guys like her. It's amazing that her sex appeal or hot quotient seems to have been a box office draw despite her porn video clips circulating freely across people's phones.

"Ragini MMS 2 opened way better than Shaadi Ke Side Effects," said someone at Balaji Telefilms, who were surprised when the combined box office clout of Farhan Akhtar and Vidya Balan couldn't do better than Sunny Leone – though, ironically, both films were produced by them. What's the reason? If you want to watch Sunny Leone for what she used to be famous, then it's available freely on the internet. But Indian moviegoers are willing to pay the steep price of a multiplex ticket and watch a censor sanskarified version of Sunny Leone where she doesn't do anything more bindaas than pout, moan or shut her eyes seductively! So what's her appeal even when her Bollywood innings is more sexually suggestive than explicit?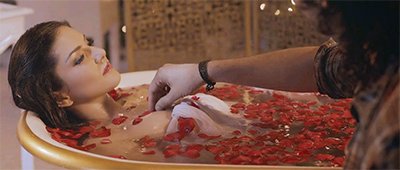 Image Source: funbuddee

It all boils down to the simple fact that Sunny Leone is the kind of beauty that appeals to the average Indian. Like a producer said, "She is very beautiful and you can't take your eyes off her – and when you're looking at her, you aren't thinking of her being a porn star but a wholesome sensuous Indian beauty with a dash of international polish."

So it doesn't matter that she speaks Hindi with an accent. "You look at her and sab kuch maaf hai! After all, we put up with Katrina Kaif's Hindi for a decade and turned her into a huge star simply because she's drop dead gorgeous." But quite unlike Ms Kaif, Sunny Leone comes with the added bonus of more than making up for her Hindi language with her body language – and a bio-data that fires every guy's imagination with an image of a woman who promises seemingly forbidden pleasures on the screen!

Sunny Leone's films may have seen a downward slide at the box office lately. But it's got more to do with her poor choice of films than her oomph appeal. She seems to have ended up doing the obvious – cashing in on her image and spurt in popularity. As a result, there's been an assembly line of Baby Doll jaisa item numbers from her and movies with titles like One Night Stand and Beimaan Love. It might be too much to expect a Dharma or a Yashraj to give her an image makeover by casting her against type.

But the 'hot' spot left behind by Bipasha Basu remains vacant. And Sunny Leone might be the best contender to be the next Bipasha Basu, who made a career just looking sexy on screen and reigned supreme as the sultry siren. Remember Dhoom 2? Race? Bachna Ae Haseeno?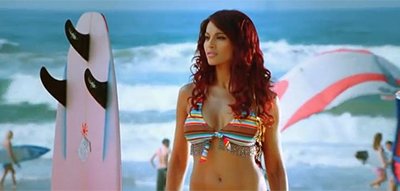 Image Source: indpaedia

Somewhere out there, a documentary about Sunny Leone has been unveiled. She doesn't want it to be released in India as she feels it's the opinion of someone else about her. I don't think she needs to worry. The Indian audience already has an opinion about her – and it's a pretty good one.

Her own frankspeak during interviews has only bolstered her image. The dignity with which she handled the derogatory approach of a TV interviewer saw people tearing into the guy and defending her on social media. If she keeps her cool by not succumbing to the demand for desi adult entertainment, Sunny Leone might have a long innings in Bollywood.

DISCLAIMER: The views expressed here are solely those of the author and do not represent the views of SpotboyE.com.


Thumbnail Image Source: andhrafilms &mediacache