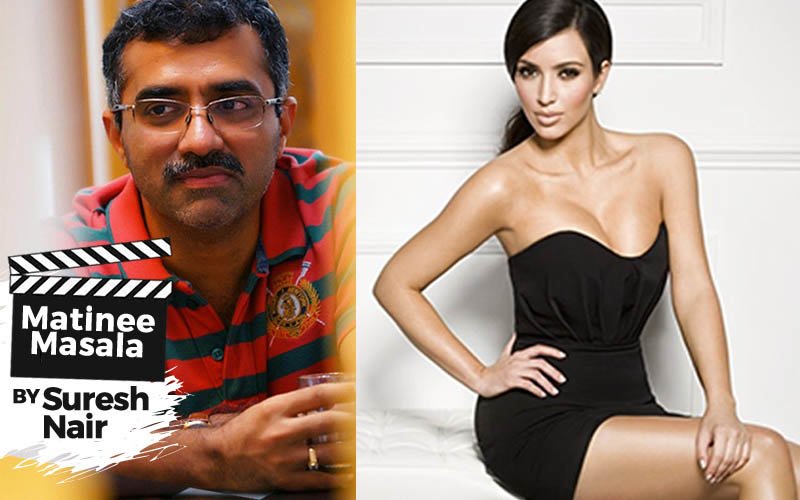 Paris Hilton had the shock of her life when she read the headline: Kim Kardashian Held Hostage In Paris Hotel! Firstly, she was furious how could Kim be allowed into any of her hotels. Secondly… never mind. The point is the Hilton heiress processed the news with mixed emotions. In true Humphrey Bogart style, she wondered aloud: "Of all the places, in all the world, she walks into mine!" Is this a deliberate attempt by Kim to slowly but virtually erase Paris? Did she just ensure that the next time you google Kim and Paris together, it will show gunpoint robbery instead of Paris Hilton? You can't blame Paris of letting her imagination run wild. After all, there would have been no Kim Kardashian without Paris Hilton. And now there is no Paris on the horizon but Kim is the new horizon!

British tabloids have already started doing a Kejriwal on reports of Kardashian being robbed at gunpoint and doubting its authenticity. They are asking for video evidence. How come there were no selfies with the robbers or posed pictures in the bathrobe (reportedly that's what she was wearing during the incident) on Kim's Instagram account! Strangely, none of them seem to have attempted to get a quote from Paris Hilton.

This international media frenzy over the Paris incident is probably because Kim Kardashian is famous for just being famous – just the way Paris Hilton was. Unfortunately, Paris became famous before the era of Facebook, Twitter and Instagram – which was probably the harder way to be famous. It's hard to say when Kim overtook Paris and left her far behind in this celebrity race of nothingness. It's not as if she cut a hit album or turned heads with her acting in a Hollywood blockbuster – like Jennifer Lopez, whose butt became famous long before she did with her albums, movie career and Ben Affleck.

Kim did have eyeballs popping out of people's head with photos of her different body parts on social media. In fact, curvy Kim is someone whom our income tax officials might approve as a mascot – as she frequently discloses her assets to the world! That is probably a big reason why Kim is so popular, apart from her notorious sex tape – which was leaked, coincidentally just like in the case of her former friend Paris. If she ever steps into Bollywood, Kim might give Sunny Leone a run for her money and most probably end up with her own temple in some places.



Image Source: myinfobuzz

But Bollywood is taking Kim very seriously – the women for her clothes and the men for the lack of it. From Katrina Kaif to Kareena Kapoor and Jacqueline Fernandes, all of them have been spotted in designer wear seen on Kim. Of course, there are also many who would like to be in her shoes but haven't really figured out how. We've our own share of desi wannabe Kardashians who hit headlines for all kinds of non-issues. Rakhi Sawant is out there, working hard, giving outrageous bytes to media – including the gem about how ceiling fans should be banned to prevent suicides! There's Poonam Pandey, who shot to fame for threatening to strip if India won the World Cup and then continued to do so on different occasions. There's also Sherlyn Chopra, who managed to get herself mentioned regularly in filmi khabrein. And there's Mallika Sherawat, who left a fairly sizzling movie career to click selfies with celebrities at Cannes. Most of them finally ended up in Bigg Boss.

The fact is it does take a certain amount of talent to be famous like Kim Kardashian. She's never given outrageous quotes, thrown a tantrum in a public place or claimed to do anything that she can't pull off within her limited skills. She's quietly used her social media presence to deliver exactly what people want from her. She's got 84 million followers on Instagram. When I told a friend I'm one of them, she laughed. "You of all the people! Why would you follow Kim Kardashian?" I could think of only one answer: "For educational purposes!"


DISCLAIMER: The views expressed here are solely those of the author and do not represent the views of SpotboyE.com.

Thumbnail Image Source: thehouseofhue