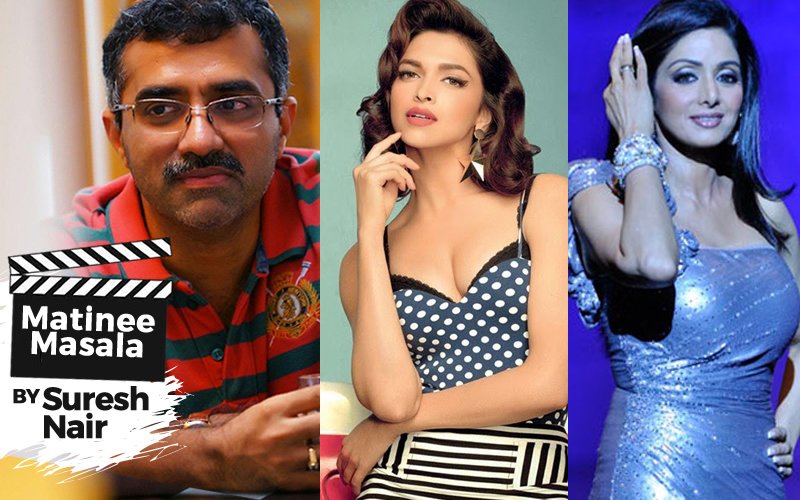 Mr India was not so much about an invisible Anil Kapoor. It was more about the very visible Sridevi. As the feisty journalist Seema, she was the star attraction – and the reason I fell in love with Sridevi! Whether it's her dislike for the children who create a ruckus around her at the bungalow where she stays as a paying guest or romancing the invisible hero in a blue chiffon sari or fooling around as Charlie Chaplin in a casino, Sridevi was fantastic. And I saw it a dozen times just for her and Mogambo! This is not to say Anil Kapoor was any less fantastic, but mujhe reporter Seema se pyaar ho gaya tha!



Image Source: yadtek

Now that a sequel is being planned with Kapoor Junior, whose debut film has actually done a Mr India at the box office, the big question is – who will be the new generation Sridevi equivalent? My vote is for Deepika Padukone. She can look ethereal, hot and equally plain Jane girl-next-door. If my saying so doesn't convince you, then I'll give you three names as references for the above in that same order – Bajirao Mastani, Cocktail and Piku.



Image Source: indianfashionlife

Mr India 2 will hopefully give its heroine a substantial role than trying to make it a vehicle for a star son. Anil Kapoor had very graciously allowed his co-star to be the highlight of the film. Though the scenes of our desi Invisible Man aka Arun tormenting the baddies with a flying Hanuman idol or a whip with a life of its own were great fun, it was the heroine who brought the roof down in scene after scene – from refusing to give the football back to the kids leading to a medley of old hits to being Hawa Hawaii to doing Chaplinesque slapstick…

Of course, Mr India also had one of Bollywood's most memorable villains – the irreplaceable Amrish Puri as Mogambo. Let's not even try to speculate on that casting!



Image Source: hdimages

Mr India was one of those rare Bollywood blockbusters with a dash of science fiction. It had very little technical mumbo jumbo about the invisibility formula. We were simply told through a letter left by Arun's father that pressing a button can activate the invisibility bracelet and its only Kryptonite was the colour red. So, thankfully, the sequel wouldn't have to waste time trying to explain it all over again for a new generation fed on a diet of Transformers and Avengers. The original was Salim-Javed's last script as a team and Shekhar Kapur – whose body of work ranges from Masoom to Bandit Queen to Elizabeth – directed it!

Bollywood may not be making sci-fi films but its influence is pretty much evident in Hollywood. So there was an astronaut singing "mera joota hai Japani" while repairing the Hubble Space Telescope in Gravity. But more importantly, the original Star Wars trilogy slowly turned out to be a space version of the vintage Manmohan Desai formula of lost-and-found parents and siblings. If Darth Vader telling Luke Skywalker that "I am your father!" in the middle of a climatic light saber fight in The Empire Strikes Back was pure Bollywood moment, then dead Vader's last journey being a Hindu style cremation with beta Skywalker using a burning torch to set fire to the funeral pyre was the bonus at the end of Return of the Jedi!

But I'm digressing. Coming back to Mr India 2, let's hope it's well worth the wait. Mr Kapoor, please pick up the phone and dial Deepika Padukone! Let's get her before she gets all fast and furious in Hollywood.

DISCLAIMER: The views expressed here are solely those of the author and do not represent the views of SpotboyE.com.


Thumbnail Image Source: hifisnap & wehearit