Sreesanth Ko Thappad, Sharma Ko Sixer Aur Warne's Sexting…
Here's the latest update from the world of Bollywood. We bet you wouldn't want to miss this. Read on for details... Dhoni's biopic should inspire us to look for more such Untold Stories!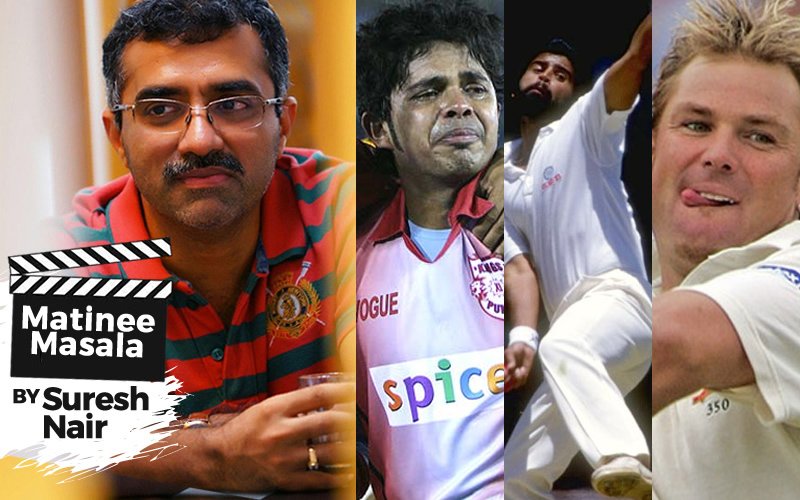 A film about Dhoni might not have the scope for the kind of masala that a film on Azharuddin had. But everybody loves an underdog story and this is an apt choice in that category – the rise of a small town railway ticket collector to India's most successful cricket captain. My interest in the film is more because of the man at the helm of it – Neeraj Pandey. If Special 26 and Baby were any indication, then I 'bet' this film minus affairs, scandals and controversies, would still be an exciting fare.

The film is called M.S. Dhoni: The Untold Story. I'm curious what would have been so far "untold" in Dhoni's case that would come as a startling revelation in the film. But the very tag of "Untold Story" has a lot of movie potential when it comes to cricket.




Like, it would be interesting to know the untold story behind the so-called slap that Harbhajan Singh allegedly planted on Sreesanth's cheek during an IPL match. Imagine a poster of a teary-eyed Sreesanth rubbing his cheek, with a tagline borrowed from a dialogue in Subhash Ghai's Karma – "Is thappad ki goonj suni tumne?"




Actually, Sreesanth himself is quite a movie material. From his annoying antics and landing in jail to his Two States kinda prem kahani with a pretty Rajasthani royal and dancing his way out of a reality show to losing in his election debut… Sreesanth is quite a story to be told.

Sometimes, it's not so much the untold story that would make an interesting movie but the untold story in the aftermath of the widely told story. Like…

Cut to: Sharjah, Austral-Asia Cup Final. 1986. The last ball of the match. Chetan Sharma bowls a full toss. Javed Miandad hits it for a six...




That moment went into history. It haunted Sharma for the rest of his life and scarred him emotionally. Now imagine a movie that starts with the infamous six and Sharma's life thereafter – as he struggled to cope with it, tried to put it behind him and move on in life. But nobody ever let him forget it… with a remix version in the background of a song from the late 40s – "Aye dil na mujhe yaad dila baatein puraani…" Of course, no chance of getting a top heroine anywhere in such a film, unless we get Katrina Kaif to do an item number in our team's blue jersey!

But if glamour is what we want, then nobody in cricket can beat Shane Warne for a potential blockbuster involving raunchy text messages, extra marital affairs, and one Hollywood star, Elizabeth Hurley. This just might not go past our sanskari censor board. So what's the point in discussing Grand Mast 4?


DISCLAIMER: The views expressed here are solely those of the author and do not represent the views of SpotboyE.com.
Image Souce: yvsmadhav, omglook, superiorpics, tazajob