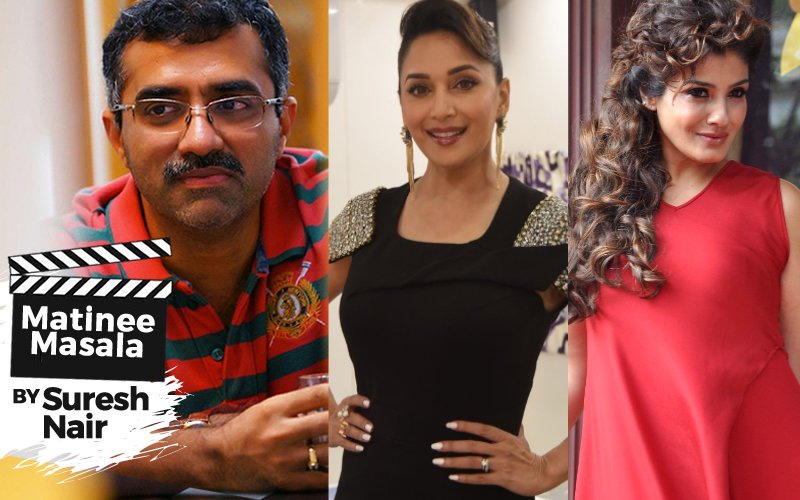 The fact is, there was a time when I used to write about movies – and now I write movies. Ironically, I seem to interact with fewer actors now than when I was a journalist. But those were the days when I had extensive interactions with moviedom's matinee idols and asked some of them very pertinent questions. Questions that you know whom to ask but didn't know who will ask them. Well, I did. As you will see, it required tremendous amount of imagination and innovation to actually ask them these questions.

Like, I always considered Raveena Tandon one of the most gorgeous women in Bollywood. Now, after marriage and motherhood, she is still just as gorgeous. But there was a time, jab my jawani was deewani, when I met her in 1998, I looked her in the eyes and wondered, "If I took her to my mother, what is the one thing I needed to know?"

So I asked her, "Do you know know what a kilo of tomatoes cost?"

She shook her head and said, "No. However, vegetable shopping my mom does. But I definitely know what happens to the tomatoes after they are bought. I know how to use them." I wondered whether she was talking about rotten tomatoes. "I am talking about the right kind of tomatoes, yaar," she replied. "The kind used in cooking. I can make tomato puree and tomato soup… But wait a second, when it comes to food, let me tell you my all-time favourite is idli-chatni." Hmm, South Indian… My heart skipped a beat. But she was quick to point out, "No hints to South Indian males, okay? No hints, no fancy ideas, no marriage, no nothing – only idlis!" And she laughed. I didn't.



Image Source: Manav Manglani

On the other hand, after Madhuri Dixit married dil ka doctor Sriram Nene, I quizzed her about whether her knowledge about the heart has improved. "Well, I have seen what they call "harvesting"," she pointed out. "What they do is, when the donor dies, they receive his heart. So I have seen that whole operation. How they take the heart out and transplant it to a person who needs a heart. I have been with him on that." Was that unnerving?
"Initially, yes. Before I entered the operation theatre, I thought they will have another patient on hand. Because I thought I would look at it and faint. But I guess because I am a science student myself, I found it very fascinating. It also gave me a perspective on what kind of life these doctors lead. Because when you go into an operation theatre, there is no take two. They can't say, 'Sorry, I cut the wrong thing, can we do it again?' The patient's life is in their hands. So I was like, 'My God, here I was thinking my life is too stressful.'"

And there was one question I'd always wanted to ask Helen. She didn't give too many interviews. But I was one of the few fortunates. "How did you manage to walk the thin line between sensuousness and vulgarity in your movies?" I asked. She laughed, "I used to wear costumes that hardly had any material," she said and laughed again. "But I used to wear stockings which I got from a belly dancer who came from Egypt… She used to wear this skin-coloured material which was stitched upto the midriff and looked very good. Actually, I never felt bare, except in Sholay, which required me to be bare since I was supposed to be a gypsy dancer."

But what I always wanted to ask the late Dev Anand was how he managed to get funds for making film after film after film – and none of them finding any success at the box-office. His logic was simple. "I have no problems. Because I am so many things rolled into one – I do my own scripts, direct my own films, I also act in them. Secondly, my goodwill in the industry helps when I need somebody to work for me. I don't want them to work for me free, but I don't want them to overcharge me. Plus, I have a studio – it brings in a little bit of income on its own –where all my post-production work is done. Whatever I have to borrow in terms of money, I borrow that much and it's always paid back. So that bit of goodwill works wonders for my next project. When you borrow from people, you pay them back promptly – so they feel confident the next time. After all, what's a financial trust other than getting back the money?"



Image Source: huntsong

Other people's opinion of him never really bothered Jeetendra. One of the sweetest people I'd ever met in the film industry, I asked him once how did he deal with all those criticisms of being a wooden actor and nicknamed Jumping Jack. "That's okay," he said dismissively. "You can't jump and do 1000 songs. But people tend to behave with a herd mentality – if one calls you that, the rest repeats it. So you have to be lucky to get the right brand names. I wasn't so lucky and I got Jumping Jack… and white shoes!" And he took all that in his stride. "Because the audience appreciated me. After all, I couldn't have done 250 films in 34 years with such bad press."

DISCLAIMER: The views expressed here are solely those of the author and do not represent the views of SpotboyE.com.


Thumbnail Image Source: Manav Manglani