#90sLove: Ajay Devgn, Kajol, Abhishek Bachchan, Akshay Kumar Name Their Favourite '90s Film; Further Tag Aamir Khan, SRK
Bollywood celebs like Ajay Devgn, Kajol, Abhishek Bachchan and Akshay Kumar join #90sLove Twitter challenge to name their favourite '90s film. The actors have further tagged Aamir Khan, Shah Rukh Khan for the same.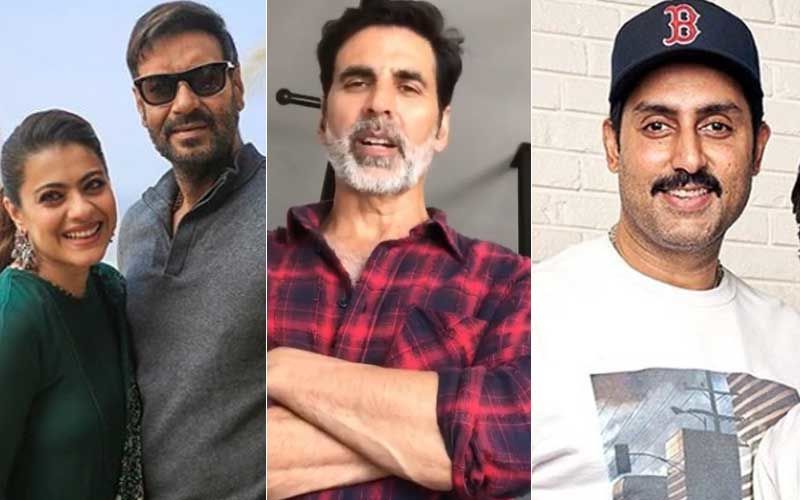 Due to the unfortunate outbreak of COVID-19 globally, we are going through the most difficult times. India is under complete lockdown phase and people are advised to stay at home to curb the spread of this deadly virus. Our Bollywood celebrities too have been adhering to all the norms set by the government amidst the lockdown. Thanks to the lockdown, B-Town actors are constantly trying to entertain their fans via social media accounts. Now Twitter India has got a special challenge for all B-Town celebrities and they all seem to love it.
Twitter India handle just started an engagement challenge wherein the actors need to mention their favourite movie of the '90s. They tweeted "First up, what's your favourite '90s movie? Respond with #90sLove #BackToThe90s or #90sNostalgia and tag five friends to continue the conversation. And look who's kicking it off - '90s sweetheart herself @itsKajolD" Kajol is the first actress who they tagged and the chain was started by Kajol.
Soon after tagging Kajol in the tweet, she was asked to name her favourite movie of the '90s. The actress gave a prompt reply and wrote, "Love this @TwitterIndia. My favourite movies are 'Kuch Kuch Hota Hai' & 'Pyaar To Hona Hi Tha' and I'm tagging @ajaydevgn @aamir_khan @karanjohar @TanishaaMukerji @iamsrk Tell me yours! #90slove". Kajol tagged hubby Ajay and good friend Aamir SRK, KJo and sister Tanishaa.
As a doting husband, Ajay took the challenge forward in his tweet and wrote, "So my most favourite film from the 90s till date is Zakhm. And I am further tagging @akshaykumar & @juniorbachchan to tell me theirs.. #90slove" Ajay tagged his good friends Akshay and Junior Bachchan.
As soon as Ajay tweeted, Abhishek replied in no time. He wrote, "Thanks AJ @ajaydevgn my favourite film from the '90s would have to be Agneepath. I would like to further tag @Riteishd @iHrithik and @TheJohnAbraham to tell me theirs #90slove"
Well, with this exercise by Twitter India we got to know the favourite '90s movies of our B-Town stars.
Images Source: instagram/akshaykumar/abhishekbachan/kajol