Cannes 2019: "Do Your Research," Says Aishwarya Rai's Stylist To The Website Accusing Her Of Copying A Sonam Kapoor 2016 Outfit
Aishwarya Rai's Cannes Rimzin Dadu look was said to be a copy of Sonam Kapoor's 2016, by a website. Actress' manager disagrees and gives a befitting response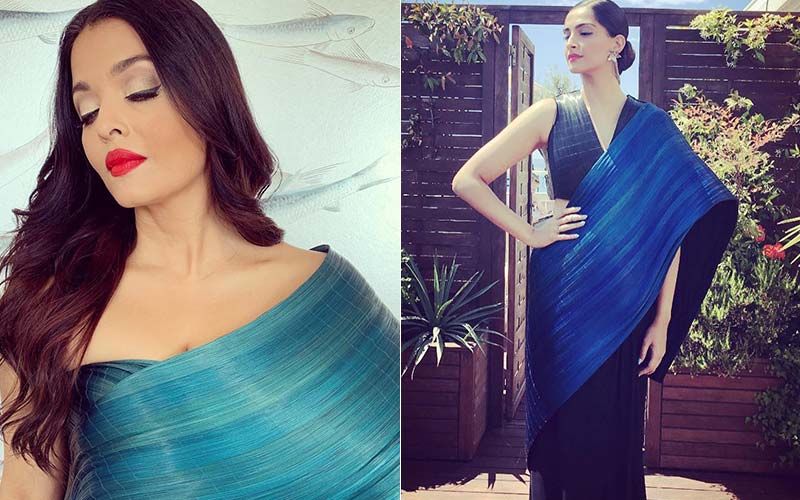 Aishwarya Rai Bachchan made heads turn on the red carpet of Cannes International Film Festival 2019. Her vivid looks earned praise, but one of her looks, a blue ensemble from Rimzin Dadu was called a copy of Sonam Kapoor's 2016 look by a website.
This didn't go well with one of her stylists Reann Moradian who took to her Instagram story and wrote, "No, boo. This isn't the same outfit. How about you wait for full-length images to come out before making assumptions? I feel the research should have been done from your end." So, the picture shared by Aish was a close-up shot. Here, have a look:
Check out Sonam Kapoor's look from 2016, a blue coloured saree.
This year,
Aishwarya went overboard with gold
. Imagine, she had gold painted even on her earlobes! By giving a tanned look to her skin to let her mermaid fit, Jean Louis Sabaji gown stand out, Aishwarya rocked her first Cannes appearance this year, and how. Check her out simply slaying it with the kaleidoscope game:
Then,
she chose an Ashi studio gown
and we while she looked gorgeous, the white feathers didn't quite impress us.
The actress also made it to the headlines after ex-boyfriend
Vivek Oberoi targeted her and Salman Khan in a tweet post that had a meme describing her love life with Salman, Vivek and Abhishek Bachchan
. Naturally, the actor was massively criticized and eventually had to
apologise and delete the tweet
. But, through this all, Aish maintained a stoic silence and turned a blind eye.
I
mage Source: Instagram/aishwaryaraibachchan_arb, Instagram/rheakapoor, Instagram/ecranmagazine, Instagram/ashistudio