"F*%&#d-Up, Mentally Ill," Netizens Fume As Karan Johar Says, "Anushka Didn't Reciprocate Love, She Had To Die In ADHM"
Karan Johar has called for another controversy too soon. In his latest interview with a leading publication, he has given shocking comments on Anushka Sharma's character in Ae Dil Hai Mushkil and this has left the netizens extremely angry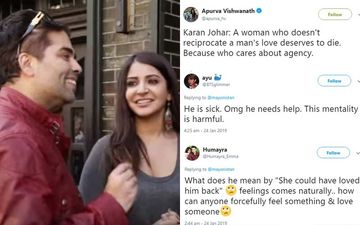 The
Hardik Pandya-KL Rahul controversy i
s still emitting smoke from ashes, but unfortunately today Karan Johar has an all new flame ready to tackle. In his interview with Huffpost, the filmmaker has opened his heart to the publication about his dream project, which is very close to him- Ae Dil Hai Mushkil. But unfortunately what he has spoken has left netizens extremely miffed.
Karan has said that because Anushka's character, Alizeh could not love Ayan back, who was deeply, madly and truly in love with her, she died in the film. He compares filmmakers to "god" and says they have the power of writing and destroying characters, punishing them too.
Before we show you the wrath Karan is facing on social media for his comments, take a look at what the exact conversation was all about. We reproduce a part of the interview with Huffpost:
"Do you think you would change anything about your past films?
Actually I have a problem with all my films besides Ae Dil Hai Mushkil because that's a film I wanted to make even while knowing that the last act may get a polarised response. It's a film I wanted to make because it's personal and was cathartic for me. Ranbir (Kapoor) played me. I wanted to deal with the injury caused by a heartbreak.
I have issues with Kuch Kuch Hota Hai, Kabhi Khushi Kabhie Gham, Kabhi Alvida Naa Kehna, Student of the Year, My Name is Khan, all of them but about Ae Dil, I wouldn't change a thing.
But it's perhaps your most problematic film so far, as far as gender dynamics are concerned...
When I made this film, I felt that this should make Rs 100 crore. I wanted the film to make its money back, which it did and was declared a good film. Yes, the last track met with many polarised responses and rightfully so, but I was like she (Anushka Sharma's character Alizeh who doesn't reciprocate Ayan's feelings) didn't love him, she has to die."


I wrote this character.
He loved her so crazily. She could've loved him back, why couldn't she? So she got cancer and she died.
Umm, it felt like you were punishing her for not reciprocating his romantic feelings.
Well, she got punished, I wrote it. See, a filmmaker is a God, you write, you create and you destroy.
Yes, but it doesn't change the fact that it's a problematic idea to espouse.
How is it problematic? He was not inappropriate with her.
He does get physically aggressive and for the rest of the film, guilt-trips her into loving him back, which is a very unhealthy emotion to celebrate.
I mean, okay, yes in that one part, that one section, on the terrace. Right.
I didn't look at it like that, to me he was just a puppy who was just in love and it's not like she didn't love him. She just didn't love him in the way that he wanted her to love him. About the physical aggression, I apologise. That is not something I had thought of earlier and I should have.


But I am not going to be apologetic about his relentlessness and his love, because he loved her even after she was gone. He never stopped loving her. That's the way I feel about the big loves of my life. I will never stop loving them and I may not go so relentless in my pursuit of love but I believe Ayan was a lover.
Were these the emotions you went through with the person you were in love with and who inspired the film?
Yes, and Ranbir Kapoor gets it. He nails it. Having experienced it with my Dad, I believe that cancer comes out of emotion as well. It's like when you're inexpressive you can get a tumour, the blocks in your heart or your system, all have something to do with your personal dynamics. It's emotional, stress levels can cause cancer, a lot of it is related to your mind. Eventually, a clear mind is also a clear body and I believe she was carrying a baggage of love herself which she wasn't able to express everything and that manifested into the illness. She speaks about it, she says that all that hate became a tumour and it spread around her body. She speaks about her cancer like that because it's my thought about cancer and I joke when I say I want to kill her but that was also a thought. I was like there's no end to this film because there's no way she could love him back ...that would've been a cop out.
She can go her own way and not die of a terminal illness.
And that was also a thought, yes, but I said no, she has to die. I could not have gone indie on it. But this is how I envisaged Ae Dil to be. I wanted Anushka to die, I didn't change it till the end.
Did you hear back from the person who inspired the movie?
Yeah, the person definitely has seen the movie and given me an opinion and everything and now it's a part of my emotional legacy. Every other film is my love for Hindi cinema but this is my most personal film. I can't see it anymore. I can't see it ever because I go through a lot and it takes me back to a time that I don't want to think of. Like that scene where he puts a gamla on his chest. Heartbreak is actually like a physical weight. The film takes me back to that space.
Can you guilt-trip someone for not loving you back?
Oh, it's a great feeling! I want to tell you that there is no right or wrong in the emotional half of a human being. This is how we behave and every emotion that can be faulted—jealousy or envy—the fact is that it exists. Self-pity is a spa. Sometimes you should not feel bad for yourself but you do. But then you have to yank out of it and face life but otherwise, self-pity is something that I love. After a bad relationship, I take 2-3 days to feel victimised, to feel like I did no wrong and to feel superior in other people's inferiority. Why deny these feelings?
The problem isn't in acknowledging these feelings but in romanticising them.
I feel that, "Ek tarfa…" line caught on only because it's very, very true. I love you and who are you to deny me that feeling?
I mean, how do you even know you are in love? It's when a third person enters the dynamic. It's always jealousy that leads to love. You feel love for someone when you see someone else taking it. Until then, it's sexual, it's companionship, it's friendship, it's fun but the real love is when there is a third element and you feel like you're losing your relationship to that third element. So that's why I say that love is a slap on the face. It's hard."

And now take a look at what the netizens have to say about Karan's thought process: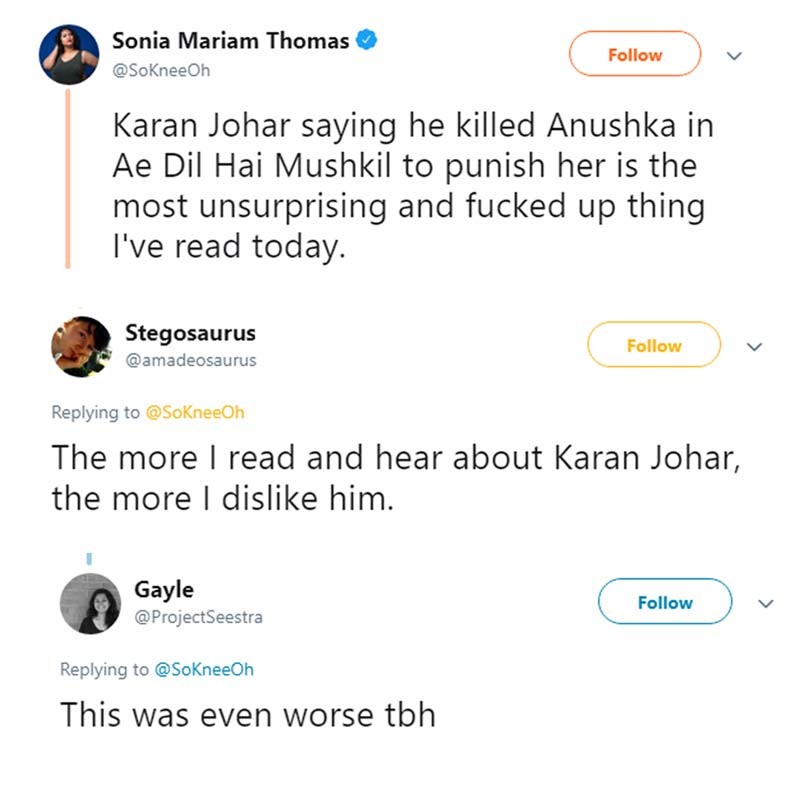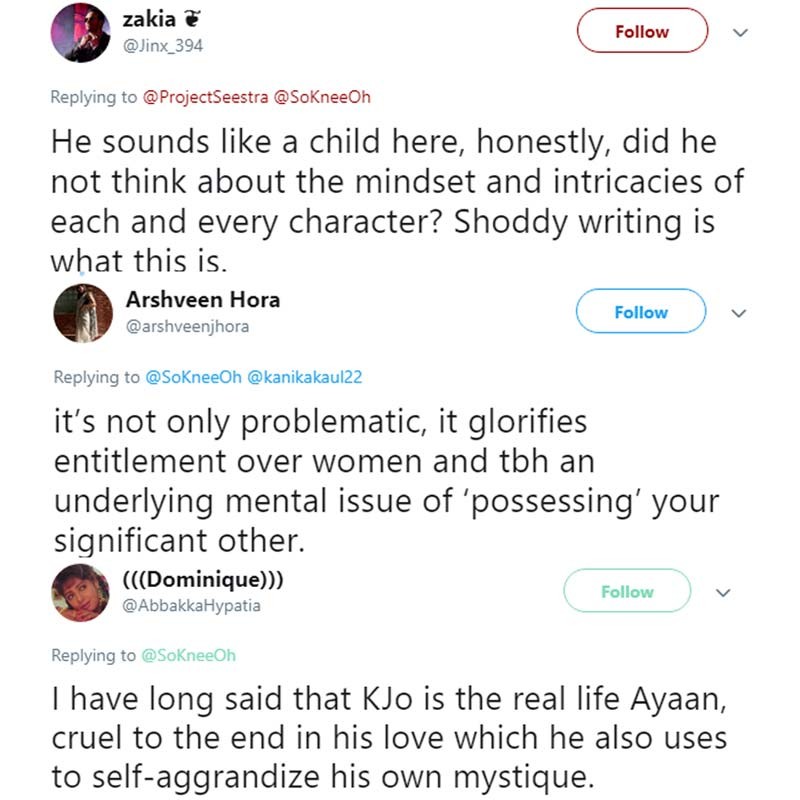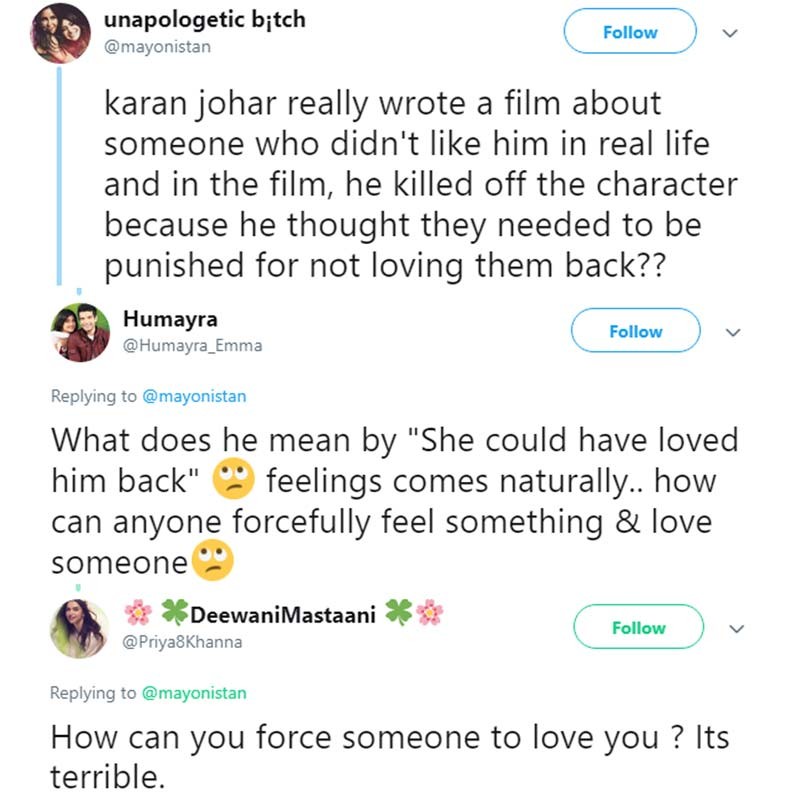 The netizens are spitting fire and surely they are not pleased with what the filmmaker thinks about one-sided love. Looks like Karan has a lot of explaining to do in the coming days.



Image Source: Youtube
They say the best things in life are free! India's favourite music channels 9XM, 9X Jalwa, 9X Jhakaas & 9X Tashan are available Free-To-Air. Make a request for these channels from your Cable, DTH or HITS operator.