Koffee With Karan Season 6: Cricketer Hardik Pandya Trolled For His Creepy Comments
This weekend, on Koffee With Karan Season 6, cricketers Hardik Pandya and KL Rahul were the guests on the show. While a few might have found their talks entertaining but overall the netizens are not too happy with the way Pandya conducted himself on the show. As a result, the cricketer has been trolled mercilessly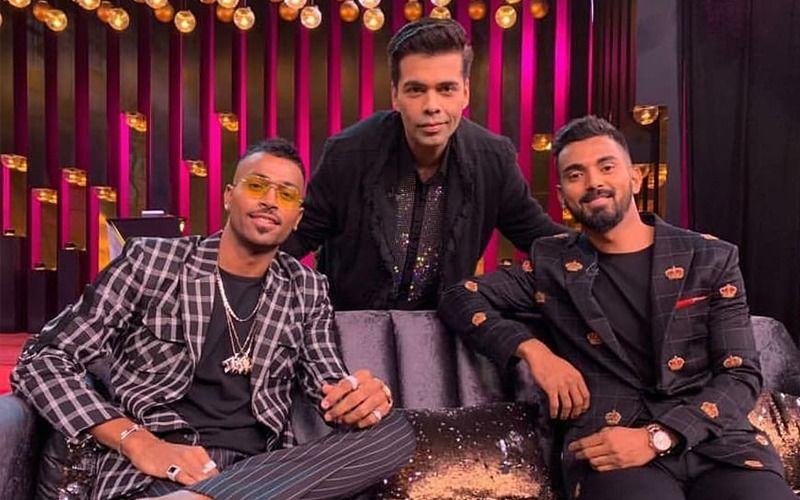 Latest episode of Koffee With Karan Season 6 has got the social media buzzing. As cricketers Hardik Pandya and K L Rahul got themselves comfortable on the couch for an hour of candid chat with host, Karan Johar, netizens' temper raised with every passing minute of the episode.
A day back, Hardik and KL made headlines for choosing Virat over Sachin when Karan asked them who's a better batsman between the two. But that's not all what has raged the social media users. The way Pandya spoke about women and flaunted his so-called Casanova image on the show has also not gone down too well with viewers, who took to social media to slam the cricketer. Many have labelled the episode 'creepy' and 'disgusting'
A troll wrote about all the statements which came across as extremely offensive. Here's what it read, "A thread on
all the creepy, misogynist, racist, and problematic things Hardik Pandya said
on Koffee With Karan:
1. KJo: Why don't you ask women's names at nightclubs? HP: I like to watch and observe how they move. I'm little from the Black side so I need to see how they move.
2. Hardik Pandya: "When I lost my virginity, I came home and said, "Main karke aya hai aaj".
HP: "At a party my parents asked me acha tera wala (women) kaun sa hai so I said yeh, yeh, yeh (pointing out women) and they were like waah proud of u beta."
3. KJo: If y'all hit on the same women, then how you decide? KL Rahul: "Ya upto the woman." Hardik Pandya: "Nahi nahi aisa kuch nahi hai, talent pe hota hai. Jisko mila woh leke jao."
A thread on all the creepy, misogynist, racist, and problematic things Hardik Pandya said on Koffee With Karan:

1) KJo: Why don't you ask women's names at nightclubs?

HP: I like to watch and observe how they move. I'm little from the Black side so I need to see how they move.

— Sreeparna Mazumder (@Sreeep) 6 January 2019
Well, that's not all! Here are a few more tweets which condemned the cricketer's attitude on the show:


The episode has surely brought a lot hatred for Hardik Pandya but we wonder what the host of the show, Karan Johar felt after the "creepy" chat. Any comments on it, KJo?


Image Source:hindieenaduindia