#JusticeForTwinkle: Akshay Kumar, Sonam Kapoor, Arjun Kapoor, Sidharth Malhotra Express Grief Over The Two-And-A-Half Year Old Girl's Murder
Bollywood celebs like Akshay Kumar, Sonam Kapoor, Anupam Kher, Sunny Leone, Hina Khan, Twinkle Khanna have taken to social media to mourn and condemn the brutal murder of a two-and-a-half-year-old girl which took place in a district in Aligarh, Uttar Pradesh. Celebs have been using #JusticeForTwinkle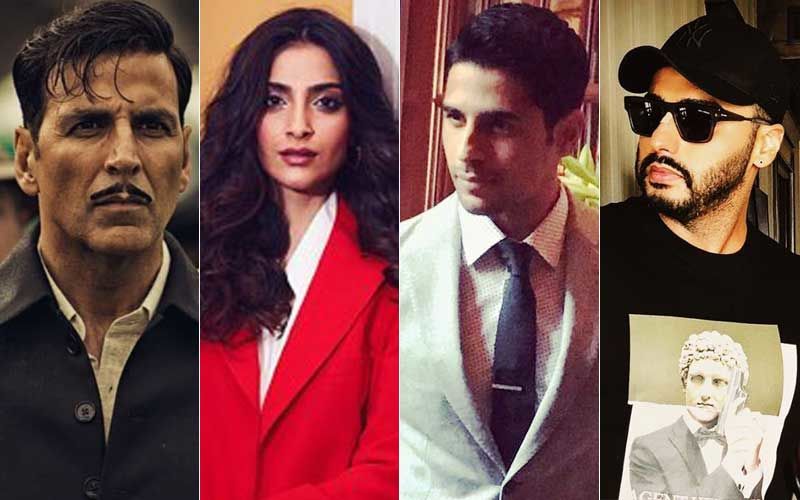 A gruesome murder of a two-and-a-half year old girl, which took place in a district in Aligarh, Uttar Pradesh has shaken the entire nation. Murder of girl named Twinkle Sharma was carried out by a man named Zahid over a dispute with her parents due to a Rs 10,000 loan which they were unable to repay. As soon as the news broke out Bollywood celebs like Akshay Kumar, Sonam Kapoor, Anupam Kher, Sunny Leone, Hina Khan, Twinkle Khanna took to social media to mourn the heinous murder of the girl named Twinkle Sharma using #JusticeForTwinkle.
Akshay Kumar: Horrified, upset and angry to know about baby #TwinkleSharma! This is definitely not the kind of world we want for our children. We need immediate and strictest punishment for such a heinous crime. #JusticeForTwinkle
Twinkle Khanna: It is heartbreaking to hear about the horrific murder of the two and a half year old little girl In Aligarh. I would request @smritiirani to ensure that swift action is taken against the perpetrators of this heinous crime. #JusticeForTwinkle
Abhishek Bachchan: Just so disgusted and angered hearing about #TwinkleSharma. How can somebody even think of doing such a thing?!?! Speechless….
Raveena Tandon: The horrible, barbaric rape,murder of a 3 year old In Aligarh,the criminals,who gouged her eyes, mutilated her body,depraved evil,inhuman & barbaric. Must Hang. The law must act fast! #justicefortwinkle @smritiirani #twinklesharma
Sonam Kapoor: What has happened to baby twinkle is. Heartbreaking and horrific. I pray for her and her family. I also urge people to not make this into a selfish agenda. This is a little girls death, not a reason to spread your hate.
Rajkummar Rao: My heart is full of disgust,anger & shame. This incident is beyond horrific. I'm so sorry kid. My heart goes out 2 her family. May her soul rest in peace. These rapists r monsters in human form. Let's unite together as a country in demanding justice 4 her. #JusticeforBabyTwinkle. As per @aligarhpolice it was a murder & not a rape. I don't want 2 spread any false information. A 3yr old was brutally murdered & this is as heinous as rape. It's still inhuman & horrific & nothing can justify it. I really hope these monsters get d strictest punishment possible.
Anupam Kher: Angry, horrified, ashamed and deeply saddened beyond words at the barbaric rape of the three year old #TwinkleSharma. The rapist should be hanged in public. No other punishment is enough for this heinous crime. I demand #JusticeForTwinkleSharma .
Koena Mitra: Hindus have the responsibility to remain secular I guess, hence no outrage for you. I am Hindustan. A proud Hindu. I'm not liberal enough to support your Rapists. I'm no secular from today. With you and yours.... #TwinkleSharma #Aligarh #Mohammedjahid
Ayushmann Khurrana: This is inhuman and barbaric.. My prayers for her family. Justice must be served! #TwinkleSharma
Hina Khan: #JusticeForTwinkle
Genelia Deshmukh: It's horrific, I am absolutely angered by what's happening to the women and more so the little girls in our country.. #TwinkleSharma we have failed you and a zillion like you time and time again .. people responsible of such crimes should be hanged publicly.. Can't imagine the plight and the pain of #TwinkleSharma's family and loved ones.. I'm so so sorry #JusticeForTwinkleSharma"
Gul Panag: That we live in a country where even toddlers aren't safe, fills me with horror. That #TwinkleSharma had a her life snatched away in this cruel, barbaric manner, makes me feel capital punishment is not enough for the sick, depraved culprit who did this to her. I cannot even begin to imagine the plight of her family, her parents. If #twinklesharma doesn't get speedy justice, then it's a collective failure of the society we live in.
Sidharth Malhotra: Extremely disturbed by the news of #TwinkleSharma. It's scary to be living in a world where even innocent children are not safe. I urge our authorities to take action to ensure that such a heinous crime is never repeated again! #JusticeForTwinkleSharma
Sunny Leone: Im sorry Twinkle that you had to you live in a world where Humans no longer understand Humanity!!!! May God look over you for Eternity as you are an Angel !!!! #ImSorry
Sania Mirza: Inhumane , sick and barbaric ... justice must be served and the perpetrators have to be punished .. cannot even begin to imagine what the family is going through ..my heart goes out to them .. #TwinkleSharma
Arjun Kapoor: The barbaric rape and murder of #TwinkleSharma is a shame on humanity. Justice must be served.
Riteish Deshmukh: Deeply pained, saddened & shocked. We as a society have failed little #TwinkleSharma - my heart goes out to her family & loved ones. What kind of an unsafe world are we creating for our children. Strictest punishment & immediate justice is the only way to reduce these crimes.



Images Source: instagram/sonamkapoor/arjunkapoor,sidmalhotra/akshaykumar