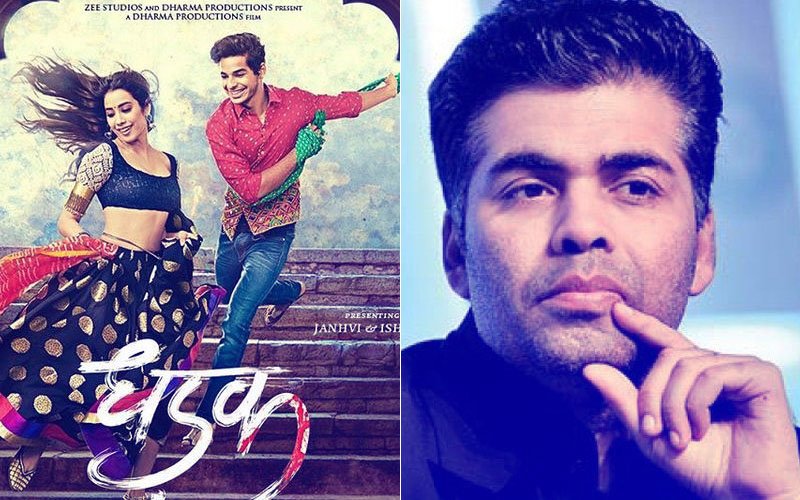 The nepotism debate refuses to die. We all know Karan Johar will be launching Janhvi Kapoor and Ishaan Khatter in Dhadak, which is the Hindi remake of Sairat. Now, both Janhvi and Ishaan happen to be star kids and we all know that director producer KJo has been accused of nepotism in the past.
Yesterday, Karan tweeted, "#धड़क starring Janhvi & Ishaan 6th July 2018 @ShashankKhaitan @apoorvamehta18 @ZeeStudios_ (sic)."Post this, his Twitter account has been flooded with comments on nepotism. Check out a few tweets.
"Kangana of your show rightly pointed out "Flag Bearer of Nepotism (sic)," said this user.
This user posted a gif where Kangana had teamed up with AIB which made fun of all the big daddies of Bollywood.
"This ishaan doesn't even look good has a funny face n of course the girl is another filmy khandan daughter..so kjo is yet again presnting perfect example of wat hes good at nepotism (sic)," wrote the user.

"Karan Bas kar ab... get somebody from India got talent ! (sic)," wrote this netizen.

"Sorry if u feel I m wrong...but, why janhvi. Any television actress could have been better than her," read another tweet.
This user wants Karan Johar to look out for someone who does not belong to the industry.
"Wah great !! Father of nepotism ! Don't you even dare talk about #Prabhas asking for extra remuneration, you launch kids that can't even talk properly let alone act and commenting on the biggest star in India and world famous #Prabhas ! Loser @karanjohar (sic)," wrote an internet user.
"Inse n ho payega ,both studied at NSD - nepotism school of drama (sic)."
"Why @karanjohar was so angry when Kangana Ranaut shows him mirror #nepotism (sic)."

"True can nt digest.. Thts why he was angry on kangana (sic)."

The controversy of nepotism began when Kangana called Karan the 'Flag-bearer of Nepotism' in the film industry during an episode of Koffee With Karan. While Karan was pretty cool when it happened on the episode, but at the back to his mind, he always felt that he had to send out his counter. He spewed hatred on Kangana during an interview at the London School of Economics, where he said that 'Kangana didn't know the meaning of Nepotism'. He even went on to accuse Kangana for using the 'Victim card' and the 'Women card'.
Image Source: instagram/dharmamovies/KaranJohar