'Sindhi No Longer Spoken In Pakistan' Claims Naseeruddin Shah; Pakistani Actor Mansha Pasha Opposes Actor's Controversial Comment, Says, 'I Beg To Differ'
Pakistani actor Mansha Pasha opposes Naseeruddin Shah's controversial comment that Sindhi is no longer spoken in Pakistan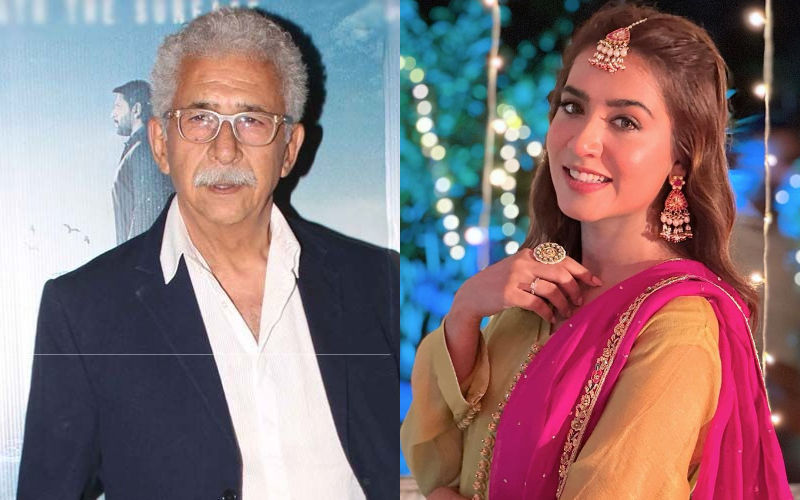 Veteran actor Naseeruddin Shah is currently busy promoting his upcoming show 'Taj: Divided By Blood Season 2' and in media interviews, he has been making some shocking claims. In a recent interview, he spoke about the various languages that are spoken in Pakistan and claimed that Sindhi is no longer spoken in the country. However, Pakistani actor Mansha Pasha disagrees with Naseeruddin as she opposed his comment saying as a proud Sindhi she speaks the language within her household.
Naseeruddin in an interview mentioned, "They have Balochi, they have Bari, they have Siraiki and they have Pushto. Sindhi is, of course, no longer spoken in Pakistan." Mansha took to her Twitter handle to react to this and tweeted, "As a proud Sindhi who speaks the language within her household, I beg to differ." Naseeruddin's comment received severe backlash from netizens on social media. One user said, "Sindhi is official language of Sindh state of Pakistan and spoken by 3 crore Pakistanis at least." Another said, "Married in a proud Sindhi family where everyone speaks Sindhi, it's a beautiful language, trying and hoping for my kids to learn the language too… I can only understand though."
ALSO READ: WHAT! Naseeruddin Shah Uses Filmfare Awards As Washroom Door Handles In His Farmhouse; Actor Says "I Don't Find Any Value In These Trophies'
One of the comments can be read, "Can someone tell him Sindh has Sindhi as a compulsory language? I'd also like to invite him to Karachi airport where there is more Sindhi being spoken than any other language including Urdu. Honestly, tired of Bollywood actors trying to sound knowledgeable abt Pak. Stay in your lanes pls and only talk abt your films ok tx bye."
Meanwhile, 'Taj: Divided By Blood' returns with its second season and Naseeruddin Shah is reprising his role of Akbar. Dharmendra is seen in a special appearance as Salim Chisti. Rahul Bose as Mirza Hakim, Sandhya Mridul as Jodha Bai and Zarina Wahab as Queen Salima Begum. The second part of the season premieres on June 2, 2023, on Zee5.