13 Days Since Sushant Singh Rajput's Death, Karan Johar Has Lost Half A Million Followers; Effect Of Nepotism Debate?
Karan Johar has been on the receiving end ever since Sushant Singh Rajput died by suicide. Over the ongoing nepotism debate, it seems many people have unfollowed the filmmaker on social media
Ever since Sushant Singh Rajput passed on June 14, social media is abuzz discussing the cons of nepotism prevailing in the Indian Film Industry. Karan Johar, in particular, has been on the receiving end as netizens are blaming him for not supporting Sushant Singh Rajput and indulging in favourism. The filmmaker has maintained complete silence on this, however, he has unfollowed many people on Twitter. Well, the entire controversy seems to have affected him badly as we also see a dip in the number of his followers on Instagram.
People following Karan Johar seems to have clicked the unfollow button on Instagram as there is a dip of almost half a million in numbers. In the past two weeks, many have unfollowed him on Instagram and now the filmmaker is being followed by 10,476,675 people as per the stats shared by the Social blade. Two weeks back, he had almost 11 Million plus followers.
Guess, the nepotism debate is having an adverse effect on Karan Johar. Recently, reports also had it that Karan Johar has resigned from his position from MAMI. It was said that Deepika Padukone who is the chairperson of the prestigious film festival tried her best to convince KJo to take back his resignation, however, he seems to have made up his mind.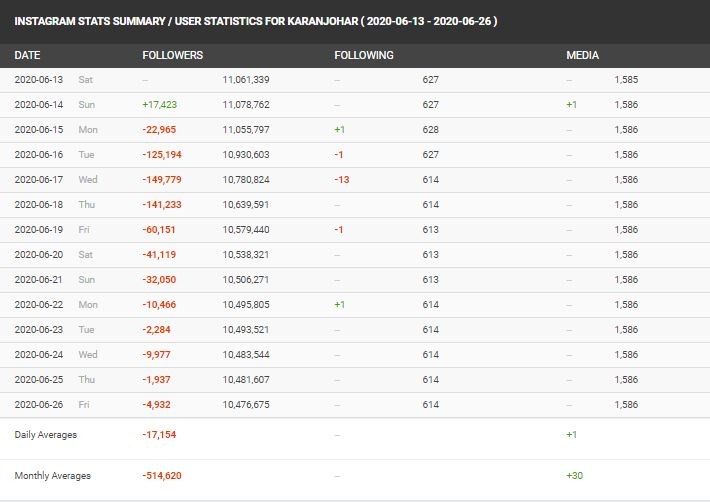 Post Sushant Singh Rajput's demise, Karan had penned a heartfelt note saying that he sometimes felt that the late actor needed a friend to talk. Karan wrote, "I blame myself for not being in touch with you for the past year..... I have felt at times like you may have needed people to share your life with...but somehow I never followed up on that feeling...will never make that mistake again...we live in very energetic and noisy but still very isolated times ...some of us succumb to these silences and go within...we need to not just make relationships but also constantly nurture them....Sushants unfortunate demise has been a huge wake up call to me ...to my level of compassion and to my ability to foster and protect my equations.....I hope this resonates with all of you as well....will miss your infectious smile and your bear hug ....". (Also Read:
When Karan Johar Rejected Anushka Sharma And Ranveer Singh; KJo Said, 'But He Looks Like THIS' After Being Told Ranveer Is A Good Actor- WATCH)
Image Source: Instagram/karanjohar