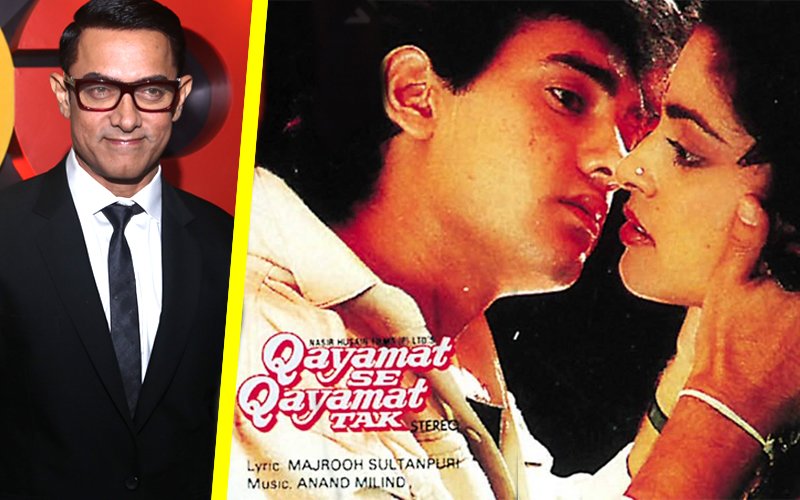 Last evening, Aamir Khan, along with cousin Mansoor Khan launched a book on his late uncle, veteran filmmaker Nasir Hussain titled Music, Masti, Modernity: The Cinema of Nasir Husain at the ongoing Jio MAMI 18th Film Festival. The book, as the name suggests, chronicles the cinema of veteran filmmaker.



Image Source: alchetron

As the evening progressed, Aamir went on to discuss several aspects of his career, one of them being his dream debut Qayamat Se Qayamat Tak. The film propelled Aamir to overnight stardom, so much so that the actor continues to be one of the most sought after actors of India. The actor took the audience down memory lane and revealed a number of unknown facts about that film. We list 5 of them for you.



Image Source: Manav Manglani

1. Did you know the film wasn't initially titled Qayamat Se Qayamat Tak? The first title for the film was Nafrat Ke Waris. The words perfectly described what the movie was about, and seemed apt at that point of time. However, Nasir Hussain wasn't keen on this title as he thought it was negative and gory in nature and he expressed his displeasure to son Mansoor Hussain, daughter Nuzhat Hussain and Aamir. 'Darrar' became another working title for the film, however, that too didn't last for long. One fine afternoon, Nasir called the trio and told them the title is Qayamat Se Qayamat Tak, and they were dumbfounded. It epitomised the essence of the movie accurately. Mansoor took the title to lyricist Majrooh Sultanpuri, and he too loved it.

2. QSQT was supposed to be directed by Nasir himself and not Mansoor. However a few months before the shoot was to begin, Nasir fell ill. He underwent a major surgery post which he couldn't take the stress of a full-fledged movie. So he requested Mansoor to direct it, who read the script, made some changes (read: lots of changes) and thus began the journey of QSQT.

3. Nasir was never okay with the idea of a tragic ending in QSQT. So he asked Aamir, Mansoor and Nuzhat to shoot a happy ending as well. And they did. However, that was never edited. Thankfully!



Image Source: fanshare

4. Aamir could never muster the courage to express his desire for acting to his father (Tahir Hussain) or uncle and would work in friends' experimental films on the sly. One day Shabana Azmi saw one of these films in a special screening and requested the director to let her meet the actor. When she met Aamir and came to know that he was from the Hussain-Khan family, she instantly asked Aamir to become an actor. She even insisted that she will speak to Nasir sahab. Around the same time, Javed Akhtar went to meet Nasir in his office to discuss a script. He too saw Aamir there and insisted that he act in films - probably he too had seen Aamir's work in one of those experimental films. Eventually, Nasir declared Aamir as the hero of his next. The veteran filmmaker knew all along that Aamir was born to be an actor.

5. Aamir's entry sequence in QSQT was not planned in the way it actually takes place on screen. He was initially supposed to be showcased as a pet lover, petting a snake while writing. Nasir didn't like the idea, and threw it out of the window. Phew! Just imagine what the scene would have been like.

Surprised or not, we are sure the next time you watch QSQT, these interesting aspects are sure to play with your mind. Stay hooked on to SpotboyE.com for more such interesting updates.


Thumbnail Image Source: Manav Manglani & cloudy