When it comes to endorsing fairness products, Bollywood seems divided on the subject. While Kangana Ranaut, Ranbir Kapoor and Randeep Hooda among others refuse to be part of such campaigns, several A-listers such as Shah Rukh Khan, Vidya Balan, Sonam Kapoor, John Abraham and Deepika Padukone among others have gone ahead and lent star value to them.

However, amidst the age old debate, Abhay Deol took to Facebook to slam the use of fairness creams and the brands that produce them in a series of posts.

He also didn't spare Bollywood celebs part of such endorsements. From Shah Rukh Khan and Deepika Padukone to Shahid Kapoor and John Abraham, all found a place on Abhay's hit list.

Alongside a picture of Shah Rukh from the ad, he said, "And the King Khan himself asking you-(Translated)- "Being a man why are you are still using a women's FAIRNESS cream!?"

He's clearly trying to make you a man, becoming whiter in the process is just a side effect.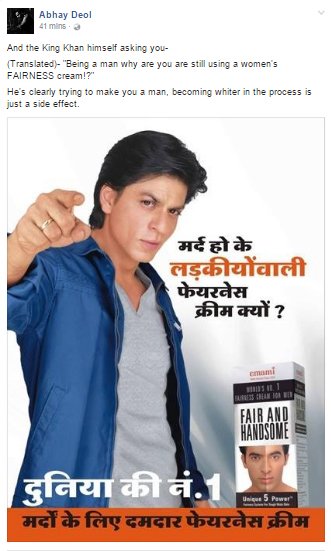 Image Source: facebook/abhaydeol
For Shahid Kapoor's ad which showed his face divided into dark and fair, he wrote, "His face is dark on the right only because that part of the paper was left exposed to the sun. They are clearly not trying to show a dark shade going on to light. Shame on you to think our celebs would be so irresponsible, there's a good explanation for everything!"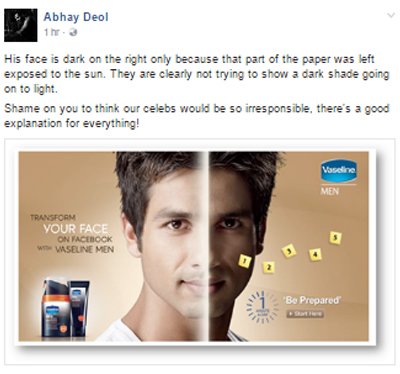 Image Source: facebook/abhaydeol

Sharing Nandita Das's advertisement he said, "Silly Nanadita trying to teach us that Black is also beautiful. Doesn't she know that we already know that? Why else would we be so accepting of people from the south*? What's that? She's from Orissa? Can we include that in the southern belt of states? Cause I really want to believe in my bullshit. *in reference to a comment made by a politician on TV"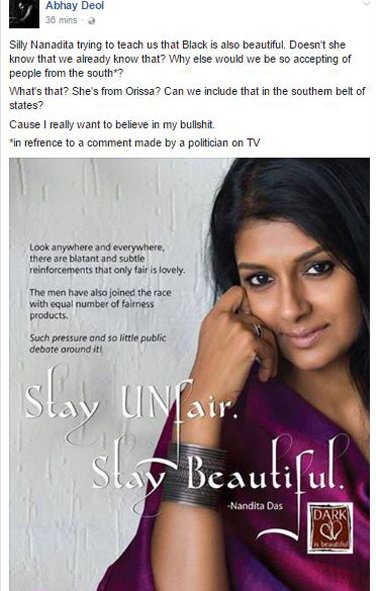 Image Source: facebook/abhaydeol

A series of posts dissing other celebs such as Sonam Kapoor, Ileana D'Cruz and Vidya Balan follow.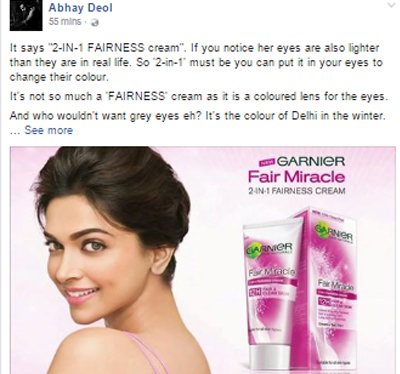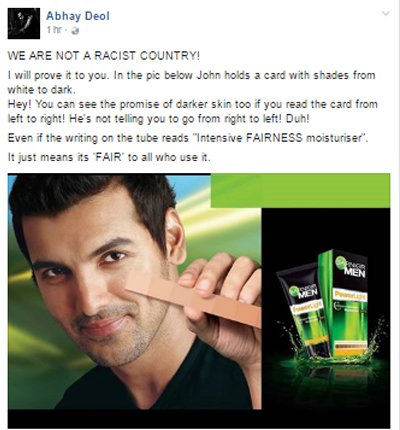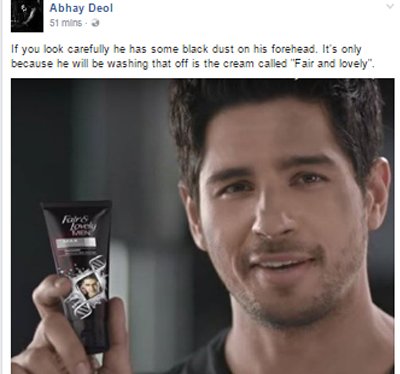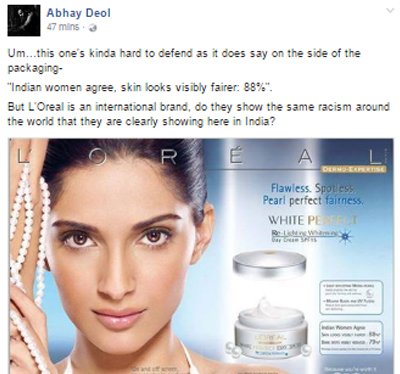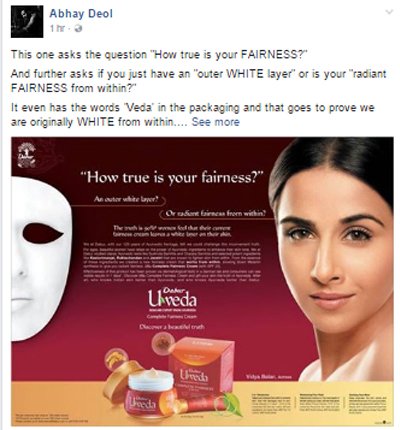 Image Source: facebook/abhaydeol

To talk of the politician Abhay was referring to. Well, former BJP parliamentarian Tarun Vijay found himself at the receiving end when a video of him making racist remarks about "South Indians" went viral on social media.

Vijay was invited by news channel Al Jazeera's online show, The Stream, to discuss a string of recent attacks on African students in Greater Noida. While defending India and its culture, he said, "If we were racist, why would we have the entire South…Tamil, Kerala, Karnataka and Andhra…why do we live with them? We have black people around us."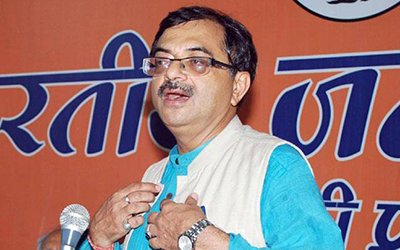 Image Source: newsboss
That's not all. Through a strongly-worded post, the actor how people need to stop buying the idea that 'fair' is superior to 'dusky'.
"There's a lot more of these campaigns that are blatantly, and sometimes subtly, selling you the idea that whiter skin is better than darker skin. No one at the top of their game in any field is going to tell you that it is demeaning, false, and racist.

You have to see that for yourself. You have to stop buying into the idea that a particular shade is better than others. Unfortunately if you look at matrimonial ads you will see how entrenched in our psyche this belief is. We even use the word 'dusk' to describe the colour of someones skin!

While an individual may not be able to change this attitude in his/her community, he/she can at least start with the family," he said.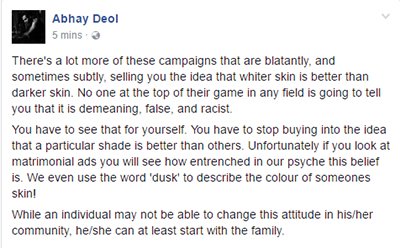 Image Source: facebook/abhaydeol


Abhay Deol, you nailed it.


Thumbnail Image Source: Manav Manglani, APH Images, youtube/gaonkhabar