Twinkle Khanna always has the funniest tweets to share when it comes to her banter with husband Akshay Kumar. The couple's camaraderie is just not to be missed.

Last night Twinkle Khanna tweeted, "Awake because of the thunderstorms and Mr K asks,'Want to exercise?We can run up and down the building stairs!' #Yikes #MumbaiRains
Awake because of the thunderstorms and Mr K asks,'Want to exercise?We can run up and down the building stairs!' #Yikes #MumbaiRains

— Twinkle Khanna (@mrsfunnybones) September 12, 2017
ROFL. We can imagine Twinkle doing this at 3.30 in the morning and Akshay being her fitness trainer.

A few months back, Twinkle had announced that Kattappa is her new bae. But unfortunately, husband Akshay is not amused by his wife's new crush .

Twinkle tweeted saying, "Saw Baahubali & I've been calling my daughter Kattappa much to her dad's annoyance-Perhaps he would prefer her being called Rowdy instead:) All right perhaps I am a bit obsessed- but try it- say Kattappa 3 times and you won't be able to stop- it's like eating wafers - addictive! (sic)"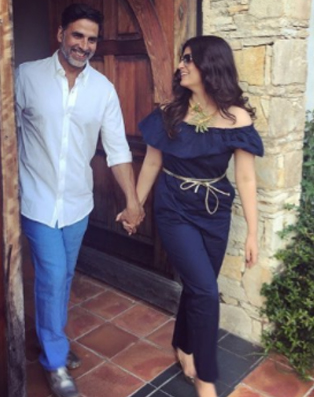 Akshay Kumar With Twinkle Khanna

Twinkle Khanna has become a Twitter sensation with her acerbic wit and her take on viral topics, be it Kapil Sharma's spat with Sunil Grover or Arnab Goswami or her husband Akshay Kumar.

On the professional front, Akshay Kumar is busy shooting for Reema Kagti's Gold. His upcoming movies are 2.0 starring Rajnikanth, Padman starring Sonam Kapoor and Radhika Apte and his TV show Laughter Challenge.


Image Source: instagram/twinklekhanna & womansera