Akshaye Khanna Speaks About His Forthcoming Film Sab Kushal Mangal, Debutantes Priyaank Sharma And Riva Kishan Also Share Their Experiences- EXCLUSIVE
Ahead of Sab Kushal Mangal's big screen release, we engaged in an exclusive conversation with Akshaye Khanna, debutantes Priyaank Sharma and Riva Kishan as they discussed their experiences of working in the family entertainer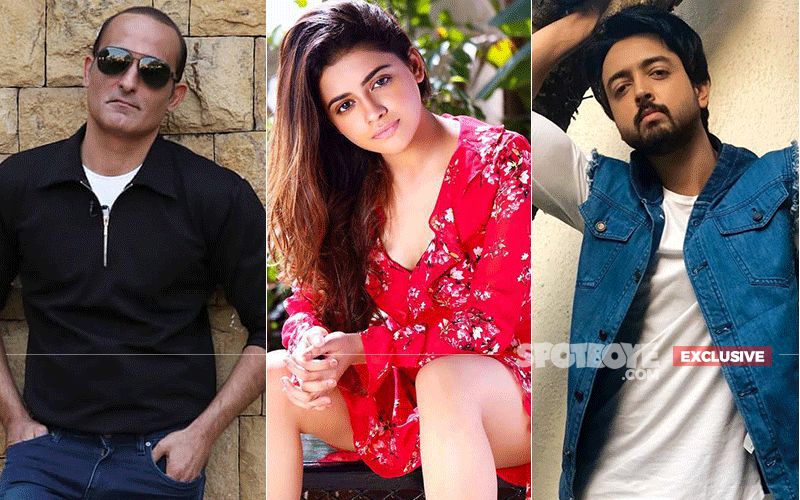 Sab Kushal Mangal introduces two new faces, Priyaank Sharma (son of senior actress Padmini Kolhapure) and Riva Kishan (daughter of Bhojpuri star Ravi Kishan). The film also has Akshaye Khanna as the presenter and he even stars in it.
Before the film hits the big screens on Jan 3, 2020, we engaged in a quick conversation with the trio as they chatted about the movie at length. Speaking of their film Sab Kushal Mangal, Akshaye says, "It's a beautiful romantic comedy, a clean family entertainer which revolves around three characters."
Priyaank added, "It's an all rounder, a full-on family entertainer. A very clean, sweet and innocent film, it takes you in its own world." Next, we asked Akshaye as to what took him 5 years to sign a massy entertainer to which he replied, "Sometimes, it takes time to find the right script. It's not always that you get films back-to-back."
Next, we quizzed the two newcomers about their experience of working with a seasoned actor like Akshaye Khanna. Priyaank began by saying that he loved every bit of it and Riva added, "He made us very comfortable. There was a warm feeling on the set. There was no pressure or weightage on us."
Hearing Riva's words of praise, Akshaye quickly chips in, "The word 'Comfortable' is very important for creative people like us. Whenever a person is performing, it's very important. Don't take the term lightly." Considering that both Priyaank and Reva have a filmy lineage, we asked if they ever received any acting tips from Padmini Kolhapure, Shraddha Kapoor or Ravi Kishan.
Priyaank said, "I was told to be spontaneous, natural and not be calculative. Be true to yourself, that's all." Akshaye complimented the two newcomers and stated, "In our 5/6months of shooting, I could sense that the two were totally concentrating on their performance, otherwise in today's times, the young gen is more focused on their looks and outfits.
They say that for star-kids it's relatively easier to make inroads in the film industry. We asked the debutantes about this, and while Riva attributes it to experience, talent, hard work, she also adds that they have a long way to go. Priyaank too agrees.
Next, we ask Akshaye Khanna about turning presenter for this film and his plans to shift focus from acting to production and direction. He says it's not on his list at the moment.
Lastly, the trio reveals how hard they have worked on the film and urges viewers to not miss it. Sab Kushal Mangal is directed by Karan Vishwanath Kashyap and produced by Prachi Nitin Manmohan.

Image Source:- instagram/itsrivakishan/priyaankksharma/akshaye_khanna/youtube/zeemusiccompany