Alia Bhatt's Sister Shaheen Watches The Social Dilemma And Talks About Her Social Media Usage; Says: 'My Use Usually Comes From An Anxious, Connection-Hampering Place'
After watching the Social Dilemma Alia Bhatt's sister Shaheen Bhatt says her use of social media rarely comes from positive feelings in her recent posts. What do you guys think?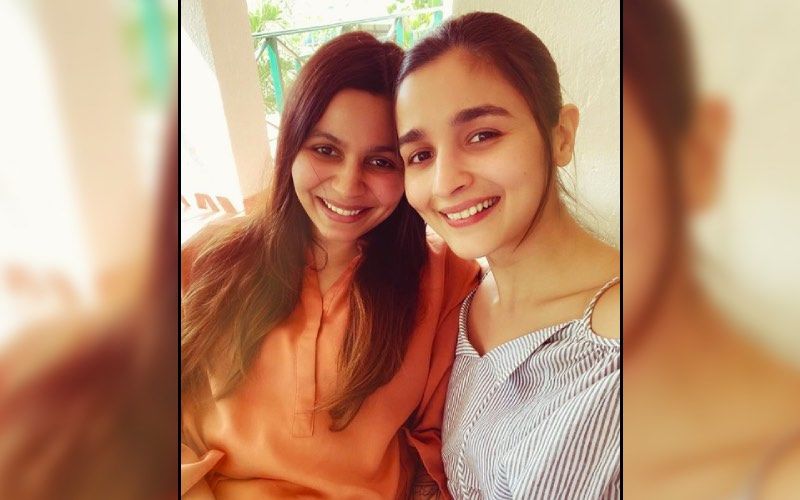 Nowadays, the use or the definition of social media has been changed. People are constantly getting judged, slammed, trolled on social media that affects them to the core. But what is your use of Social media? This is the question that was raised by Alia Bhatt's sister Shaheen Bhatt. Just recently, Shaheen who battled with mental illness shared a series of posts on her Instagram stories where she mentioned that after watching a documentary titled, Social Dilemma, she has been thinking about how and why she uses social media. That's not it, she also mentioned how she feels and what place social media takes her to.
While sharing a series of posts on her, she starts by saying, "Just like anyone who's watched the Social Dilemma - I've been thinking a lot about how/why I use social media." In the next post, she wrote, "I did some thinking and realise my use of social media rarely comes from positive feelings." Another story has a handwritten note where she claimed social media is a form of 'masochism.' She wrote, "On the contrary, my use of social media usually comes from an anxious, Connection-hampering place." She then said, 'But I want to change all that,' backed with a handwritten note which read, "What I want to use social for- displaying work, sharing passions, getting ideas/inspiration, forcing new connections, surprises."
People who are unaware of the Social Dilemma film, let us let you, it is a Netflix original documentary. The documentary focuses on the consequences of our growing dependence on social media. As digital platforms increasingly become a lifeline to stay connected, it shows how social media is reprogramming civilization.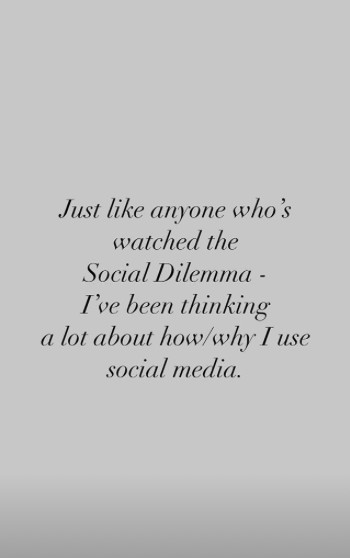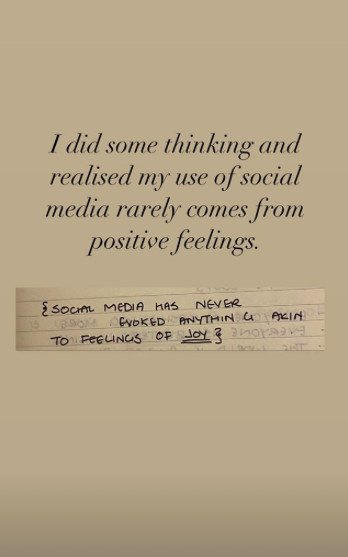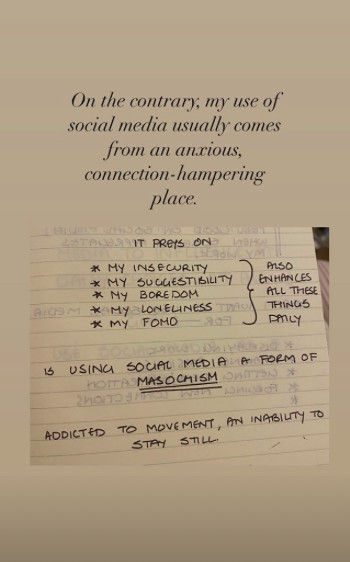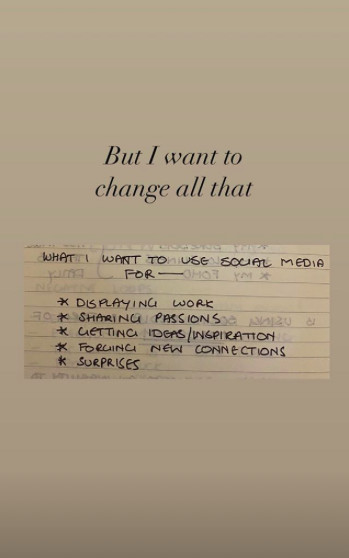 Image source: Instagram/ shaheenb