The D-Date
Yuvraj had earlier revealed that his mom Shabnam Singh is too keen that he gets married before his 35th birthday. Yuvraj and Hazel are all set to tie the knot on November 29 in Chandigarh, when Yuvraj is 34!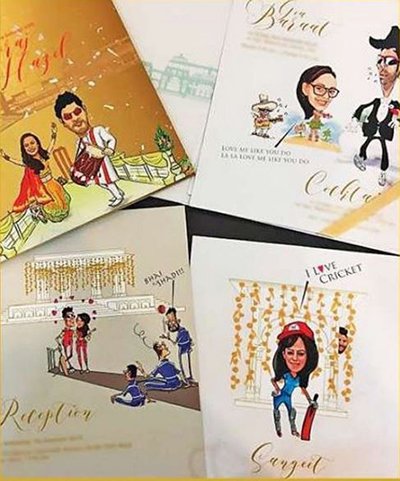 Image Source: twitter/YUVSTRONG12

The Venue
Adequate arrangements are being made at spiritual Dera of Baba Ram Singh Ganduan Wale in village Duffera here where the couple will get the blessings of Dera Head Baba Ram Singh.

The Ceremony
The wedding at the Dera will be performed as per Sikh rites and Anand Karj ceremony as Yuvraj's mother Shabnam Singh is a devotee of Baba Ram Singh, who has been their religious mentor.
Yuvraj and his mother used to visit the Dera of Baba Ram Singh and village Hansali Dera of late Baba Ajit Singh Hansali Wale. Not only Yuvraj but his friend and fellow cricketer Harbhajan Singh too used to visit these deras. Both the deras have an agriculture land and community kitchen (langar) is served round the clock.

The Wedding Card
It's really royal! The wedding card, which is tastefully done in white and gold, has YHPL - Yuvraj Hazel Premiere League printed on it. The card has been sent out with two boxes which contain assorted dry fruits and sweets. The sweets have been made by a Delhi-based bakery and have the couple's initials embossed on them with edible gold.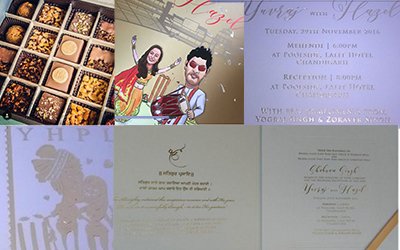 The Guests
Yuvraj and Hazel's reception will be attended by friends, family, Indian cricket Team and of course, Narendra Modi is also expected to grace the event. The reception will be held at The Lalit Hotel, Chandigarh.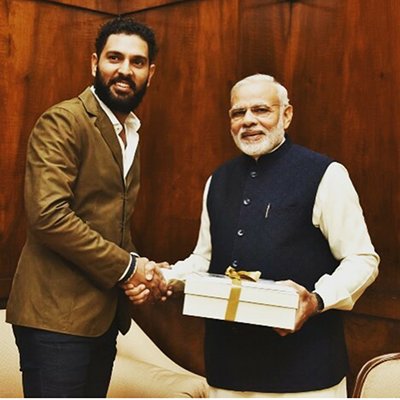 In an interview to a section of media, Farah had revealed that she had promised to choreograph Yuvi's sangeet and she is sticking to it. "I am meeting Yuvraj to discuss the sangeet ceremony's choreography. He is a very old and dear friend, so it's not a professional engagement for me. He calls me his sister, so it's more like a gift."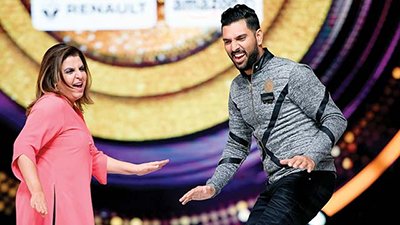 SpotboyE.com wishes #YHPL marital bliss!

Thumbnail Image Source: twitter