Amruta Subhash On Playing Diverse Roles In Gully Boy, Bombay Begums And Dhamaka; 'Grateful That The Industry Isn't Slotting Me' -EXCLUSIVE
In an exclusive interview with SpotboyE.com, actress Amruta Subhash opens up about portraying different roles in Gully Boy, Bombay Begums and Dhamaka. The actress also shares details of how she prepped for the role of Lily in Bombay Begums.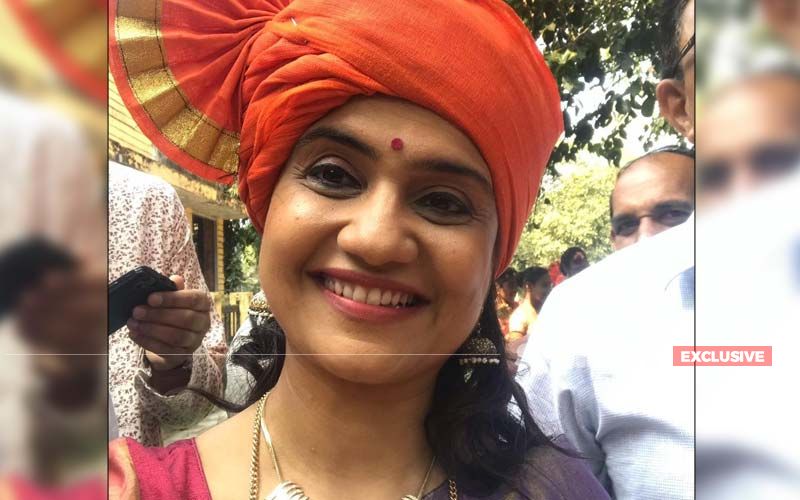 The teaser of Ram Madhvani's Dhamaka features Amruta Subhash, unrecognizable as a hardnosed newshound who insists that the show must go on.Just before she assumed this avatar she was a mean-mouthed streetwalker in the webseries Bombay Begums, and before that she was best thing about Sacred Games 2.
I am not surprised that Kartik Aryan calls her a 'bitch' at the end of teaser of Dhamaka. How would you feel if you had to sing a duet with Arjit Singh? I've seen stars get peeved by such natural scene-stealer's. There was a time when Mehmood would steal the show from right under the nose of the stars . There came a point in time when many of the 1960s' stars refused to work with Mehmood.
No such calamity is likely to happen to Amruta Subhash. She is way too explosive to affect the stars system. She is far beyond the rat race, and I'm not just saying that too make her feel better about not being a Bollywood A-lister. Because several of those A-listers are a joke in front of her talent.
Just a night before I saw her lording over the teaser of Dhamaka (how much did she get paid vis-à-vis Kartik Aryan, just asking) I finished watching Netflix's engrossing new series Bombay Begums . It is suffused with sterling performances. And yet Amruta Subhash, playing a sex worker trying to give her son the best education, stands out.
Amruta had to assume the body language of a bar dancer for her role in Bombay Begums. She reveals that she had no experience in dancing. "My director Alankrita Shrivastava had arranged a meeting with Reshma apa, who herself was a bar dancer. I spent a day with her and that gave me Lily's soul. I love dancing, but the way Reshma apa was dancing required different skills. To get those I had to work hard. Also, to keep on dancing like that for hours my body needed more strength. My fitness Guru Shailesh Parulekar worked on that. I am grateful to him for that.It was hard work but I enjoyed it so much! That's the fun of each role and I have been fortunate to have casting directors like Shruti Mahajan and creators like Alankrita Shrivastava who trusted me for Lily and pushed me out of my comfort zone."
Her entire body language and spoken dialogues as a sex worker are in complete contrast to her personality as a media person in Dhamaka. In fact, you would have a hard time identifying Amruta Subhash. She so different each time! In Gully Boy she was tempestuous as Ranvir Singh's abused mother. By the way in Gully Boy we also got to see Amruta's mother Jyoti Subhash, the doyenne of Marathi cinema. That's where Amrita gets her acting genes from.
When I reach out to Amruta with my fan rant she responds humbly, "Life has been kind to offer me these characters completely different from one another.. grateful that the industry is not slotting me in any particular slot.. directors are trusting me for different kinds of roles."
It is time we stopped looking at a handful of mediocre actors as the frontrunners of Indian film industry. They are not the real movers and shakers. It is actors like Amruta Subhash, Atul Kulkarni, Divya Dutta and Kumud Mishra who confer a constant renewed relevance to our cinema. What would we do without these silent superheroes who make our cinema fly?
Image source: Instagram/amrutasubhash