Anupam Kher, Anil Kapoor Break Down In Tears As They Remember Their Late Friend And Director Satish Kaushik On His Birth Anniversary-WATCH
Anupam Kher hosted a musical night to remember his late friend and it saw the appearance of Anil Kapoor, Javed Akhtar, Shabana Azami, Rani Mukerji and others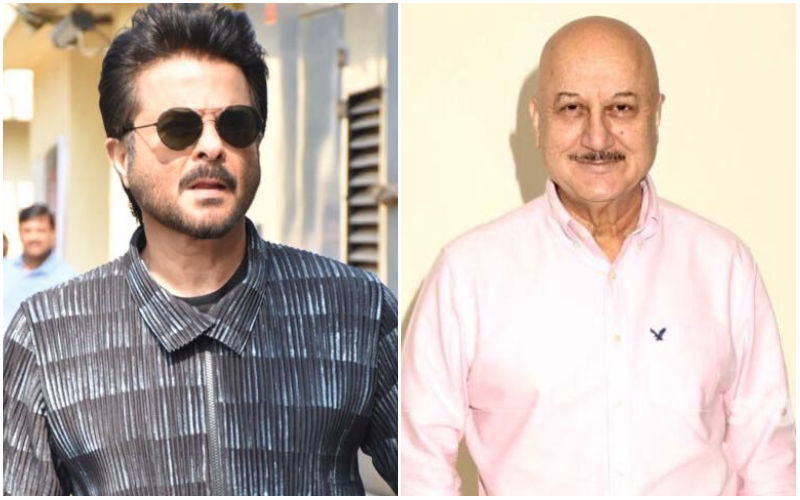 Satish Kaushik's demise sent tremors across the nation and it left the fans and Bollywood fraternity in shock. The veteran actor and director passed away on March 9 and last month marked his first birth anniversary. He breathed his last after he suffered a heart attack while he was travelling to the hospital in a car in Delhi.

The filmmaker was very close to Anupam Kher and Anil Kapoor. On his first birth anniversary on April 14, Anupam hosted a musical night to remember his late friend. Celebrities like Anil Kapoor, Javed Akhtar, Shabana Azami, Rani Mukerji and Johnny Lever were present at the event.
While giving a speech on stage, Anupam cried. Anil, who sat in the audience, also cried bitterly.
During the musical night, Anupam Kher took the stage and remembered Satish saying, "Satish passed away but our friendship has survived all ups and downs and has seen the most amazing gift has given to us. Anil has prepared a small audio-visual for Satish, we will see that. Then I will request Anil to come and talk."
Anupam continued, "He was underrated sometimes, but he was so brilliant. He never decided to market himself. He was amazing." He then asked Anil to join him on stage, "Heroes always cry, come and friends cry."
Later, Anil got up however, after walking a few steps, he broke down. He gestured with his hand that he won't be able to come on stage, and returned to his seat. Anupam said, "Aaja (Come). Okay." As he too started crying, Anupam said, "Anil tu pagal hai. Main theek thaak jaraha tha (Anil you are mad. I was going fine)."
Anupam said, "On the 9th, 7th he came on my birthday, he called me up, maine kaha, 'Tu bohut thaka hua sound karraha hai' (I said, 'You sound very tired'). Kyu aesa karraha hai? Tu aesa kar hospital mein chala ja, check-in kar, don't admit yourself, go and check in'. Toh usne kaha, 'Don't worry, main abhi marne waala nahi hoon' (Why is that so? Go to the hospital and check-in. He said, 'Don't worry, I am not going to die'). And after three hours he, unfortunately, left us."
Satish Kaushik was an Indian actor, comedian, screenwriter, director and producer. He acted in theatres before finding his break in Bollywood.
As a film actor, Satish Kaushik was known for his roles as Calendar in the 1987 superhero film, Mr India, as Pappu Pager in Deewana Mastana (1997), and as Chanu Ahmed in the British film Brick Lane (2007), directed by Sarah Gavron.
Satish Kaushik also won the Filmfare Best Comedian Award in 1990 for Ram Lakhan and in 1997 for Saajan Chale Sasural.
Image Source: Instagram