Arjun Kapoor On Working With Parineeti Chopra, Says, "I Think When You Put Parineeti And Me At Loggerheads We Create Magic" - Exclusive
Arjun Kapoor and Parineeti Chopra first worked together in Ishaqzaade, and then once again in Namaste England. Sandeep Aur Pinky Faraar, directed by Dibakar Banerjee, is their third film together.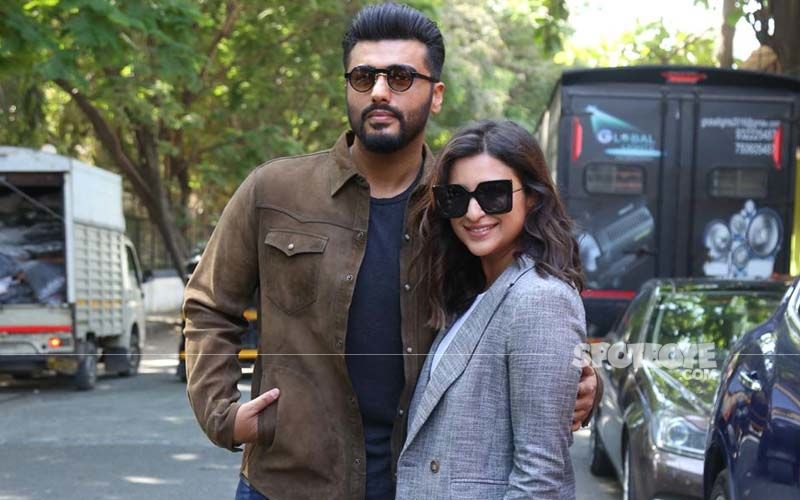 Sparks flew on the big screen when Arjun Kapoor and Parineeti first came together for the romantic tragedy 'Ishaqzaade' and once again the duo are creating the same magic on screen with their recent release Sandeep Aur Pinky Faraar. In an exclusive chat with SpotboyE Arjun reveals what makes this pair so irresistible on screen, "I think when you put Parineeti and me at loggerheads we create magic in that sense; because you can see with Ishaqzaade and Faraar that happened. We create energy by being two forces of energy that collide in different ways and that creates a lot of chemistry, you can see that come alive on screen. You can feel around you that there is something between these two, it's not always romance but there is a certain back and forth, push and pull, which is not friendship, nor romance, it is kind of our destiny which is intertwined that pulls us towards each other and then we pull each other in different directions, to see what comes out of it," he says. "It works well on-screen, it translates really well and even the audience likes it, so who are we to deny it. Now it's like give us one more film like these and we are ready to do it. If you telling me that I am going to be paid to fight with Parineeti Chopra on screen I am happy to consider," he laughs.
Speaking of the love-hate relationship that they share, Arjun says, "Yeah, our relationship hinges in a very loving way, it translates perhaps well because we are comfortable making each other uncomfortable on screen to get better work done, that's a good place to be at, as actors."
The actor agrees that having Parineeti as his first co-star has made him a better actor, "Obviously, there is no denying that. If she (Parineeti) wasn't with me in the first film, the film was going hell and back, Isqhzaade is a very tough film and the second toughest film of my career is Sandeep Aur Pinky Faraar, it's just a more mature version of Arjun going and doing something like Faraar, so there is little more control and more understanding. I have done 10-12 films before I did Faraar, so there is an understanding of the process, you don't feel the exhaustion as much when you are in the movement, when you come out you feel it. Ishaqzaade was consuming every day, Faraar you knew what you getting into. So having Parineeti from your first film knowing how it is and then having her in this film (SPF), I think I am better of having Parineeti for me play Parma and Pinky. I wouldn't be this version of Parma and Pinky without my Zoya and Sandeep."
Sandeep Aur Pink Faraar recently released on Amazon Prime Videos and is garnering good reviews from critics and audiences alike. Arjun and Parineeti are both applauded for their refreshing performances in the film.
Image source: instagram/SpotboyEArchives